Premium Maldives Surf Experience
Fast track your surfing progress with Kale Brock
Take your surfing to the next level in just seven days!
Surfing is hard. We've all experienced the feeling of being stuck, or worse, going backwards in our surfing. Unfortunately, getting better at surfing often occur as a linear progression. We often feel it gets worse before we get better and then we plateau… sometimes for decades!
But what if we tell you that there's a way to fast-track your surfing and make guaranteed progress in just seven days?
And it gets better! You'll be able to take your surfing to the next level under the watchful eyes of one of the most dedicated and progressive surf coaches out there, surrounded by crystal clear water, paradise feels and world-class waves in one of the most beautiful corners in the world!
Sounds good? Read on.
September 17th - September 24th
The Retreat
Seven days with one goal in mind; accelerate your surfing!
This exclusive coaching retreat with Kale Brock includes:
Seven nights at Ayada Maldives, a 5-star surf resort situated in the Southern Atolls

Half Board (breakfast and dinner), all transfers and domestic flights

Surf passes and surf transfers for seven days

6 Days of extensive coaching with two surf sessions a day

Video analysis sessions every day to optimise technique

Access to the full suite of the Surfer's Roadmap courses one month prior to the retreat

2x 1:1 coaching calls with Kale. One before the retreat and one after.
Rates From:
USD 7,130 for a shared villa / per Person
USD 8,675 for a private villa / per Person
About Kale Brock and The Surfer's Roadmap
One of Australia's most prolific surf coaches, Kale Brock offers a one-of-a-kind surf retreat somewhere in the Southern Atolls in the Maldives. Over the course of 7 days, Kale will take you through his tried and tested Surfer's Roadmap, the world's most effective surf curriculum, designed to help you progress in logical, structured leaps forward like never before.
As an elite surfer, he has a knack for taking the guesswork out of surfing, helping his students quickly understand and implement the techniques needed to fully unlock people's potential in the water.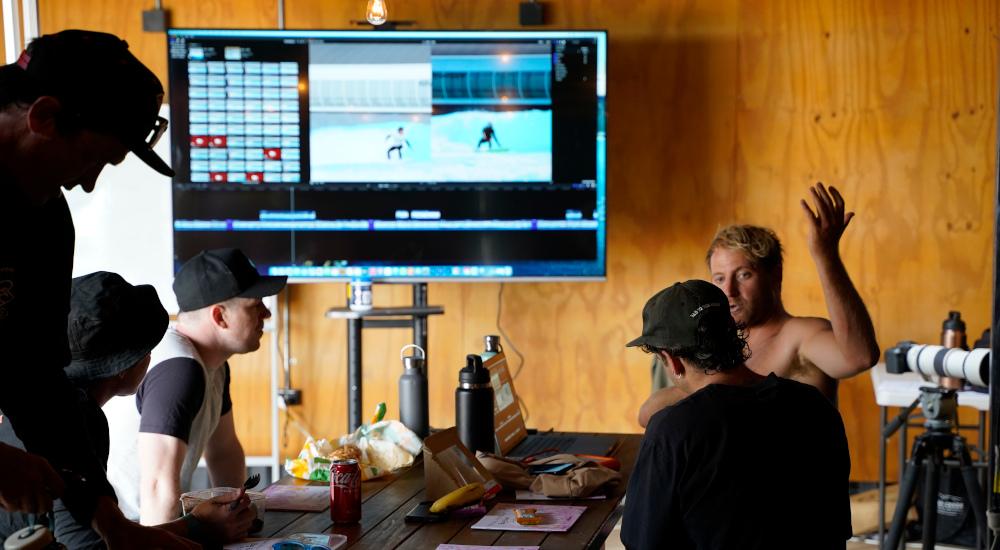 Kale Brock:
"It's our logical and clearly communicated ideas that make all the difference here. Okay, so here's a sub-optimal manoeuver. Why? Reverse engineer the original problem in the technique and iron it out with a simple cue, or succession of cues, to change."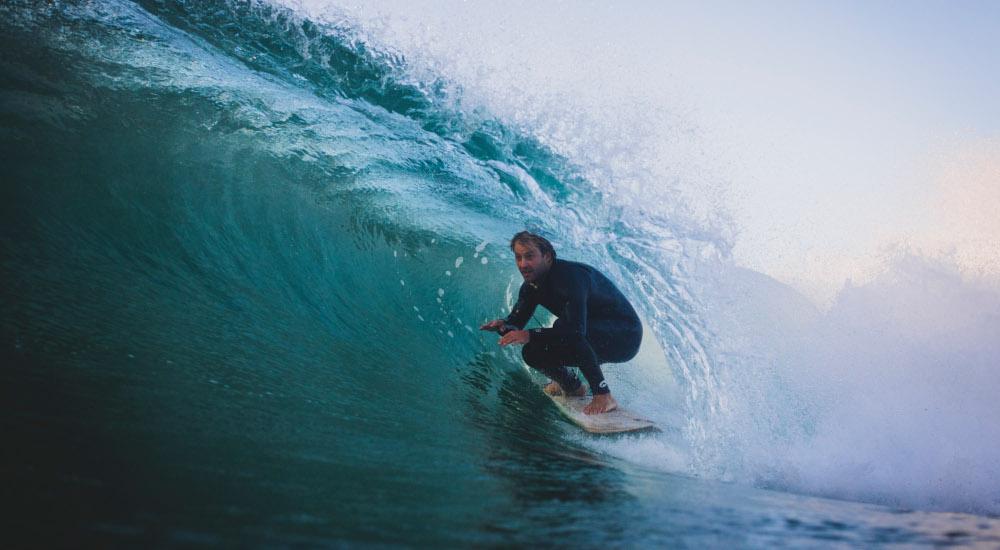 His methods and his experience as a lifelong surfer create predictability and understanding out of chaos, setting him apart from other programs and coaches out there.
If you want to surf your best, you have to learn from the best. It's really that simple!
The Premium Maldives Surf Experience is designed for intermediate surfers who are struggling to progress or feel stuck in a rut, as well as advanced surfers who want to refine and develop techniques and maneuvers to light up their local breaks.
No matter your current ability, Kale will design a program tailored to your individual needs and help you achieve things you never thought possible in the water.
But this isn't just a surf coaching program. It's an exclusive luxury surf retreat that will completely immerse you in the Maldivian culture and lifestyle. You'll be staying at Ayada Maldives, overlooking the Indian Ocean. Ayada, located on a beautiful private island with lovely beaches and tropical greenery, is a truly exquisite getaway with a genuine Maldivian atmosphere.
A varied range of dining options, huge villas with exclusive infinity pools, and a multiple award-winning Spa are just some of the highlights that await you after a long day surfing pumping waves with not a single soul around.
Waves and lineups in the area
Tiger Stripes
Tiger Stripes got its name from the narrow (tiger like) gouges in the reef and is touted one of the most consistent waves in the Southern Atolls, spitting out wide open lefthand walls perfect for all levels. Although more powerful than other waves in the area, it doesn't get as hollow, and cruisy long walls are usually what you get to work on your cutbacks, carves or backhand snaps. Tiger Stripes is ultra reliable and works in all tides and never gets too shallow. Pretty unimpressive when it's small, Tiger Stripes really turns on when the swell hits 3ft+ and a prime option when other spots tend to shut down. 3 main sections define Tiger Stripes. A quick and tricky take-off at the outside corner of the wave turns into a super rippable wall that increases in speed as it runs towards the inside with an end section that throws out the occasional tube vision before a mellow exit into the channel. It handles North winds and loves a Southeast swell. Keep an eye out for the current that seems to turn on and off without warning.
March to October / Prime; March / April
Love Charms
A comfortable 5-minute boat ride from Ayada Resort, this ultra-consistent lefthander turns on the charms on a medium, southwesterly swell and N / NE winds. An instant love affair for every goofy footer, Love Charms is a long beautiful wave with two sections. An easy take-off slingshots you into a nice steep wall for a few nice turns before the little kink in the reef hollows out the wave through the inside for some fantastic little tubes. Although more almondy than round in shape, it's a fairly easy barrel that ends in a shallow-ish bowl, and the spot you should be kicking out. Depending on size the break can change in an instant. On bigger days the first section links up with the reef as it draws more water and you can tuck under a zipping lip upon take-off. The two sections that are so mechanical on smaller swells somewhat disappear, and you have to watch out for the wide cleanup sets or the straight up closeouts that can drag you to the wrong side of the reef. Prepare your paddle muscles too as there always seems to be a rip trying to pull you out of position.
March to October / Prime; March / April
Five Islands
Five Islands is a heavy righthander that throws hard and hollow over a shallow reef. It's a pretty sectioney wave, and you might want to watch it for a while, but it produces some of the longest barrels in the Southern Atolls. Well protected from south to southwest winds, Five Islands is less forgiving than nearby Blue Bowls with a pretty steep take-off and a fast mid-section. Angle your take-off and sit a little deeper than you usually would to not only get yourself over the crease of the wave but to set you up for the main attraction of the wave. The fast but super hollow mid-section is why surfers keep coming back for more. It's a quick wave so don't draw out your bottom turns and angle your take-off, so you are already going in the direction you are about to get slotted. Five Islands handles size pretty well, and it works on all tides with a mid to high tide and a swell from the south, primed to score the barrels of your life. Paddle wide to not get caught inside or to be in someone else's way.
March to October / Prime; March / April
Blue Bowls
The name kind of gives it away but this righthander bowls up so nicely for a variety of tricks. It has a pretty shallow inside section which bottoms out for amazing barrels when the swell has some south in it, and the winds blow from the west. Works on all tides and gets better with size but is actually a really fun spot when it's small as it slows down and offers a really nice, long and consistent high-performance wall to shred away. The end section gets pretty shallow so watch out before you kick out that there are no exposed rocks nearby. The section after the take-off is money, and you can actually backdoor it as it wraps around the reef and doesn't close out.
March to October / Prime; March / April
Antiques
Antiques is the ever so perfect alternative to Tiger Stripes but smaller and less powerful. The wave breaks over a perfectly flat reef bed that has no kinks or imperfections you have to deal with. Really consistent and breaks across all tides pumping out perfect little peelers especially popular among longboarders, regular footers, and intermediate surfers. It has two main peaks to keep the crowd at bay and really fires on a solid south swell. No bueno on a low tide as it gets too shallow.
March to October / Prime; March / April
Castaway
Castaway has probably the most amazing backdrop of all waves in the Maldives. The spot backs onto a large, lively reef formation that separates the break from a chain of little, uninhabited islands. It has a pretty soft take-off, but has a super shallow inside section that needs some navigating. Really idyllic vibe here with cruisy waves, plenty of marine life and usually not too many people but watch out for the super shallow reef along the inside of the wave! Works best in a mid to high tide and a swell bigger than 4ft. On it's days, it can throw square barrels over the shallow reef, so don't let the gentle take-off fool you, it's tricky. It's dangerous. You better bring your A-game.
March to October / Prime; March / April
Beacons
Probably the heaviest break when it's on and not a wave you want to mess with unless you are an expert in the barrel. A super exposed reef break that is both fierce and fickle. Only really works in a clean southwest swell and any other direction almost always causes the wave to close out. A prime summer months destination with S -SE swells coming through pretty consistently. Although the barrel is perfect in the right conditions, the reef is not. It's an uninvitingly shallow, coral reef formation you do not want to come in contact with and best surfed on a mid to high tide. It has one distinct take-off spot with a pretty challenging drop but a beautiful and hollow barrel section that follows. Take the drop with commitment and then it's off to the races before the wave slows down over a bowly end section. Watch it a few times before you get into position and watch out for the straight closeouts that, unfortunately, come through every once in a while.
March to October / Prime; March / April