https://dl16txa2az7pk.cloudfront.net/media/catalog/product/cache/1/image/9df78eab33525d08d6e5fb8d27136e95/s/p/spa-bambu-relaxation-florblanca-santa-teresa_1.jpg
Florblanca Resort
Costa Rica: Golfo de Nicoya
Experience the true meaning of outdoor/indoor living in this beachfront paradise where both surfing and relaxation are of first class standard.
Food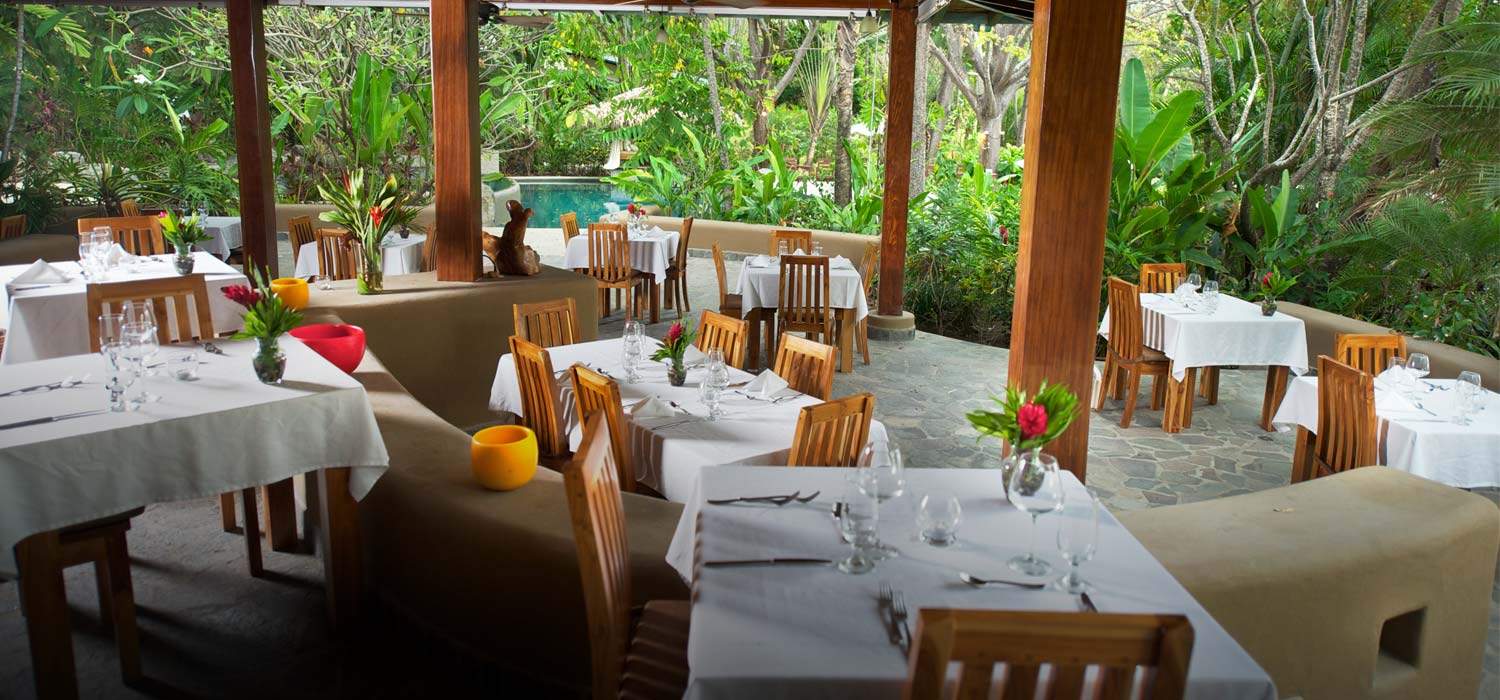 Nectar Restaurant serves fusion cuisine with Latin, Mediterranean and Asian influences. Our menus are built around local, organic and seasonal ingredients. We strive to support our local farmers and encourage others in our community to do so as well.
Breakfast is served daily from 7 am to 11 am. Our early risers can enjoy aromatic and organic Costa Rican coffee starting at 6 am in our restaurant. Costa Rica is famous for delectable tropical fruits such as papaya, pineapple, passion fruit, bananas and more. We always offer what is fresh and in season. From healthy fruit smoothies to our traditional Pinto to our Banana Bread French Toast, our breakfast menu features both light and hearty plates to start your day.
Lunch is served from 12 noon - 3pm. If you have a day excursion planned, we are happy to prepare a box lunch for your afternoon tour. Our lunch menu is varied with a long list of choices. We have a number of healthy salads, burgers and our typical Costa Rican Casado. The Nectar Fish Tacos are a popular choice, and not to be missed if you enjoy seafood.
Our Bar Menu will be the star from 3:30 until 6pm. It consists of fresh sushi and other savory tapas, which paired up with our trendy Cocktail Menu, will make a fantastic duo for the sunset hour.
Dinner is served from 6 pm-9 pm. Our dinner menu is designed around the freshest seasonal and organic ingredients . While we embrace the concept of traditional fine dining, we truly believe in offering our guests and visitors an authentic and fun culinary experience. Our dinner menu is divided in three categories: Crudo (raw), Pequeño (small) and Grande (big). In the Crudo section, you can find an array of sushi and ceviche dishes, while in Pequeño we offer appetizers such as Fried Calamari, Spring Rolls and our popular Cheese Plate, a wonderful selection of Costa Rican artisanal goat cheeses. Grande has the most succulent entrées, including the freshest of fish, created by our Chef Norman Roqhuett. Being set on the Pacific Ocean allows us to fully take up the Hook to Fork philosophy. The catch of the day is truly what the fishermen reeled in.
---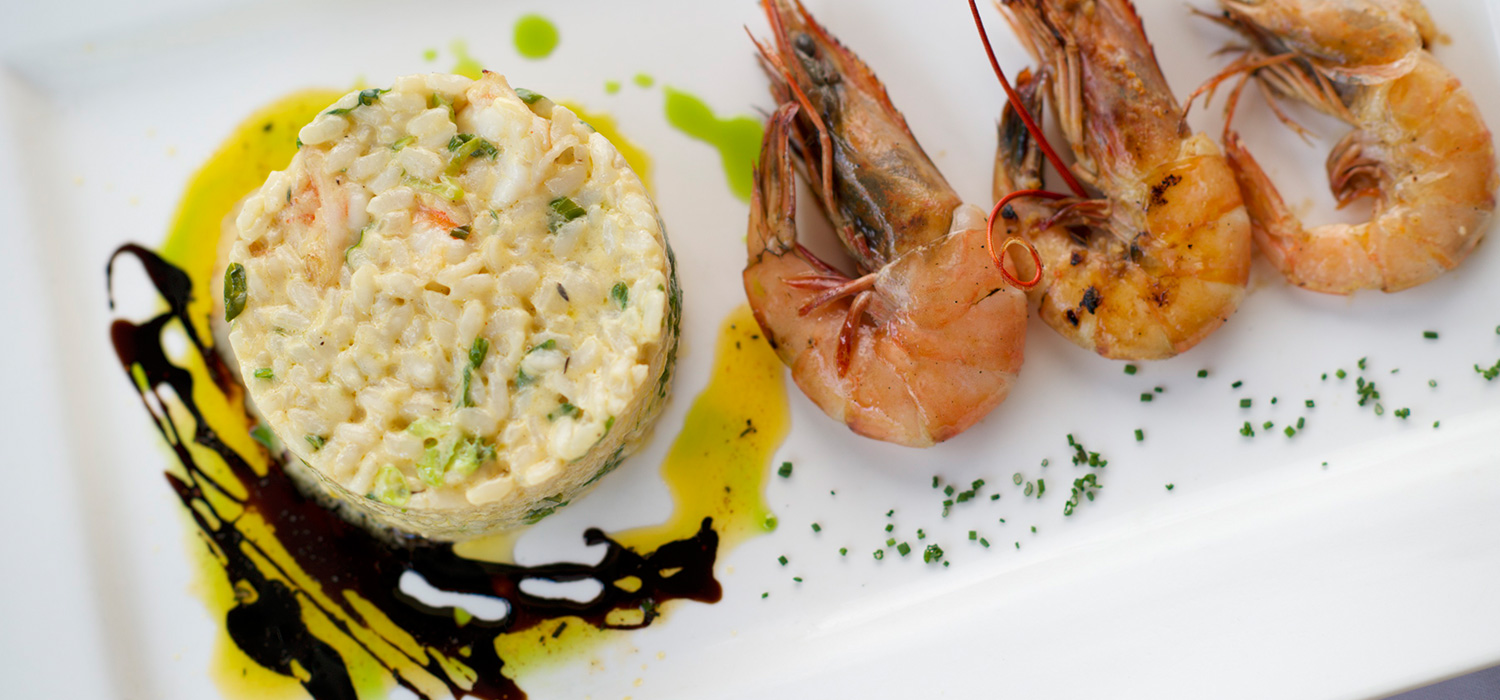 With Florblanca's Pacific Oceanfront location, and surrounding waters full of fresh fish, our seafood is truly hook to fork.
Our menu is built around the freshest ingredients, and when it comes to fish, our menu offers a fresh catch that is literally what the fishermen reeled in that day. Our seafood comes from three villages all within thirty miles of the hotel - MalPais, Manzanillo and Tambor.
The Pacific Ocean is home to many different types of fish, and the most common are Mahi Mahi, Saeabass, Cabrilla (a delicious type of grouper), and Red Snapper to name a few. Just a few miles up the coast is the famous Rio Bongo which is full of mouthwatering Snook. When the Snook are jumping, we are serving them up.
Our fish is as fresh as it gets and seafood lovers will find our fresh catch to be a highlight of their dining experience at Nectar. And, if that fish happens to be the one you caught on your fishing excursion, the first bite will be that much better. Hard earned hunger!
---
We are lucky to live and work in one of the only Blue Zones on the planet, where people live longer lives due to healthy lifestyles. Our diet is a big part of the Blue Zone lifestyle and having access to local and natural products plays a major role in helping to keep us so healthy. Fresh fruits, natural produce, and sustainably raised pork and chicken are just out our back door. Our chicken and pork come from the nearby town of Cobano, just 15 miles from Florblanca. The majority of our produce comes from Hacienda Okra, a hands on organic farm, just 5 miles from Florblanca.
In addition to using the fresh and delicious local products that we have access to, we also try to incorporate traditional Costa Rican recipes in our menu. The talented Costa Ricans on our kitchen team love to cook up their favorite plates, or the favorites of the parents and grandparents. From fresh ceviche to corn tortillas made from scratch, you will experience the authentic taste of the Nicoya Peninsula.