https://dl16txa2az7pk.cloudfront.net/media/catalog/product/cache/1/image/9df78eab33525d08d6e5fb8d27136e95/m/i/mickcurleygreenroomwebsize2681.jpg
Kima Surf Camp Canggu
Different options to suite every taste and budget. 5 surf breaks for all levels within a 2-10 minute walk. All surf services available.
For your comfort and to let you really enjoy your time before and after surfing we've made every effort to create a genuine Bali feeling in our choice of accommodation.
The Green Room Canggu
The Base Surf Camp is "The Green Room Canggu" Hotel, some 10 km from Kuta and directly on the beach on Bali's west coast. A laid-back, relaxing holiday is guaranteed here in the midst of rice fields and just a stone's throw away from the water. Shopping, dining, clubbing facilities are all easy to reach with our own minibuses, jeeps or by taxi. If you like it a bit more comfortable and convenient, you can use our twice-a-day city shuttle to Seminyak (Kuta area).
---
The four-bed and double rooms (all with sea-view, their own bathroom and terrace) are situated around a natural stone pool in the tropical garden. All rooms are up to western standards with hot water, fans. Two suites offer extra comfort. Divided in a bed and a sitting room, they are equipped with TV/DVD, and a transparent glass wall, thus offering a stunning view to the Indian Ocean.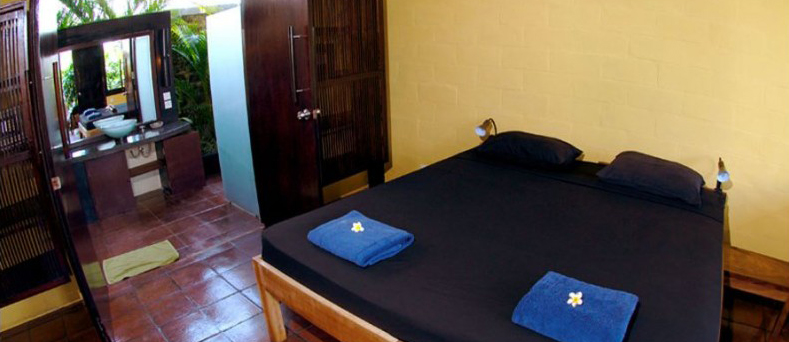 ---
If you prefer things a bit more exclusive, you can book a deluxe room with all modern comforts, such as air-conditioning, 32"-LED-TV with included surf movie collection and DVD player with a spacious DVD library available at the front desk. Each room features a hair-dryer, bathroom amenities, luxury bath towels and deluxe-bedding as well as a big wardrobe with a work desk. All rooms are situated on the ground floor of the main building and feature a semi-open bathroom with a small tropical garden. The day bed on the small terrace in front of each room is the perfect place to read or relax between the surf sessions. We will also serve breakfast on your terrace on request. It goes without saying that you will get the deluxe version of the breakfast with plenty of yummy extras to choose.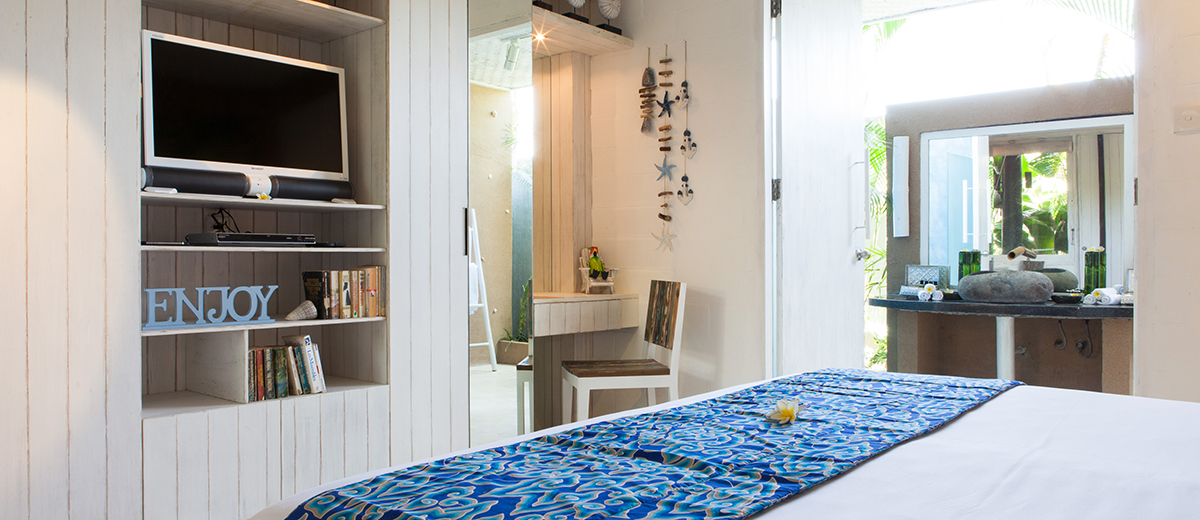 ---
There are also two luxurious private villas with air conditioning, flat-screen TV, Hifi/DVD/iPOD station, an open bathroom with shower, a kitchen and chill area. These villas are separate from the hotel complex and have their own private pools and tropical garden.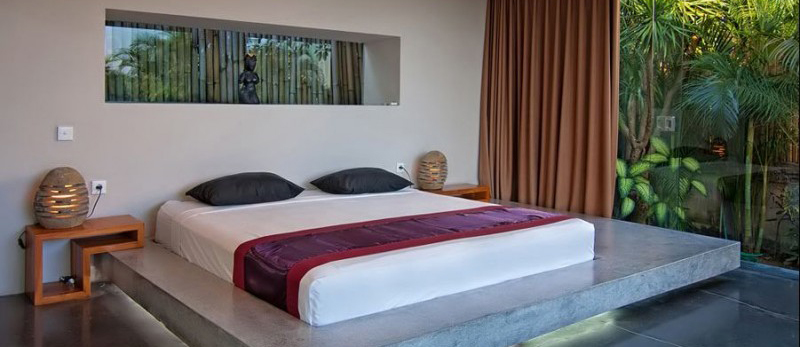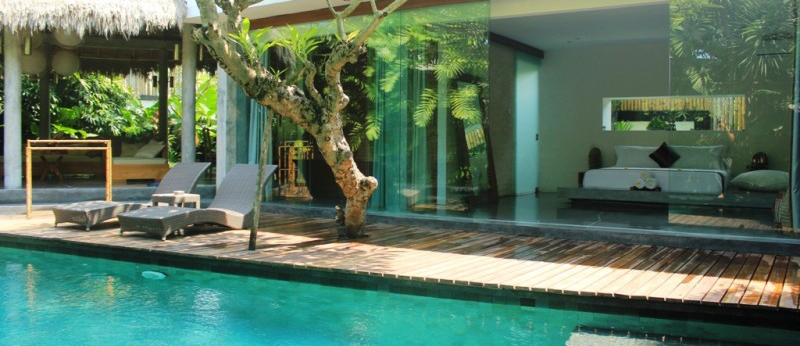 ---
The Robinson Crusoe design of the Surf Camp ensures you experience island lifestyle at its best. From the terraces and the entire complex you have a fantastic view over the sea and our homebreaks. Our traditional Bali houses with HiFi/DVD, the beach bar and the fantastic vista make it the ideal place for hanging out between surfing trips: relaxing, wining and dining, whatever you fancy... It goes without saying that there is a W-LAN Internet connection available for all our guests.
---
Canggu Surf Lodge
6 bed room at the SURF LODGE in Canggu, which is just 200m away from the main camp.
All services are the same as the regular stay at the green room Canggu.
Only a stone's throw away from the main house you can find our Surf Lodge, which comes with a spacious living room, two air-conditioned 4bed rooms with 2 bunk beds and a bathroom each. Furthermore the Lodge has a pool, free WiFI and small kitchen with cooking facilities and a fridge.
During your stay at the Surf Lodge you can take part in the normal surf camp program of Kima Surfari Canggu, all usual services are included. Of course you can use the facilities of the Green Room Canggu to have breakfast, lunch & dinner and sign up for surf sessions over there. We are providing bicycles to manage the 200m-distance to the camp for free.