https://dl16txa2az7pk.cloudfront.net/media/catalog/product/cache/1/image/9df78eab33525d08d6e5fb8d27136e95/s/i/six_senses_laamu_aerial__5636-large_.jpg
Six Senses Laamu
Ultimate luxury and tranquility offered at this stylish, eco-friendly 5++ star resort with world known Yin Yang close by.
Location
Six Senses Laamu is the only resort on the virtually uncharted Laamu atoll, south of the Maldives archipelago. From Malé International Airport, it is just a 35 minute flight, along the beautiful Maldivian coastline to Kadhdhoo. A short 15 minute boat trip later and guests have arrived at the powder white sand and crystal clear turquoise water paradise which is Six Senses Laamu.
Concept
A virgin jungly island, powder white sand, crystal clear turquoise water, passing pod of dolphins and rainbows of fish shimmering in and around the coral reef: Welcome to Laamu, Six Senses' hip and lifestyle resort on the island of Olhuveli. The 97 villas have been carefully designed to complement nature. Each allows utter privacy. Near to the peaceful blue lagoon is a surfer's paradise, with majestic eight-foot waves, surfing lessons, both board and kite are offered, along with diving, skiing and snorkeling. At night, Six Senses Laamu really starts to rock. The Chill bar is built over the water and has a resident DJ. The wine 'cellar', Altitude, is a tower of spun glass, rising high out of the sea, and a choice of dining venues offers world-class food and wine. There is a Kids Club, a Six Senses Spa and many daily adventures to choose from.
Accommodation
Six Senses Laamu has 97 beachfront and water villas, carefully designed to complement the outstanding natural beauty of the island, they offer privacy, coziness and luxury. True to its philosophy of environmental protection, the villas are made from local and sustainable materials along with every possible thought for the comfort of our guests.
---
Two-Bedroom Ocean Beach Villa with Pool 730 sqm
Private access to the beach
Private garden with daybeds
Panoramic upper dining deck at treetop level and viewing platform
Two fully furnished bedrooms with individual shower areas
Day Lounge on top of the Living Room
Private Pool
Face towards the turquoise lagoon of the island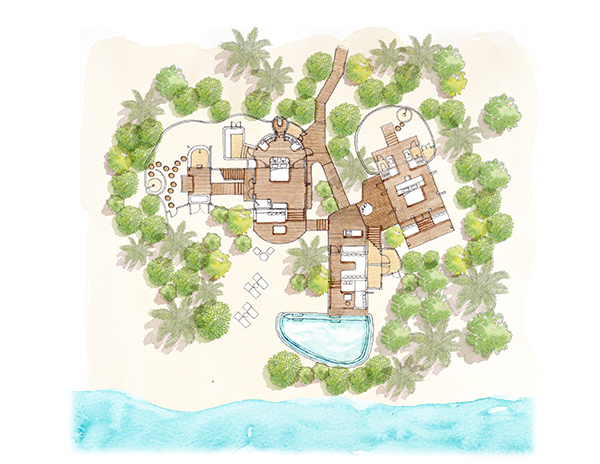 ---
Lagoon Beach Villa 2 Bedrooms with Pool (1) / 285 sqm
Private access to the beach
Private garden with relaxing daybeds
Panoramic upper dining deck at treetop level and viewing platform
Two fully furnished bedrooms with individual shower areas
Private pool
Villa faces towards the turquoise lagoon of the island
Additional benefits & amenities include:
Bottle of Champagne upon arrival
iPod in Villa
Welcome amenity and selection of in villa snacks offered complimentary
Hammock/Netting with comfortable cushions
Nespresso machine
Personalized bicycle tags
Breakfast complimentary through In Villa Dining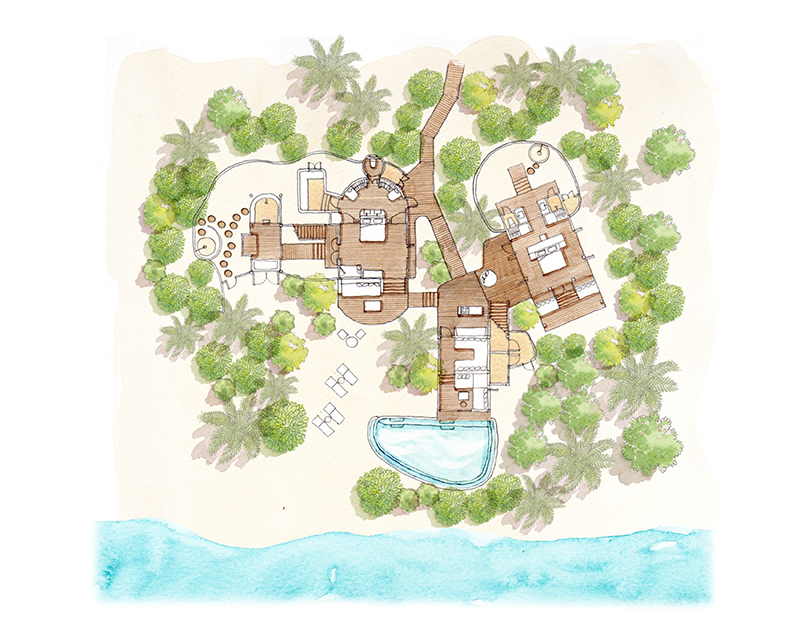 ---
Family Villa with Pool 253 sqm
Private access to the beach
Private garden with daybeds
Panoramic upper dining deck at treetop level and viewing platform
Two fully furnished bedrooms with individual shower areas
Day Lounge on top of the Living Room
Private Pool
Face towards the turquoise lagoon of the island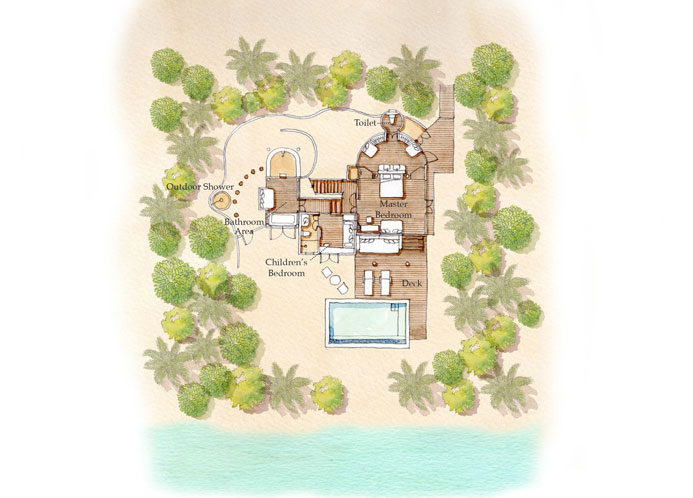 ---
Lagoon Water Villa (20) / 108 sqm
Sunken ocean view all-glass bathtub
Private water garden
Outdoor relaxing platform with daybeds, sun lounges andover - water netting
Aquarium dining deck with all-glass table
Panoramic upper dining deck and viewing platform with day beds
Lagoon Water Villas face towards the turquoise lagoon of the island and are located in close proximity to the main island

---
Lagoon Beach Villa (12) / 220 sqm
Private access to the beach
Private garden with relaxing daybeds
Panoramic upper dining deck at treetop level and viewing platform
Lagoon Beach Villas face towards the turquoise lagoon of the island

---
Ocean Water Villa (35) / 108 sqm
Sunken ocean view all-glass bathtub
Private water garden
Outdoor relaxing platform with daybeds, sun lounges and over-water netting
Aquarium dining deck with all-glass table
Panoramic upper dining deck and viewing platform with day beds
Ocean Water Villas face toward the main ocean with uninterrupted views and are located further away from the main island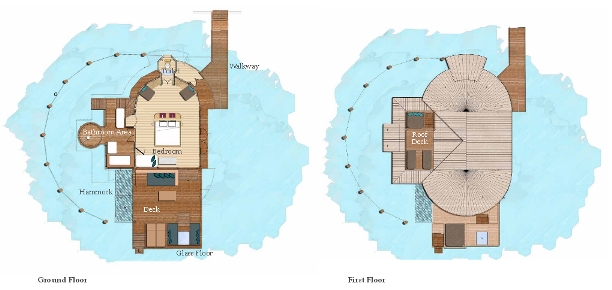 ---
Ocean Beach Villa (14) / 220 sqm
Private access to the beach
Private garden with relaxing daybeds
Panoramic upper dining deck at treetop level and viewing platform
Ocean Beach Villas face toward the main ocean with uninterrupted views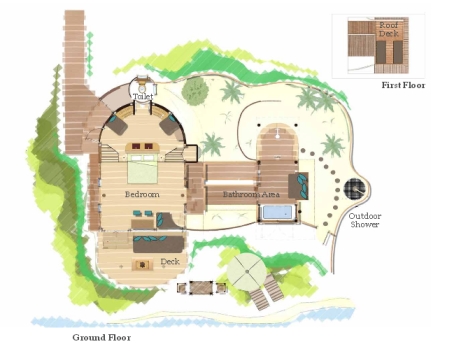 ---
Laamu Water Villa (15) / 108 sqm
Sunken ocean view all-glass bathtub
Private water garden
Outdoor relaxing platform with daybeds, sun lounges and over-water netting
Aquarium dining deck with all-glass table
Panoramic upper dining deck and viewing platform with day beds
Laamu Water Villas face toward the main ocean with complete uninterrupted views and are located towards the end of the jetties, furthest away from the main island

---
Ocean Beach Villa with Pool 238 sqm
Private access to the beach
Private Pool
Private garden with daybeds
Panoramic upper dining deck at treetop level and viewing platform
Face towards the main ocean with uninterrupted views

---
Laamu Water Villa with Pool 126 sqm over water
Private Pool
Outdoor relaxing platform with day beds, sun lounges
Panoramic upper dining deck and viewing platform with day beds
Aquarium dining deck with all-glass table
Sunken ocean view all-glass bathtub
Private Water Garden
Face towards the main ocean with complete uninterrupted views and are located towards end of the jetties, furthest away from the main land