<![CDATA[>
I like to plan. Especially snow trips. But a few years back I ditched my own rule book and surrendered myself to a wintery unknown. What started as booking a heliski trip through LUEX, turned into a torn up return ticket home, and a season enjoying the best winter riding of my life. I've now spent more than enough time in Whistler to understand exactly why it was voted SKI Magazine's Best Ski Resort in North America for 2017.
Over 20,000 of the magazine's readers ranked Whistler-Blackcomb as the overall number one resort out of approximately 700 rivals. An honour that the fifty-year old resort has seen bestowed three times in the last 4 years. The reasons why won't be astounding… Hey, it's Whistler! Who hasn't heard about the West Coast winter giant. But as a regular to its mountains, its bars, and its restaurants, let me give you a lesson on North America's finest alpine spot anyway…
1. Conditions
Snow Quality
We all like to hold that soft, crusty powder in our gloves. Nothing much compares to it. Except maybe tracing lines over it! I made my way to Whistler with the constant promotion by friends that it was highly snow-sure. Especially with two neighbouring mountains to choose from (Whistler and Blackcomb mountains). As far as expectations were concerned… they were smashed.
Whistler's snow is fluffy, plentiful, and light. Despite the proximity to the coast it's snow is generally dry, and ready to be sliced up by your board or skis. And the great thing about a combined 8,000 acres of terrain is that whether its flaunting itself on popular trails, or hidden among the trees, you will find the white stuff somewhere on either mountain.
Snow Quantity
The avalanche control provide excellent wakeup calls with their usage of dynamite sticks on the mountain. Avalanche control = powder! On average, Whistler receives 1,170cm of snow every season. The average snow depth by December is 172cm. By January this ramps up to 208cm, and come April the average hits 300cm.
Yes, it can heave down. But this won't short you on the amount of bluebird days. No matter the time of winter, the coastal climate will have clouds quickly pushed aside, and the sun will light up the endless display of mountains!
Want to follow the locals?: Head to 7th Heaven; the summit on Blackcomb mountain generally reigns as king. With it's high altitude and accessible terrain, there is usually soft stuff to be found somewhere.
This brings me to my next point…
2. Terrain
Beginners to Advanced
An unbelievable spread of trails are on offer for all levels of rider.
The beginner rating consistently hits 5 from 5 stars here. Slopes are wide and easy to navigate for newbies on the mountain. Specialised areas, such as the Magic Carpet at the bottom of the Wizard Chairlift, is a haven for beginners to 'find their skis'. Excitingly beginners aren't confined to the base of the mountain either. Higher altitude trails, like Burnt Stew Trail off Harmony Express Chair, will give some satisfaction to first timers to be up there with more advanced riders.

Have the goal of busting your first flip? If you're up for improving your intermediate skills while in town, I'd highly suggest touching base with the crew at Pro Ride Snowboard Camps. The gang aren't only the funnest crew to ride with, but the best at taking you from an intermediate to advanced rider in the quickest time possible.
This place attracts riders of the highest order. Travis Rice, Torah Bright, Jon Olsson have all been known to frequent Whistler (not to mention the world's best in the 2010 Winter Olympics). For those looking for an epic day on the hill, the issue won't lie in a lack of choice, but a surplus of it.
Tree Runs, Parks, Off-Piste
You know the feeling. Your eyes have planned the next three ducks and turns between the layers of trees. Your pulse is on auto-pilot – as are your knees – and an endless row of tree trunks guide you through untraced snow. The only thing that might pull you from such heart racing bliss are the 5 Terrain Parks over both mountains (inclusive of halfpipe, 40+ jumps, and over 150 rails and features).
Backcountry fans? Plenty on offer for you! Get yourself dropped out in nearby BC mountains, or find the steep and deep stuff yourself. As always, stay sharp and stay safe. Even the best have been known to run into some navigation issues out of boundary.
Related article: How to Choose and Plan the Perfect Heliskiing or Heliboarding Trip
Want to follow the locals?: Peak to Creek is an 11km leg-burner from the top of Whistler mountain to its base. Speed freaks have been known to clock this in 5 minutes… Dusty's Bar and BBQ will reward the exhausted rider at the finish line.
3. Village
Nightlife and Eating Culture
Live music at Crystal Lounge, Caesars at GLC Bar and Grill, dinner at Brewhouse, après at Longhorn, dancing at Moe Joe's.. As I've learned, it is very rewarding to ditch the plans once in a while. You'll have no problems finding fun by letting your feet guide you through the village at night. The illuminated cobblestone streets will give you that sense of winter wonderland, in a village which seems to continuously achieve its job of making you unforgivingly stoked!
Entertainment
Countless world-class artists have ventured through BC's favourite alpine village. Check the local gig guide in the Pique Newsmagazine for info on who's playing while you're in town. Chances are it could be anyone from an international superstar to any of Canada's local music heroes.
Sunday night don't miss the infamous Fire and Ice Show at the base of Whistler Mountain. Local pros put on a range of free jaw-dropping moments, incorporating big airs and blazing rings of fire; a combo that never gets old!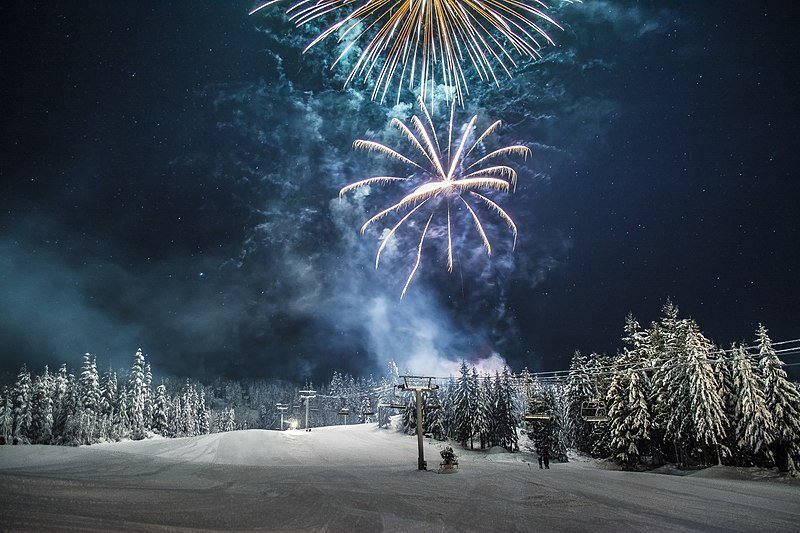 Want to follow the locals?: Live music, darts, and foosball at Tapley's Neighbourhood Pub is hard to beat. Or for a more chilled out vibe, try out Brandy's Bar which adjoins the equally as fun The Keg Steakhouse & Bar.
4. Competence
Lift Systems
Whistler employs world class RFID Technology on their lifts, which monitors the flow of traffic on the mountain. Bottlenecks and wait times are severely reduced as a result. Higher up the hill, you'll find the Guinness World Record-breaking PEAK 2 PEAK Gondola. Stunning 360-degrees of Whistler village, and a bird's-eye view over untracked forrest, will make the 11-minute journey between both Blackcomb and Whistler mountains go all too fast.
Staff
Nothing but the best for North America's finest. Customer service gets a detailed focus in this part of the world. From lift operators to mountain patrol, the utmost standard is reserved for guests of Whistler-Blackcomb.
Safe to say that the staff's smiles are incredibly contagious (not that we need any more reason to grin!).
5. You!
Many years spent avoiding a life of responsibility through travel, has given me as many years exploring the world's best mountains. But no resort has ever introduced me to more wonderful souls than Whistler. The village and its surrounding mountains tend to attract only the most friendly and social of travellers.
That said, and with the 2017/18 winter season beckoning… We can't wait to see you here in Whis!
<!]]>