<![CDATA[>
Heliskiing really is the ultimate dream for any powder-focused skier or snowboarder, but when you look at the costs, it often becomes apparent why the 'once in a lifetime' tag is so appropriate. There are hundreds of heliski operators around the world, ranging from (relatively!) budget to bespoke, mellow to gnarly, lodge-based to luxury yacht-based, treeskiing and pillows to big open faces and spines. This article will guide you through how to choose the perfect heliski trip, so you get the best return for your investment. Further down, you'll also find some of our top picks for heliski/board trips.
When do you want to go?
Lets start from the beginning, and narrow down the options a little. When do you want to go? Heliskiing is available pretty much year round. The main season in Canada generally runs from January to March – earlier in the season you tend to get more storms, which means lots of treeskiing is on the cards, while the alpine becomes a more viable option later on. While the Alaskan season runs from February through May, March and April are generally considered the best time to go: you get more daylight, the snow has piled up and stabilised without becoming too spring-like, and the chance of down days due to storms is reduced. Moving further into Spring, Scandinavia often offers incredible conditions from March through June, with a solid snowpack, remote terrain and lots of daylight; can you imagine scoring first descents in Iceland under the Northern Lights? Meanwhile there are heliski trips in the Alps, and further East in Russia, Turkey and Kyrgyzstan, right the way through the Northern Hemisphere winter.
But what about summer? Contrary to popular belief, you don't need to hang up your skis or snowboard in June – you just need to change hemisphere! South America and New Zealand can be incredible from June/July through to September, or even October and November if you push further south into Patagonia!
What Sort of Terrain do you want to Ride?
The great thing about helicopters is the incredibly easy access to terrain so remote you'd have to slog for days to reach on foot – this means that most operators are able to access pretty much any terrain that you'd like to ride! However, there are some generalisations. If you want the steepest of steeps and film-worthy spines, Alaska is by far the best option. If you want incredible treeskiing, then BC is about as good as it gets – though the forests in Kashmir are a strong rival, with perfectly spaced trees and more pillows than a boarding school pillow fight! The Andes are mostly about alpine skiing, with a range of open faces and couloirs with huge vertical descents; similarly Scandinavian heliskiing typically focuses on open alpine terrain, often with descents right to the sea!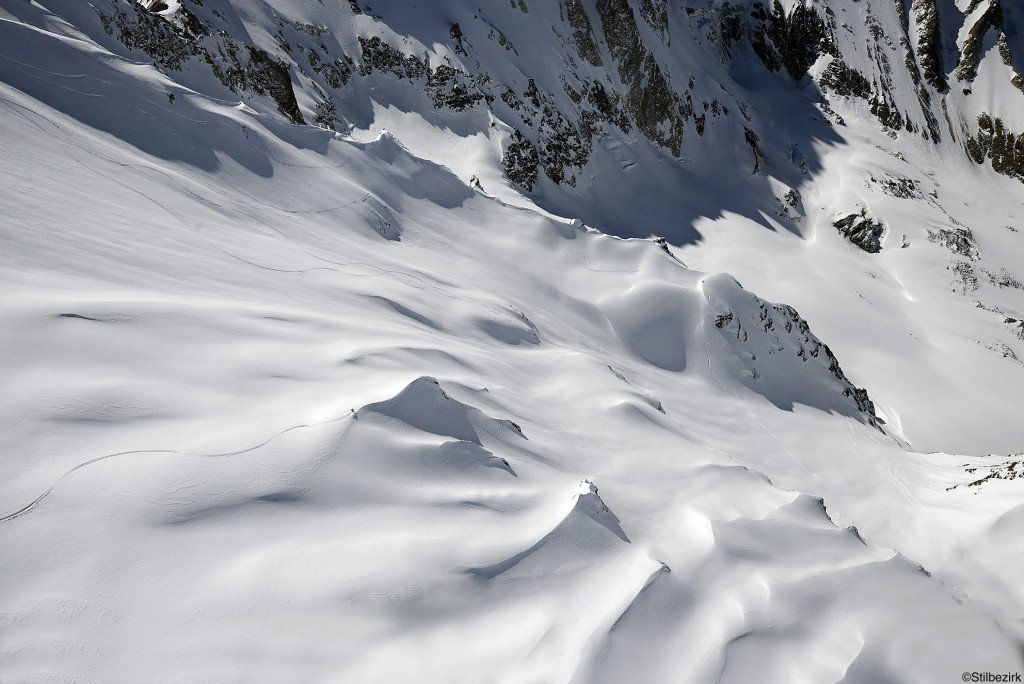 It's a misconception that heliskiing is always full on big mountain terrain: one of the best things about it is being able to find the sort of deep powder low angle slopes that would be tracked out instantly in a ski area: it's actually one of the best ways to learn to ski really deep untracked powder! If you are a good intermediate or better, then there is perfect heliski terrain out there for you somewhere.
If you are a first-time heliskier, intermediate skier, or just want to have fun riding instead of challenging yourself every day, Canada is a solid choice. For lovers of mixed terrain Canada's your best bet with both steep and playful and heaps of moderate stuff to mess around on.
Claudie Linke, LUEX Heliski Expert
Almost every destination offers terrain at both sides of the gnarly-mellow scale, and all operators are adept at matching terrain to you and your group's abilities, but Canada is probably the best choice for a wide supply of mellow powder runs, followed by some options in Turkey and Russia.
Snowfall and Downdays
Lets face it, there's no point shelling out the dosh for heliskiing unless the snow is good and deep; that's why almost every heliski operation is located in an area with high snowfall, whether that's Alaska, Canada or Russia's Caucasus mountains. However, the problem with regions with high snowfall is that, well, it snows a lot – which makes flying helicopters difficult and dangerous. While the weather is never guaranteed, it's definitely worth checking how many downdays each operator might expect for their region, and if they have any backup options like a nearby resort and lifts, cat skiing, or in the case of Kashmir Heliski tree runs in the back garden with a jeep to run you up from the valley!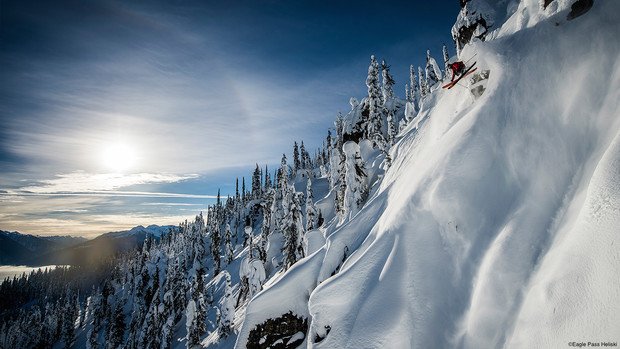 In general the coastal regions around Alaska experience the most downdays – the proximity to the sea ensures regular storms, and the high alpine terrain makes navigation difficult for the pilot. British Columbia's coastal regions experience similar storms, but the wooded terrain makes navigation much easier. Interior BC is generally colder and drier, so days when the heli can't fly at all are rare.
Alaska experiences a lot of down days where the helicopters can't fly – in worst case scenarios up to three or more per week. This doesn't often happen, but it can from time to time:the immense amount of snow has to come from somewhere! Over in Canada you can still ride freshies in the trees during light snowfall, and navigation here is much easier for the pilot. These can actually be the best days in Canada, full of the fluffy white goods!
Claudie Linke, LUEX Heliski Expert
Abundance of snow and quality of snow are also different things that you should definitely take into account: while coastal regions tend to get more snow, it's usually heavier and denser too. Alaska is somewhat of an exception, as the very cold temperatures and winds after storms suck a lot of the moisture from the snow, but generally interior BC, Kashmir, and Kyrgyzstan experience more of the super light cold smoke powder than areas closer to the ocean.
Group Sizes
Generally the bigger the helicopter the bigger the group, and the cheaper the price, however it's also likely that you'll spend more time waiting, ride less exciting terrain, have less flexibility and terrain choice, and the chances of having lower ability skiers in the group increase. Larger helicopters are more common amongst the big well-established operators in the Canadian interior, and also in some of the more eastern regions like Kyrgyzstan and Russia.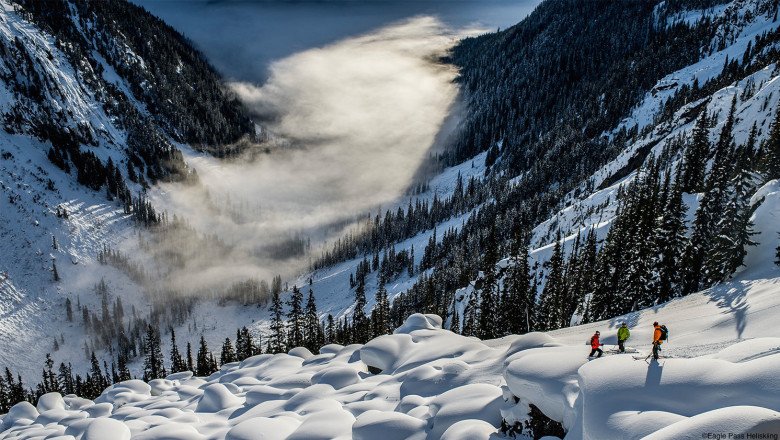 Related Article: How to Decide whether to go Heliskiing in Canada or Alaska?
In contrast, small helicopters and groups are more expensive as the costs can't be spread across so many people, but you'll generally spend a lot more time skiing the sort of terrain you want to ski. Ideally, you want to fill the helicopter with just your own group, to keep skiing standards similar, but if this isn't possible the operators are very good at assessing abilities and matching groups with similar ambitions. You'll typically find smaller helicopters and groups amongst the more boutique operators in Alaska, coastal BC, Kashmir and the Andes.
Ships or birds, large or small helicopters… That is the question! The large helicopters (e.g. Bell 205) with capacities of up to 11 guests are more commonly found in the Canadian Interior – with some packages from Canadian Mountain Holidays or Wiegele, for example.
Claudie Linke, LUEX Heliski Expert
Standards of Accommodation and Remoteness
Standard of accommodation and ease of access are clearly significant factors in terms of cost: the more luxurious the accommodation and the harder it is to get to, the more the expensive it gets. However, they don't always go hand in hand – while some of the remote fly-in lodges in BC are both fabulously luxurious and very hard to get to, other options in Alaska are expensive to reach, but relatively Spartan in comparison.
Generally the most sumptuous lodges are found in BC – after a day heliskiing you can expect gourmet dining, fine wines and gorgeous pool and spa facilities. However there are exceptions, like the incredibly exclusive heliski-yacht trip in Patagonia.
Alaska is sometimes a bit harder to reach than Canada. The flights between Anchorage and Valdez, for example, are frequently cancelled. Also, there are significant differences in travel time. Some packages seem very cheap at first, but end up costing a bomb when you add up the additional flight costs.
Claudie Linke, LUEX Heliski Expert
Kashmir ranges from absolute budget to high quality 5* hotels, however it's quite difficult to get to with a connecting flight from Delhi to Srinagar then a jeep ride into the mountains; with a couple of notable exceptions Alaska tends to be more along the rough and ready lines, and is normally expensive and time-consuming to reach; and with the exceptions of new luxury lodges and the opportunity to stay in a lodge formerly owned by Russian president Mikhail Gorbachev, most of the more easterly options tend to be comfortable as opposed to opulent, though often not as hard to get to as you might expect.
What Packages are Available?
The packages on offer vary hugely by operator – do you just want a single day heliskiing in an open group, or unlimited vertical with one heli for just you and your friends for a week? How fit are you and how much deep powder skiing can you handle day after day? How much vertical is guarantees by the operator? The options run the gamut of relatively affordable to eye-wateringly expensive, with or without accommodation and food, and it's best to talk to an expert to decide exactly what would suit your needs best.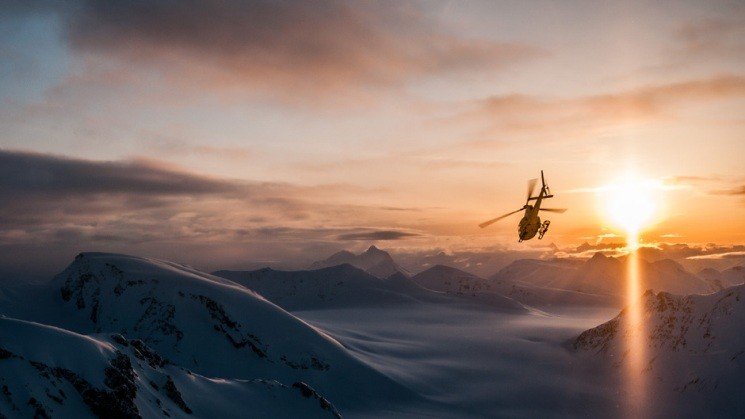 The number of drops and amount of vertical skied each day vary just as much by terrain choice and skier ability as the operator, and it's beyond the scope of this article to go into too much detail for each operator and region. However, extra vertical can often be purchased on a day to day if you want, though it's worth keeping an eye on exactly how much extra skiing you do as you can end up with a costly unexpected bill as you check out if you've racked up too much extra vert.
Safety Considerations
When you're skiing untracked snow in the wildnerness, safety is paramount. The good news is that as heliski guiding is such attractive job, the operators can choose from the best in the business! However it's definitely worth checking the credentials of the guides at any operator you are considering: are they fully qualified UIAGM mountain guides, what avalanche qualifications do they have..?
Safety on the ground is directly related to conditions and snow stability at the time, but we can make some generalisations: Alaska's unique weather patterns often result in freakishly stable snow, allowing you to safely ski steeper terrain than anywhere else in the world, and the denser snow in BC's trees allows safe riding even when avalanche conditions are high in the alpine. The continental snowpack of interior BC can be more problematic, so it isn't the best option if you are really set on riding lots of steep lines.
Alaska is known for extremely stable snow conditions, which in turn means a comparatively low risk of avalanches. This is due to the proximity to the Pacific – wet ocean effect snow is thickly plastered onto the mountains, where it sticks to even the steepest slopes. However the truly remarkable thing about Alaska is that the very cold temperatures then suck the moisture from the snowpack, leaving perfect velvety powder.
Claudie Linke, LUEX Heliski Expert
When it comes to helicopters, most operators are very particular about safety, reliability and maintenance: they are just too expensive to risk taking any chances with, and most operators use very similar aircraft like Eurocopter A-Stars and Bell 205s. Safety records are excellent, but it's very important to pay attention to your guide's safety brief – it should be apparent that climbing out of a helicopter with blades whirring just over your head requires extreme care.
Cost
As discussed above, there are many variables that determine the cost of a heliski or heliboard trip. To keep costs down as much as possible, look for an operator flying larger helicopters with big groups near established resorts or towns with cheap accommodation, or head east to some of the cheaper options in Turkey and Russia.
If you want to go all out with no expense spared, then BC's exquisite remote lodges are as luxurious as you could possibly want, or for something extra special, take a look at a yacht based trip like the Nomads of the Seas cruise in Patagonia.
If you have any questions or need advice about which heliskiing or heliboarding trip would be best for you, please feel free to get in touch with one of our snow travel experts! In the meantime, check out our top picks below!
LUEX Top Heliski Trips
Point North Heliski, Alaska
Jessica and Kevin, the owners of Point North Heliski, established a serious gem of a heliski operation. First of all, they both absolutely rip, and truly understand what a real skier or snowboarder needs. They have years of experience as mountain guides and give the highest attention to risk and safety management, but they also definitely have their hearts in the right place, so that you feel at home in the surrounding backcountry and at their rustic ocean front place – The Orca Lodge!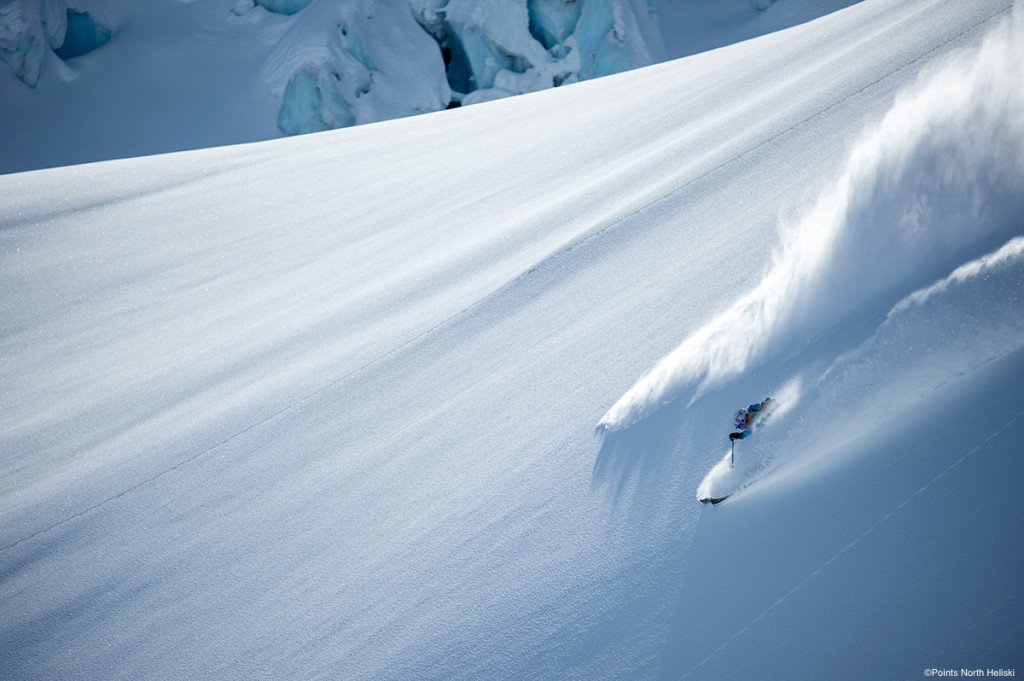 The Orca Lodge is one of the coolest places you can imagine. Built from a cannery which was established in 1887, it is now a state-of-the-art hotel with two storeys and 37 rooms. It is located directly on the ocean, with the helipad right out in front. Visiting folks are usually international and young-at-hear, all mixing up and filling evenings and down days with plenty of life and stories.
AK is simply amazing: a rough stretch of land, and a pure skiing miracle. It still is and always will be THE dream for any rider, totally incomparable to any other place on the planet. The steep-side mountains rise from the ocean to over 3000m, and the area can receive up to 50 feet of snow annually.  An important advantage, compared to some other operators in neighbouring regions, is that PNH provides exclusive use of the south-east corner of the Chugach Mountains; in Valdez you would have to share terrain with several operators. The maritime snowpack allows for some real radical steep skiing: the guys at PNH really love to ride very aggressive terrain, provided the right conditions are in place. However, it is important to know  that you really do not have to be an expert or extreme skier to have a good time in Alaska – there are runs for everybody!
Last Frontier Heliski, Canada
Last Frontier Heliski are right up there with the best heliski operations in the world. They have two locations to choose from, both offering epic heli skiing and heli-boarding in some of British Columbia's wildest terrain. Averaging snowfall of 20-30m a year at 1600m, typically less than 1 downday per week (on average), and with over 9,500 square kilometres of terrain to choose from, Last Frontier have something for everyone: deep cold smoke blower powder runs over huge glaciers and incredible forests.
You can choose between either Bell2 Lodge or Ripley Creek Inn, two comfortable lodges with amenities to suit your needs. Bell2 lodge's bigger size offers a chance to meet and mingle with other guests, and the luxurious setting is also great for travelers who want the true Northern BC experience and fine dining, combined with the cozy comfort and natural touch of a log cabin chalet. At Ripley Creek you'll enjoy the rustic and quaint atmosphere of a smaller lodge, with delicious dining options in a historic café nearby.
Packages with Last Frontier Heliskiing include small group trips (max 5 guests) in A-Star B2 or Bell 407 helicopters, accommodation with en-suite bathroom, all meals and soft drinks, and equipment rentals. You'll also be sure to feel safe with A.C.M.G. or U.I.A.G.M. certified guides, avalanches transceivers, and ABS airbags. Return transfers are also available from the launch point to your lodge. If you're ready to take flight to some of the best terrain in British Columbia, book your trip with Last Frontier.
Viking Heli Skiing, Iceland
In the far north of Iceland, untouched expanses of soft, fluffy powder are waiting for you, and Viking Heliskiing can take you there. They're based in Ólafsfjörður and Tröllaskagi (Troll peninsula) in the north of Iceland: Ólafsfjörður is known for its spectacularly snowy winters and breathtaking landscapes, but after a visit there, you'll remember its epic snow and fun terrain.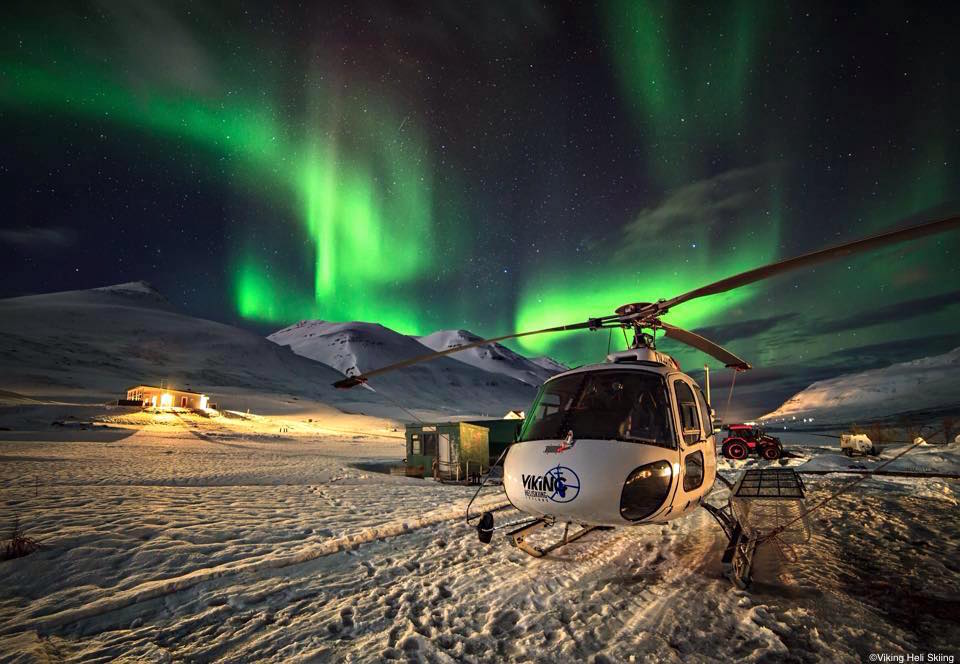 Led by two former Olympic skiers and a knowledgeable team of heliski guides, Viking Heliskiing will take you to some of the most exciting and challenging terrain in Europe. Whatever you're looking for, you'll find it in Iceland: the guides provide a personalised service, working with only small groups and choosing terrain to suit – whether that's want steep and deep or wide open glacier cruising. It's even still possible to score first descents!
The exclusive lodges are located on the Þverá farm in Ólafsfjördur: in the main Lodge you'll enjoy gourmet meals with a focus on fresh Icelandic foods such like goose, lamb and arctic char. After an active day in the mountains, it's hard to beat sitting down at the bar and unwinding with a glass of wine or a pint of the Icelandic Viking beer, or maybe taking a dip in the jacuzzi and admiring the northern lights.
Related Article: Most Exotic Heliski Trips in the World
Viking Heliskiing offer a variety of packages, from single day trips to week-long adventures. If you're in Reykjavik and want to shred the slopes for a day, Viking Heliskiing also offers day trips from Reykjavik to the Botnsúlur area. In case you have any down days, Viking also offer ski touring, snowmobile and snowcat trips. Heliskiing takes place from March through June and all trips include guided skiing with 1 or 2 expert mountain guides in a small group, safety training and use of safety gear and skis. Overnight trips also include meals and lodging at the Viking Heliskiing Lodge.
Bella Coola Helisports
A trip with Bella Coola Helisports is a very special experience. You'll start in big city Vancouver, with a tiny little aircraft for Bella Coola guests only. The 1.15h flight takes you over snowcapped, sugar-white mountain ranges, while the ocean glitters on the left from time to time; after the short and beautiful flight, you'll land in the middle of beautiful Bella Coola Valley. Welcome to powder paradise!
The execution of the trip is incredible: You get off the plane and step into the heli hangar, which is immediately next to the airfield. The guides will prepare your skis, boards and boots for you, and after the safety briefings, you'll find yourself sitting in the chopper ready to start your heli adventure and make your way to the lodge on skis.
The skiing takes place in some of the most beautiful mountain ranges of Canada: incredibly wild and rugged, with particularly impressive glaciers. Maybe you remember the scene from 'Seven Years in Tibet' which was produced here?
Bella Coola Heli Sports offers a choice of three different lodge experiences: Tweedsmuir Park Lodge, the Pantheon Heli Ranch and Bella Coola's Big Mountain Lodge. Each location is unique and has its particular advantages. However, regardless of which location you choose, you can expect the utmost attention to privacy and service during your stay. All the properties are in spectacular settings and only host small groups.
Andes Heliboarding
Imagine taking off from a Bell 407 Helicopter and being flown to exclusive locations across the Andes and the coastal mountain ranges of Patagonia. With Andes Heliboarding you'll find virgin snow and steep terrain overlooking the sea, glaciers and fjords – and in November you can even ski on Patagonia's volcanos.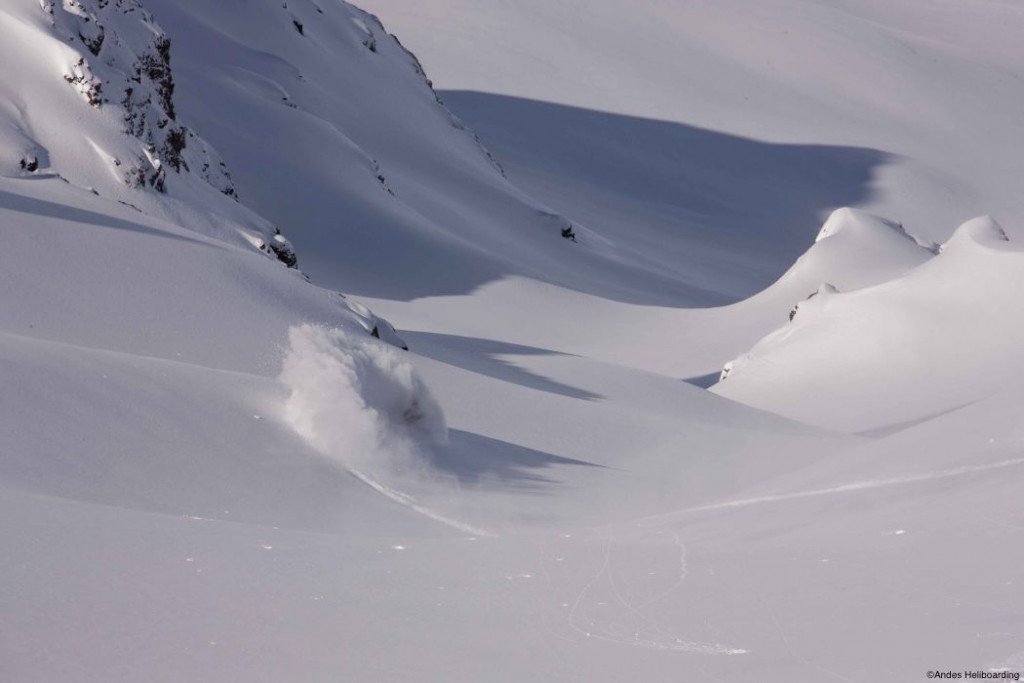 Andes Heliboarding have years of heliski professionalism and offer a first class heliski service with only small groups of a maximum of 8 skiers/snowboarders. Run by Pro-Rider Bob Echene and his wife Annais – Bob introduced the snowboard to Chile in 1989! Good snowfall is assured, with plenty of cold, dry powder; the local terrain provides heli-drops from 3800 to 4500 metres, with vertical descents between 1500 and 2400 metres according to snow conditions.
Heliski guests will enjoy an unforgettable and unique experience, with a high class service; and cuisine, open bar and specialised attention. There are 5 different packages to choose from: Urban Heliski Program (based out of Santiago), Mountain Village Heliski Program (based out of a cosy mountain chalet), the Spa & Nature Heliski Program (based out of comfortable El Ingenio Lodge, right by beautiful Maipo rivers, with volcanoes, lakes, hot springs and huge valleys around), the Valle Nevado Heliski Program (based out of the biggest ski resort of Chile) or Puma Lodge Heliski Program (based out of beautiful Puma Lodge with plenty of amenities: Spa, gym, fitness center).
Eagle Pass Heliskiing
Deep in British Columbia's majestic Monashee Mountains you'll find Eagle Pass Heliskiing, one of the world's best heliski and heliboarding operations. Sometimes called the 'dry powder factory,' the terrain at Eagle Pass is known for amazing snow, excellent gladed tree skiing, and mind-blowing pillows. This unique area in British Columbia is famous for having superb poor-weather skiing terrain, meaning very few "down days."
At Eagle Pass, the guides are experts who aren't afraid to ride steep lines and are motivated to encourage you do the same – though there's plenty of intermediate terrain too. During your heliski runs you'll enjoy skiing or boarding majestic glaciers, beautiful alpine bowls, long chutes, and open forests and burns.
Small group sizes (just 4 skiers per group) and a close attention to detail ensure that you'll have the perfect personalised experience that will make your heli ski trip the best of your life: Eagle Pass prides themselves on offering unlimited vertical, and as the helicopter is parked right outside the lodge, you can be sure that you'll get more than your fair share of skiing or riding in. Groups are formed based on ability and both advanced and intermediate skiers and riders will enjoy the terrain at Eagle Pass.
Packages are available for multi-day trips with accommodation, as well as single day trips. Accommodation is at Echo Bay Lodge at Solitude Point, a private estate just 8 miles south of Revelstoke. The lodge was built in 2003, using native materials such as cedar siding, standing-dead fir timbers, slate, limestone,  and 100 year old fir for the floors. It has extensive mountain and Columbia River Valley views: large expanses of window walls create the feeling of being outdoors while sitting in the living room. Massages, chilling in the outdoor hot tub, and trips to the local hot pools are great ways to wind down at the end of the day.
<!]]>