<![CDATA[>
Norway is the home of skitouring on so many levels, but with so much variety and so many options on the table it can be hard to choose where exactly you want to go! This article gives an overview of our favourite spots for backcountry skiing in Norway.
Norway is writ large in the history of skiing – even the word ski comes from the Old Norse word 'skíð' (meaning stick of wood)! It's the birthplace of modern skiing, where skiing first transcended from a means of travel to a sport and recreational activity; where the idea of camber and sidecut were born. Telemark skiing is even named after the Norwegian region of Telemark where it was invented!
More than the heritage though, Norway is also a fantastic ski destination in its own right. It gets huge snowfall, has wild and rugged mountains, steep couloirs and wide open powder fields. However while the country is home to a number of ski resorts, it's the skitouring and backcountry potential that truly shine: there  aren't many places in the world where you can shred a 45° powdery couloir right down to the sea! Another key advantage is its low altitude, which is rare for the ski world where higher is generally considered better and more snow secure. Skitouring is another matter though: lower altitude means more oxygen, so you can climb higher and further faster and more comfortably than in places like the Alps or Himalayas.
70% of Norway's 385,252 square kilometres is mountains, which means there's an awful lot of potential for backcountry adventures! So where should you go? These destinations are our top picks for skitouring trips in Norway:
Lyngen Alps
The Lyngen Alps are in northern Norway, east of the city of Tromsø and well within the Arctic Circle. The range is around 90km long and 15-20km wide, and the highest peak is 1833m Jiekkevarre. The mountains are generally alpine in nature, with perfect ski touring terrain and untouched nature in Lyngen National Park – there are no lifts and few tourists despite the incredible views over the ocean fjords. Due to its Arctic location the winter nights are long and dark with snow right down to sea level until very late in the season, whereas the summers see 24 hours of daylight. 
Average winter temperature: -5°C in January

Altitude: most tours top out around 1200m max

Terrain: typically alpine, with a range of ridges, couloirs and open slopes

Suited for: b

eginner to pro level
Senja
At 1586.3 km2 Senja is Norway's second largest island, lying roughly mid way between Lofoten and Lyngen and 300km within the Arctic Circle. It's often described as Norway in miniature: fjords cut a jagged outline, with lush pine forests and mountains inland (the highest is Breidtinden at 1017m). Despite its remote location the island has a good road network providing easy access to a wide range of skiing options. The mountains can be steep, especially on the ocean facing sides, with more mellow basins facing inland. The best time to visit for skiing is generally February to May: by mid-February the polar nights are already giving out to long daylight hours, and by mid May it's a land of midnight sun.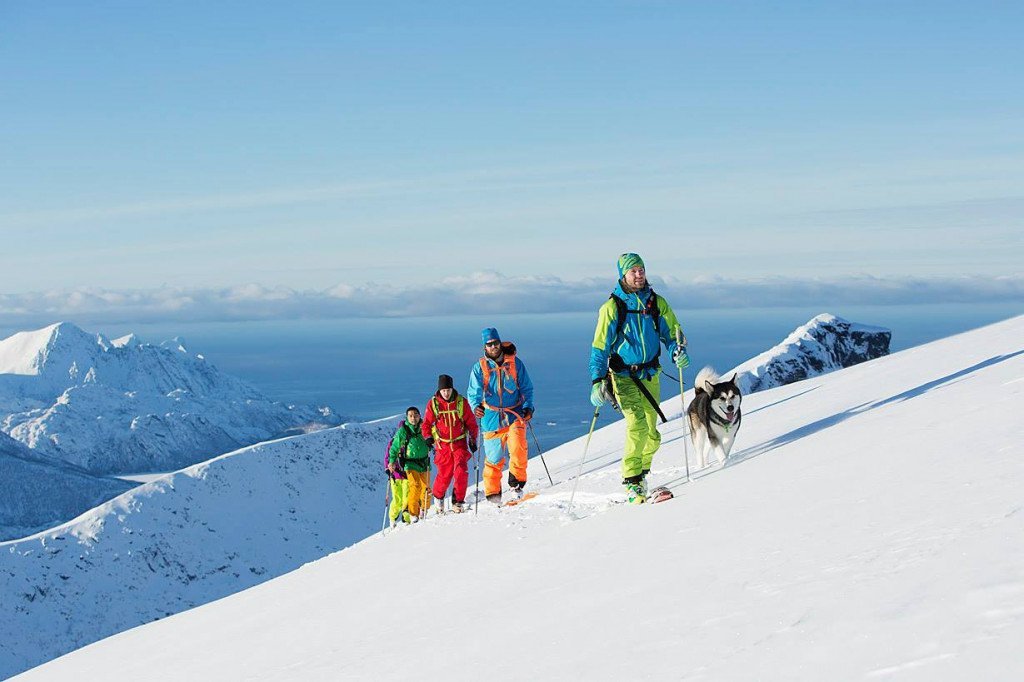 Average winter temperature: -4°C in January
Altitude: usually up to 800-1000m
Terrain: very varied, with lots of full on ski mountaineering and technical couloirs
Suited for: strong advanced skiers up to pro level
How to: best by lodge
Sunnmøre Alps
The Sunnmøre Alps encircle the 33km long Hjørundfjorden in the northern-most part of Western Norway, with deep valleys riven by glaciers between the peaks. Despite their more southerly location the mountains are higher than in Lofoten and Lyngen – up to 1,700 metres – and with skiing possible further inland (away from the warming influence of the ocean) as well as in the fjords they're known for a long season lasting right through in to June. In fact the Sunnmøre Alps are one of Norway's most classic skitouring destinations, with 6 of the 'top 10 Norwegian ski tours' as voted for by the Norwegian Mountain Guides Association. If you need a warm up, or to rest your legs after a few days hiking, there's also the possibility to ride the lifts at Strandafjellet resort too.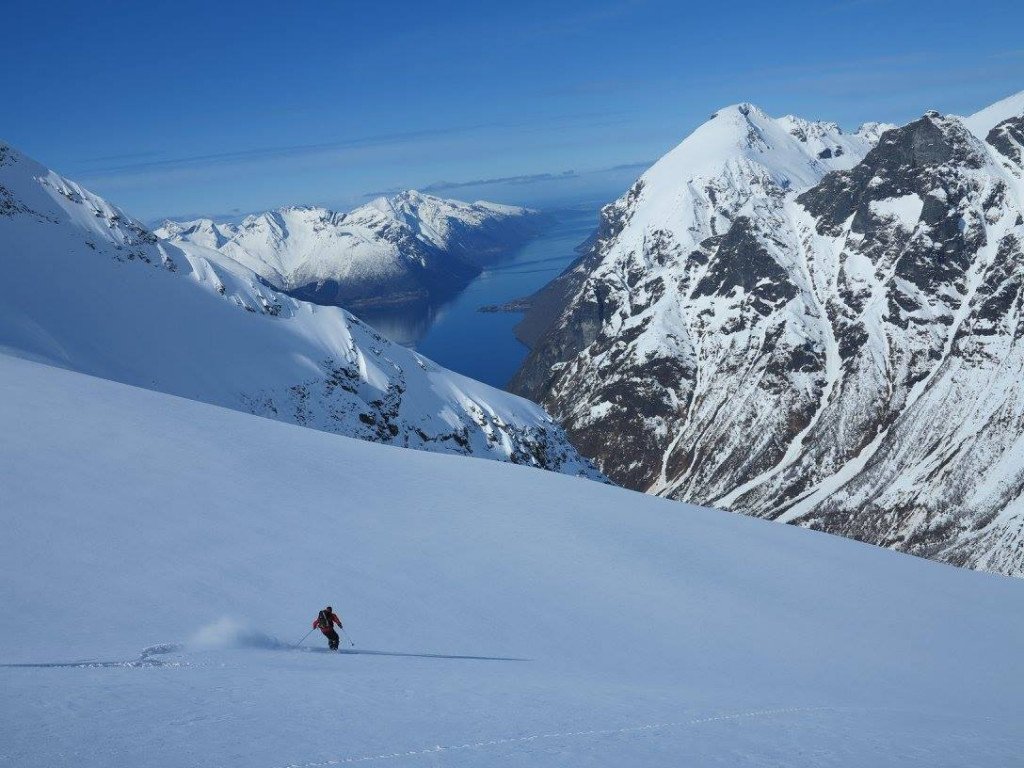 Average winter temperature: 3°C in the valleys in January
Altitude: generally up to 1400-1600m
Terrain: high alpine style slopes at varying levels of steepness
Suited for: beginner to expert level
How to: best by boat
Lofoten
Lofoten is a region of fjords tucked just within the Arctic Circle, and is fast becoming the most famed and desired tick box in Norwegian skiing. It's stunningly beautiful, with dramatic mountains plunging straight down into the ocean – if you want to ski a gnarly couloir to the sea then Lofoten should be at the top of your list. Due to its coastal location and the proximity of the Gulf Stream the weather can be warmer and more fickle than you might imagine, with winter temperatures averaging around 0°C at sea level during the winter. This means the season is shorter than in some other areas – mid-January (December is too dark, with no sun at all in the earlier half of the month) through to March is prime time, though you can find great spring snow and corn well into April too. The highest mountain in Lofoten is Higravstinden at 1161m.
Average winter temperature: -2° to 0°C, but be prepared for -10°C at times and at altitude

Altitude: typically around the 1000m mark

Terrain: mostly steeper alpine terrain, with a number of iconic couloirs
Suited for: i

ntermediate to pro
<!]]>