<![CDATA[>
Hokkaido. Powder. Deep. Faceshots. Onsens. Sushi. Blower. Cold smoke.
Tracked?
When we think of skiing in Japan, the first image that comes to mind is clouds of endless billowing powder, as lucky skiers and boarders rampage between the oh-so-perfectly spaced trees like pigs in the proverbial. And it's true: it snows in Japan like nowhere else on Earth! The sheer magnitude of angel dust that can fall from the sky is completely and utterly mind-booggling. It's like being in marshmallow land – but sweeter. Considering how light and dry the snow is, the weight of it that can accumulate is truly insane. It just blankets everything. It needs to be seen to be believed.
The problem is, the secret is well and truly out now. While once Japan was the preserve of the most dedicated travelling powder hound, whispered about in hushed tones over late night beers and cheap hand-rolled cigarettes in dimly-lit ski bars, it seems like every pro skier and their Mum were filming in Hokkaido this season. It's not just the pros either: Niseko's Grand Hirafu now feels more like a slightly (ok, much) snowier outpost of Australia (seriously, it's a wonder they don't have Fosters on tap yet), and the ski area gets tracked almost as quickly as St Anton when the Scandi Army's in town.
So in these times where over-enlightened ski bums with generous overdrafts seemingly chase the snowy dream halfway around the world just to poach your line, can the discerning powder pillager still find enough untracked to satiate their appetite in the Land of the Rising Sun?
Ooooh yeah. Big time. You just have to look a little further than Niseko (though it's still a great base to explore the island from). Here are my top tips – just, er, don't tell anyone…
#5: Moiwa
Moiwa is like Niseko's little brother, and literally just around the corner from Annupuri – in fact there are some great backcountry runs between the two resorts, though you can also take a shuttle bus. Despite being so close to Niseko, Moiwa rarely picks up the crowds of its larger neighbour, and you can often ski deep, untracked powder all day long.
It's only really worth heading to Moiwa when gate 6 (allowing backcountry access) is open, but when it is a short sidestep and skate along the ridge brings you to a gorgeous bowl, with great fall line skiing down through the trees. Watch out along the track back to the lifts at the bottom though: one fluffed turn will see you falling into the river below, and there isn't much room to take evasive action if someone stops in front of you…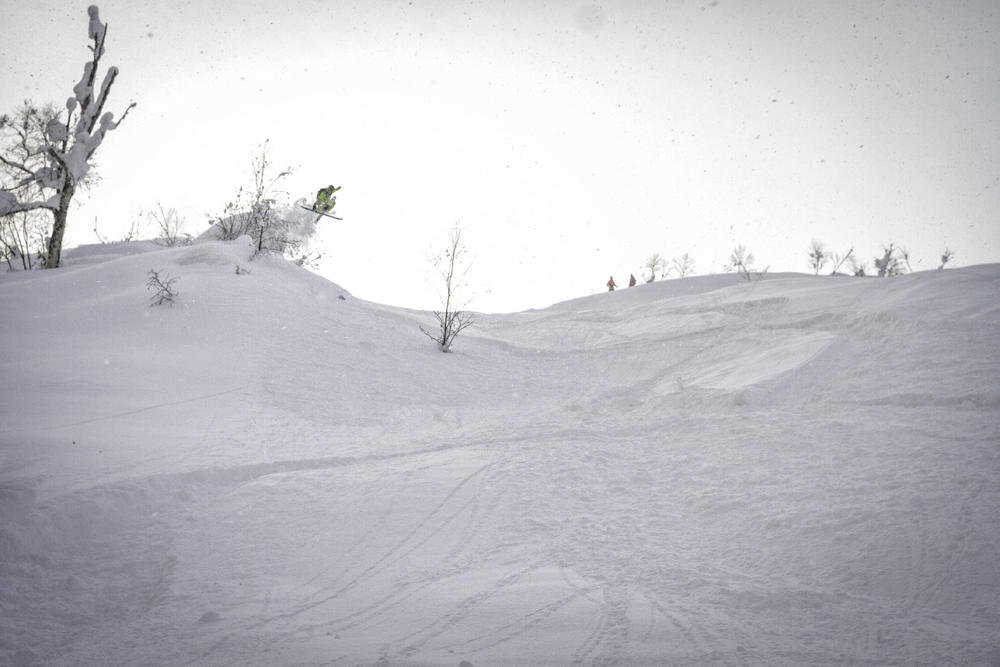 #4: Rusutsu
Rusutsu is only a 30-40 minute drive around Mt. Yotei from Niseko, but that's just about far enough to escape most of the crowds. While the area is becoming more popular following Nimbus Independent and Salomon Freeski edits, you've still got a far greater chance of scoring first tracks here than in Niseko.
Head up Mt Isola for the best of the tree skiing, where you'll find long fall line descents through the glades to the base of the resort. The lack of traverses from the lifts makes Rusutsu one of the better resorts on Hokkaido for boarders, but everyone can get their tree jib and pillow pop game on. If you want the freshest of fresh snow then consider earning your turns on Shiribetsu-dake, adjacent to West Mountain – you'll be rewarded for your hike with 360° lines off the top (take the south facing slopes if you want to get back to the resort). If you really want to step things up then head to the incredible Supernatural-style terrain park, where you'll find all sorts of crazy hits and sculpted features to send. Be warned, though: despite the powder landings, it's not for the faint hearted!
#3: Kiroro
Ah, Kiroro! The scene of my most obscenely deep ski day to date, Kiroro is one of my favourite resorts of all time. Around an hour's drive north from Niseko, Kiroro benefits from slightly different weather patterns, which means it can be over the head deep and still dumping when Niseko is bone dry.
Kiroro isn't exactly quiet, but most of the guests tend to be Japanese piste skiers, so you have very little competition for freshies. Whilst not the steepest mountain on Hokkaido there's some gorgeous and easily found tree skiing right next to the pistes, and if you look a little harder there are some awesome 'mushrooms' to be dropped, and a few steeper stashes tucked away out of sight. In theory you're not allowed to leave the resort boundaries, but, ahem, if you should accidentally get lost and end up on the wrong side of the ropes, you'll find a few treats skier's left off the top of the Asari No.2 Express chairlift – just don't miss the track traversing back to the lift at the bottom!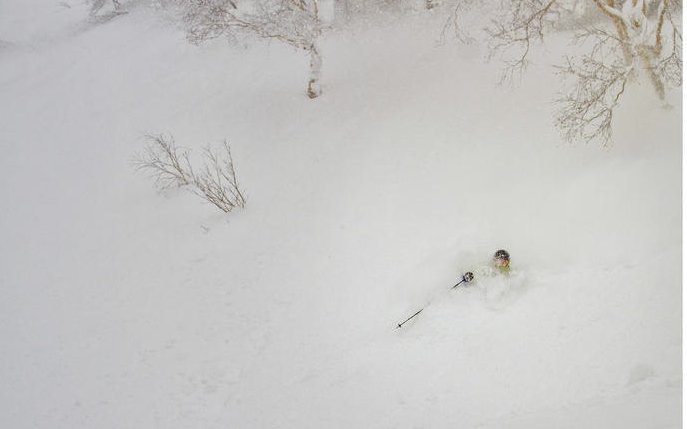 #2: Asahi-dake
Asahi-dake is in the Daisetsuzan National Park, smack bang in the middle of Hokkaido and roughly 5 hours from Niseko, so is best accessed from somewhere like Furano (which also has some great skiing, especially if you make the 30 minute bootpack to the peak). It's well worth the effort though – Asahi-dake is essentially a backcountry ski area on a live volcano, but with a tram up to mid-mountain. The upper mountain is ski tour only, and often storm-bound, but when it's on it's on: Asahi-dake is the highest mountain on Hokkaido, which when combined with the distance from the ocean often results in the driest powder found on the island.
There's an abundance of terrain at Asahi-dake, both in the alpine and the trees. Though you won't find any super steeps, there are some incredible bowls and chute-type lines, with more than enough mushrooms and cliffs to huck lower down. Be aware though, the whole area is uncontrolled and unpatrolled, so you need both backcountry experience and equipment. Watch out for cracks and fumaroles emitting volcanic gas too!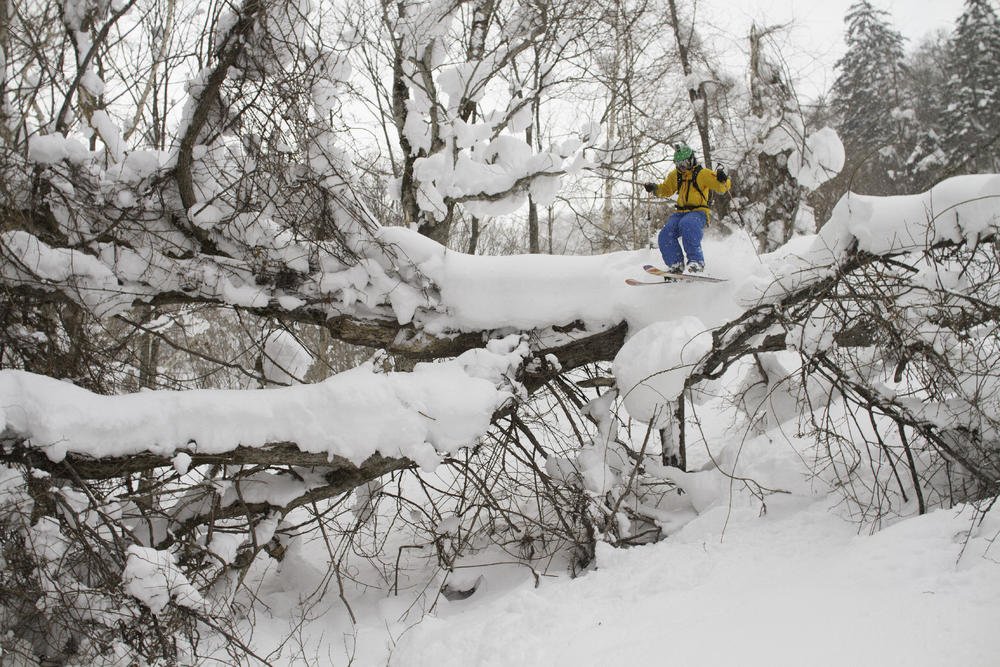 #1: Teine Highland
In my opinion, Teine is the best resort on Hokkaido. It's just outside of Sapporo, but has by far the best lift-accessed terrain on the island. Being so close to Sapporo means that Teine can pick up quite a lot of crowds on weekends, but during the week there's more than enough lines to go around. Another bonus is the view from the top, with the grid of the city juxtaposed against the snowy mountains and frigid ocean.
For the best of the goods take a short walk to skiers' left of the quad chair, where you'll find a selection of steep chutes and slopes leading down to some great tree skiing. If you traverse further along the ridge you'll find another few bowls that tend to remain untracked for a good while, and the whole area is peppered with fun cliffs, mushrooms and trees to drop. The left side of the piste map generally holds mellower terrain, but a few short bootpacks access some really fun pillow fields. After a great day skiing it's well worth heading into the city for authentic Japanese food, and a night out in Sapporo is likely to be one of the more memorable of your life!
All in all, Japan is a pretty magical ski experience nomatter where you choose to go; Hokkaido in particular really is a pilgrimage that every powder-loving skier and snowboarder should make at least once in their life! If you're planning a trip and want some advice or tips on where to go, feel free to get in touch with one of our snow travel experts!
<!]]>