<![CDATA[>
The mountains of Canada and Alaska have always held a particular fascination for me.
Of course, other skiing destinations around the world can offer a great deal too. For Instance, the mountain culture of the Alps is unmatched. Japan has guaranteed blower pow. Skiing above the ocean in Arctic Norway is exceptional. However, for me at least, the mountains of Canada and Alaska offer a unique combination of terrain, snow, and wilderness found in few other places.
Canada
Canada is a vast country – the second largest on Earth. Most of the country's mountainous areas are in the west – in the provinces of British Columbia and Alberta. BC, in particular, has some of the wildest and most extensive mountain regions on the Planet.
Coast Mountains
The Coast Mountains stretch from Vancouver all the way to the Alaskan border. They are an incredibly diverse and often very remote. They also contain some of the snowiest mountains in the world. North of Whistler, access into the range is often by boat, plane or heli and any self-powered trip is likely to be a full-on expedition.
Most skiers will fly into Vancouver Airport. However, Seattle, just over the border in the US, is also a popular alternative. Vancouver itself is a modern and progressive city with beautiful surroundings which is definitely worth exploring for a day or two.
Resorts
Whistler dominates the South Coast area. It can get busy at peak times, but equally, I've spent many days there when I've practically walked onto every lift. The weather can be pretty stormy, and if you're a sun worshipper, it might not be the best choice. However, lots of weather equals lots of snow and Whistler has to be one of the most reliable powder destinations in North America. There is a fantastic amount of terrain to ski, all if it of the highest quality. From tree runs to alpine bowls and groomers, it's all awesome.
North of Whistler there is just a handful of small ski resorts, the best of which is probably Shames Mountain, close to the town of Terrace. It has only a few lifts but usually receives enormous amounts of snow and is surrounded by some incredible backcountry. Nearby Hudson Bay Mountain also looks cool. These ski areas are way off the beaten track and crowds are none existent. A ski trip to this part of the world should make for a good adventure with plenty of fresh tracks.
Ski Touring & Splitboarding
The touring options in the Coast Mountains are pretty much endless. They range from a short skin from the top of Whistler's lift system to a multi-day traverse across one of the many icecaps in the range. Many zones are designated for, so sleds are really popular, especially close to Whistler.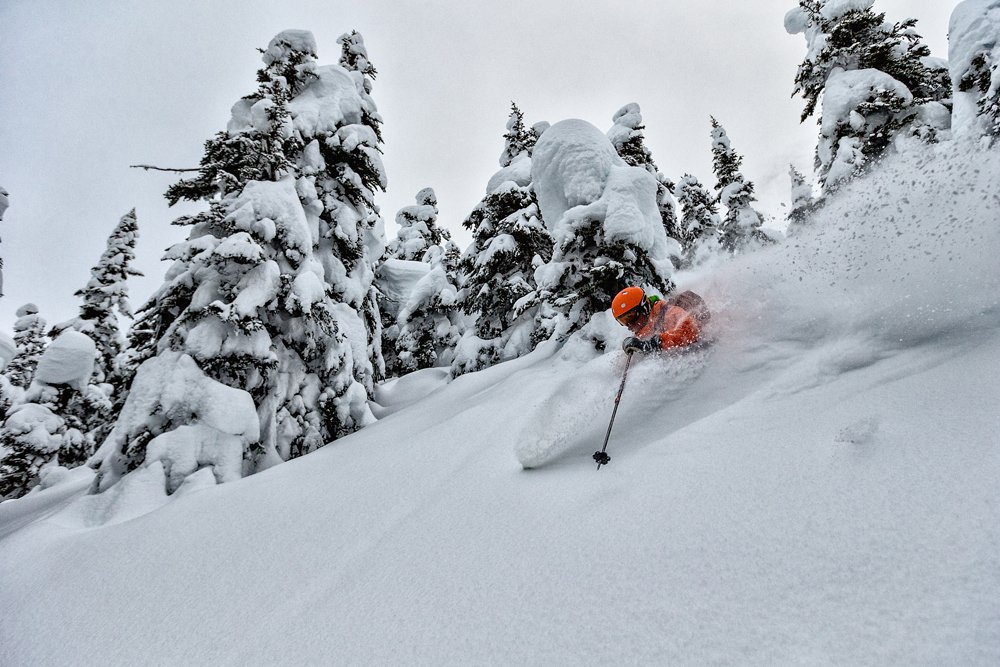 If you're looking for ideas on where to start both the Callaghan Valley and Duffey Lake areas are popular touring venues, both within an hour or so of Whistler. As always, consider hiring a local mountain guide if you're new to the area. Remember, these are big, remote mountains that get hammered regularly by Pacific storms.
Catskiing & Heliskiing
There are a few cat and heli operations in the Whistler area, many of which run day trips as well as week-long tours. However, it's the North Coast of British Columbia that has the best options for cat and heliskiing. The Northern Coast Mountains form a massive area of wilderness that is just made for heli access. Big vertical, varied terrain and 20-30 metres of snow a winter are the reasons to ski here. There are several heli operators in the area and also some more affordable catskiing options too.
Related article: How to Choose and Plan the Perfect Heliskiing or Heliboarding Trip
This part of the Coast Mountains sees regular Pacific storms through the winter so there may be some days when the heli can't fly. However, unlike many Alaskan locations tree skiing is often possible when heliskiing in BC. Also, operators like Last Frontier have such a large tenure that it's usually possible to find flyable weather further inland, even during a storm.
Interior BC & Rockies
Head inland from the Coast Mountains and you arrive in Interior BC. Three mountain ranges – the Monashees, Selkirks, and Purcells – eventually lead to the Rockies, after which the land slopes away into Alberta. Interior BC can be accessed from Vancouver to the west or Calgary to the east.
Resorts
Interior BC is famous for the quality of its snow and the unique vibe of its ski towns. The Powder Highway runs through this part of BC, which I guess tells you all you need to know. The region's resorts are mostly low key, relaxed places with great skiing and even better snow.
Related article: 5 Reasons To Visit Revelstoke This Winter
Revelstoke and Kicking Horse are famous for big snowfalls and amazing big mountain terrain. Further south in the Kootenays is Whitewater, near the town of Nelson, and Red Mountain near Rossland. They're both excellent places to ski on a powder day as they have loads of tree skiing along with good alpine and backcountry access too.
Ski Touring & Splitboarding
Interior BC is home to the legendary Rogers Pass. Located in Glacier National Park, midway between Revelstoke and Golden, Rogers Pass offers amazing touring options right off the highway. Kootenay Pass south of Nelson also has some great touring options. Both spots have a mix of tree skiing and alpine terrain and regularly have good snow conditions through the winter and spring.
Catskiing & Heliskiing
Interior BC is the spiritual home of cat and heliskiing. There are so many options – Monashees and Selkirks in particular. Many operators are based closed to either Revelstoke or Nelson or the zone between the two around Arrow Lake.
Catskiing is is a great option in this part of BC as the tree skiing is so good. There are more catskiing operations here than anywhere else in the world so finding a company that suits should be easy. One day hits to week-long trips in an upscale backcountry lodge are all possible. They all have one thing in common – lots of snow and great tree runs.
Suggested trips:
Low budget
In places like Whistler and Revelstoke, try and get yourself a Hostel. If you feel more adventurous, you can always stop at one of the campgrounds and hire a motorhome, which are usually pretty fair priced and available all over Canada.
Mid budget
Try flying into Vancouver and working your way across to Calgary, or vice versa. There are so many awesome spots to hit up on the way. Whistler, Big White, Revy, Kicking Horse, Whitewater, Fernie then into the Rockies and Lake Louise, Banff and Jasper. Throw in the odd day catskiing, and you've got yourself a stellar trip!
High budget
A week's heli or catskiing out of a backcountry lodge is definitely the way to go.
Alaska
The final frontier in freeride skiing and for many the best place on the Planet to heliski. The city of Anchorage is the usual entry point into AK, especially when heading to Valdez or Alyeska. It's also possible to fly into Juneau further south which is closer to Haines and the heliskiing on the South West Coast.
Resorts
Most skiers don't head to AK just to hit up the resorts. However, both Alyeska, near Girdwood, and Eaglecrest near Juneau have something to offer. Eaglecrest is the kind of small, rootsy resort you would often associate with Interior BC or coastal Norway. It has some great terrain, and when the snow is right, it looks like a super fun place to shred.
Alyeska is a bigger resort and again has some good options, especially when the steep chutes and couloirs on the mountain's north face zone are open. It's also close to Anchorage, so pretty accessible, and not too far from the well-known ski touring destination of Turnagain Pass. Mix up skiing with some cat and heli time is possible in Alyeska.
Ski Touring & Splitboarding
Similar to BC, the touring options in AK are extensive. They range from a quick skin off the highway at Haines Pass or Thompson Pass to a big multi-day expedition. AK is the place to head for a big backcountry basecamp mission with the obvious caveat that you need to be fully versed in glacier travel and survival in the big mountains.
Most skiers heading into the Alaskan backcountry do so by plane. Check out Fly Drake in Haines. They provide charter flights into the Haines, Fairweather and St Elias ranges. Heli accessed ski touring packages are becoming increasingly popular these days too, and they are good way of experiencing Alaska without breaking the bank.
Catskiing & Heliskiing
The reason many of us head to AK is heliskiing. It's well known that sometimes the ski and snowboard movies give a slightly unrealistic impression of what heliskiing in Alaska is like for the average skier. There's a lot of weather in Alaska and down days are fairly common. That said, when the weather and conditions align, Alaska is a place like no other.
There are several heli operators in Alaska. My advice would be to decide what's important to you, then do a little research. Most companies have accommodation based in town, whilst others are based out of a backcountry lodge. Packages differ from company to company, as do rates. Many heliski companies cater towards intermediate skiers and boarders as well as expert ones, and a few have catskiing as a backup on storm days when the heli can't fly.
Related article: Why a Heliski Trip to Alaska isn't just for Pros
It's worth bearing in mind that if you're an expert skier looking to get on some classic Alaskan lines that this is in no way guaranteed. Conditions and weather will always dictate the kind of terrain you'll end up riding. Getting a group of similar level skiers together and filling a heli might increase your chances of riding the big stuff if conditions allow though.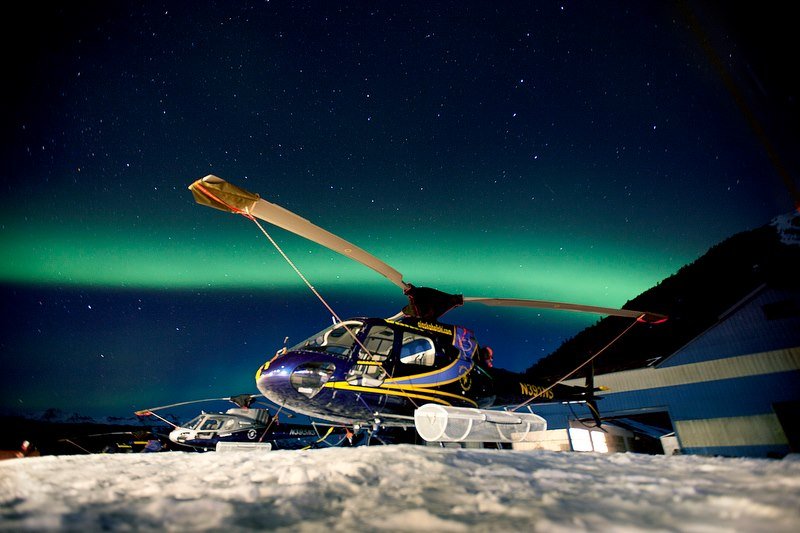 Suggested trips:
Low budget
Try renting a motorhome in Valdez and driving to Thompson Pass. There's a lifetime's worth of dream lines within a few hours worth of skinning off the Pass. If you can stretch the budget a little, there's always the option of a few hours worth of heli time too.
Mid budget
Along with having one of the most respected heliskiing setups in the Chugach, Cordova based Points North Heli also offer heli assisted touring weeks. They fly guests up to a fully stocked basecamp in the mountains, complete with food, beer, and tents with wood burning stoves. Days are spent ski touring or splitboarding in the stacked surrounding terrain before returning to camp in the evening. Sounds awesome to me.
High budget
AK is your oyster. Check out the many week long heli options and take your pick!
<!]]>