<![CDATA[>
A trip report and video from LUEX's snow travel expert Claudie Linke, just returned from the trenches skiing summit to sea blower powder in Norway's spectacular Lyngen Alps with the crew from Lyngen Lodge.
I recently returned from a week of skiing in the Lyngen Alps, Norway. I am still stoked! I still have to smile when I think of it. It was a full-on ski adventure, but with comfortable lodging, speed boats and gourmet food – and more importantly unreal blower powder snow! You thought Norway's just about the northern lights? Nah, that's just the start.
As most of the ski terrain is not directly exposed to the open sea, the skiing between all the endless fjords can be really good quality snow from March right into June. Early ski season usually mixes fresh powder with the occasional spring snow. Late season usually is rather buttery corn snow, and May/June is the time to come if you want to ski some steeper stuff. Even though the word is out and ski touring in the Lyngen Alps is definitely not a secret any more, you must not forget that Lyngen Alps nevertheless remain one of the last untouched and seriously remote areas of the planet. Most of it is unspoiled nature reserve. Damn, it can feel pretty wild up there!
The highest peaks reach around 1.800m, though most skiable peaks are closer to 1.000m altitude, boasting ski terrain for all levels: gnarly chutes and steep couloirs for the ones in search of the kick factor, but also an enormous amount of wide open, mellow-angled terrain with playful open bowls and scenic glaciers. I was a bit surprised to also find plenty of perfectly spaced birch trees, super fun to shoot through! The Lyngen Alps have some skiing for everybody, endless options for ski touring beginners but also plenty of sweet stuff for the rockstars. Some of the steeper chutes are best skied with life jacket, as they end up straight in the chilly 3°C fjords!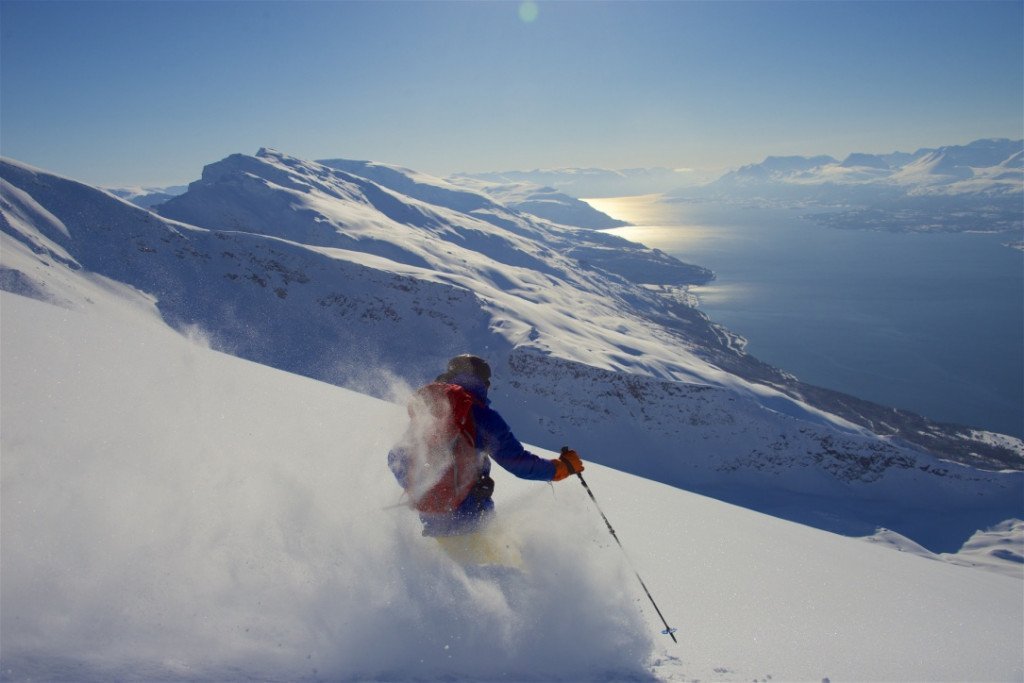 Many tours can only be reached by boat, which fueled my fascination about this place quite a bit. Lyngen Lodge owns 2 speed boats, which take you to some even more remote and wilder mountains. What a feeling in itself, going on the boat with your ski boots on! Or, cruising back in the sunset, with the powerful sound system playing some upbeat tunes, some dancing or enjoying a drink after a long day of exhausting ski touring.
Graham Austick, the co-owner and lead guide of Lyngen lodge, explains skiing up here with the words "soft expedition style." The location is high up in the arctic, on latitude 69° N – that's another 1.200km north from Oslo as the crow flies! The North Cape is not far off any more! As a consequence, the weather can be seriously harsh, and infrastructure barely exisits compared to what we have back home in the Alps. A beautiful blue bird day can turn into a bloody cold and windy storm day within a blink of an eye. Large temperature changes are routine rather than exceptional, and weather forecasts are fairly useless to rely on. You might need to leave your comfort zone and enter adventure land. Defintely a good idea to have some professional guides with you so you an enjoy every minute of the Arctic experience and stay safe!
Our home base during the week, the Lyngen Lodge, surpassed all my expectations. I had the chance to see a lot of ski lodges in my life already so I am confident to state that Lyngen Lodge really is unique. Seriously a good vibes place! The atmoshpere is personal and intimate. A ski week there is not cheap, true, but you really get a lot of bang for your bucks: almost everything you need is included, only the booze costs extra! Everything is super professional, well organized and righteously deserves the 4 star pricing.
My favorite memories about this place include the super good guides (certified IFMGA / UIAGM guides only, which is not officially required in Norway), the host Maria and her attentive team of good people who welcome you with a crackling fire down at the beach after a long ski touring day, with some cold beer and hot glogg. Life is good up here in the Arctic! I also got a buzz from the great arcitecture of the cozy pine-wood lodge: high-class materials only, environmentally friendly insulation and a fresh, scandinavian interior design. Nice, I really felt like home! After all, the kitchen really is the heart of the lodge, super yummy food with healthy choices! The passionate chef Alex serves world class cuisine with local produce, the selection of ingredients is astonishing and creative: plenty of fresh fish (cod, salmon), reindeer, local lamb, always along with some surprising sides, freshly baked breads every day and other home-made treats. Gourmet heaven! Also, the lodge has a sauna and an outdoor hot tub with an ace view! The jacuzzi is the perfect place to celebrate one of the most dramatic panoramas of all Lyngen Alps. It all started with that very special location (these magic views were the #1 reason for Graham to buy this piece of land), and that's where each day ends for most of the guests. The views itself really are one of the top reasons to come here!
Hit me up for a chat if you want to know more!
Claudie
<!]]>