<![CDATA[>
There aren't many better things in life than spending time in the mountains with friends and family. Having a place to call home for the night after a day's skiing is central to the experience. A place where everyone can relax and do whatever it is they do to unwind.
Chalet Holidays are the best way to enjoy the whole experience!
In the Alps especially, chalets are part of the furniture. They are usually made of local timber and designed around the architectural theme of the local area. They are sometimes family houses too, and many have a history of their own.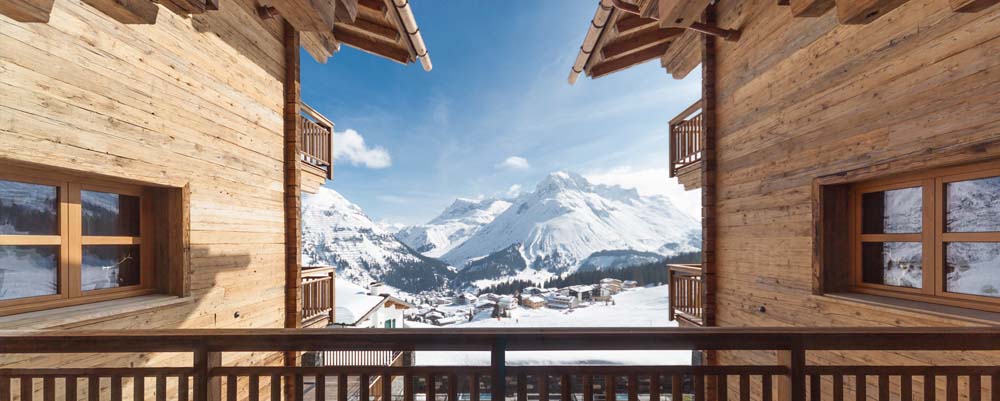 Luxurious chalets in the mountains paired with a rugged story might have a hefty price tag but break down the cost between the whole party and you often find yourself walking away without that burning hole in your pocket – especially out of peak season.
And besides; people say it's good for the soul to treat yourself every once in a while.
Luxury Chalet living in the Alps
Switzerland -Chalet Zermatt Peak, Zermatt
Switzerland does define luxury better than anything else, and Zermatt does it better than pretty much anywhere else in Switzerland. There's no other place in the Alps that combines traditional mountain culture, hardcore alpine action, and high-end luxury as impressively as Zermatt does.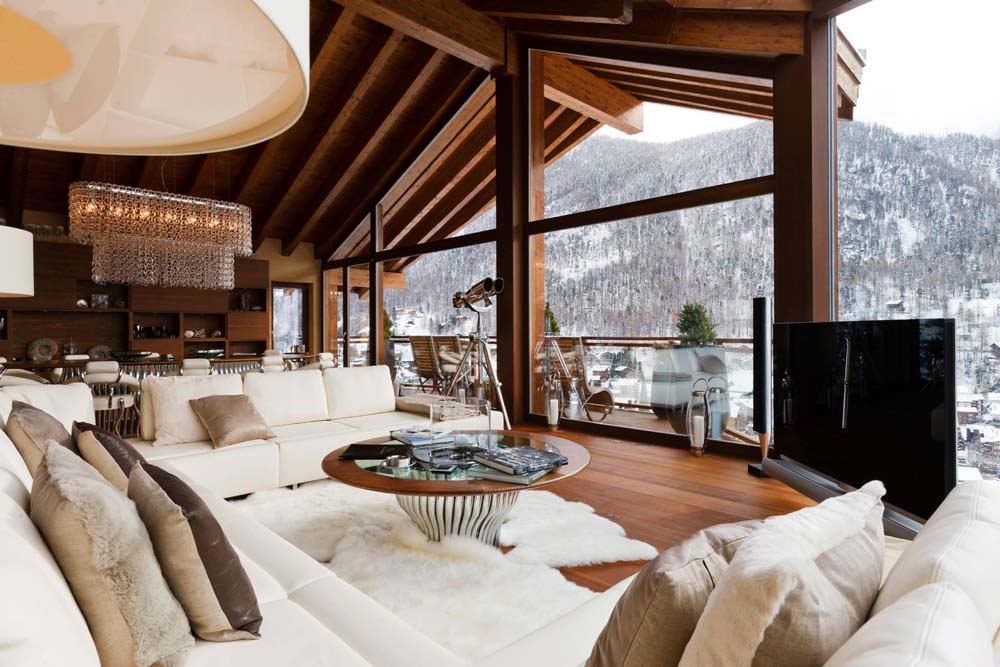 Zermatt is nestled at the end of the Mattertal, right underneath some of the most prominent peaks in the Alps, including the iconic Matterhorn. A beautiful mountain whose curves, ridges and faces form a constant backdrop to life in the town.
There are many luxury accommodation options in Zermatt, but you'd be hard pressed to beat Chalet Zermatt Peak. It has full floor to ceiling windows that provide beautiful light and amazing views, a spa, gym, and even a wine cellar.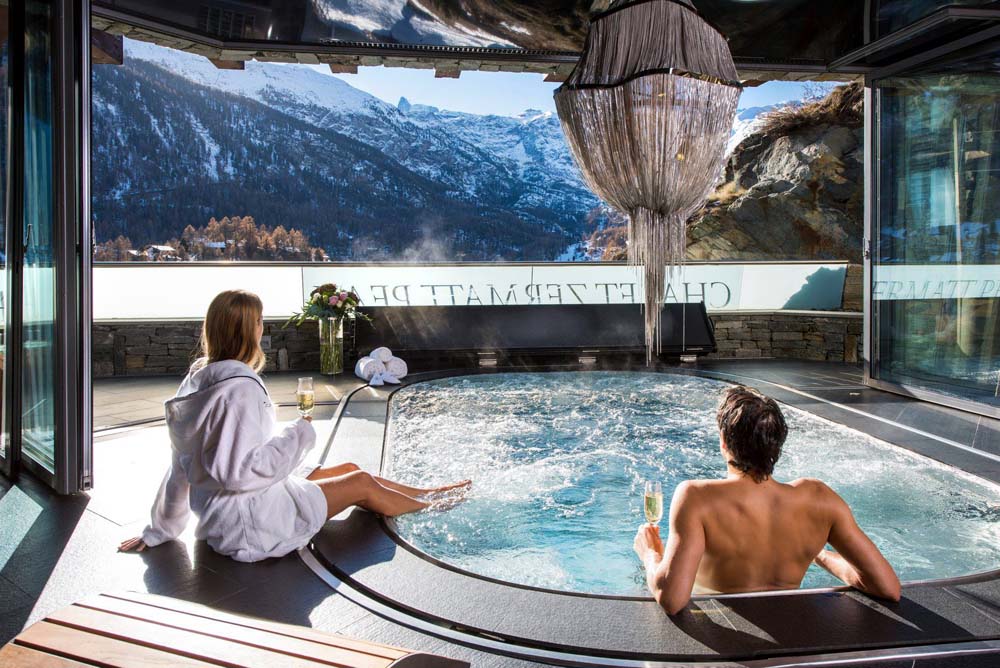 Built to a very high standard throughout, Chalet Zermatt Peak is also available to rent as a full-service chalet/boutique hotel with its own dedicated staff on hand.
France – Chalet Lhotse, Val d'Isere
Undoubtedly one of the most luxurious chalets in the French Alps, Lhotse lies in the resort of Val d'Isere. Val d'Isere has a huge ski area that's linked to the nearby resort of Tignes.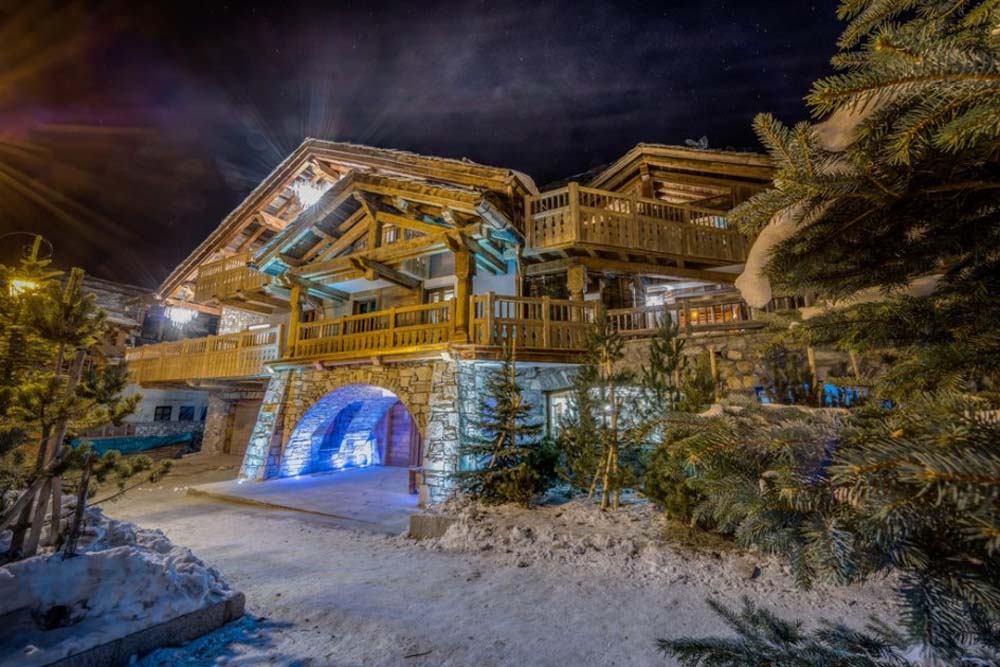 It's well known for having some of the best skiing in the world with incredible freeride and backcountry potential. It's also got a super modern lift system and loads of terrain suitable for beginners and especially intermediates too.
Chalet Lhotse mixes high-end luxury with a classic alpine feel. Lots of windows give great views of the surrounding mountains and lend a natural vibe to the place. The indoor swimming pool looks like an amazing spot to hang out after a day on the slopes, and the chalet's multiple bar areas mean a drink is never far away.
Austria – Chalet N, Lech
Lech is one of the best resorts in the Alps. It has a huge ski area that's linked to Zurs and St Anton and receives some of the biggest snowfalls in Europe and has a fast and efficient lift system. Lech also has more than a dash of the luxurious about it as Chalet N exemplifies perfectly.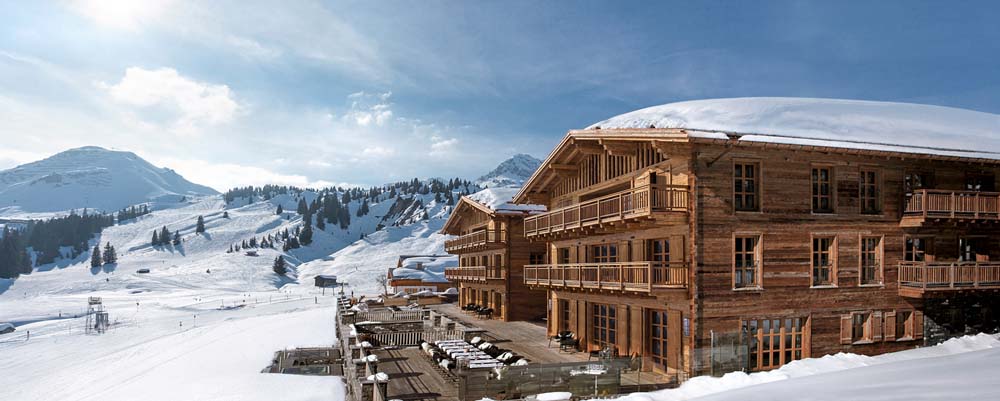 Even amongst the high standard of accommodations in this article, Chalet N really stands out. It takes luxury to the extreme and has a price to match. The Chalet N package includes airport transfer, lift passes, gourmet food, a wine cellar, a private home cinema, and spa area. Guests even receive a welcome massage to kick off the extravaganza with a bang!
Lech is the perfect place to relax and delve into luxury chalet living. The deep snow, trees, and traditional, cozy village give the area a warm and timeless feel. On a dark and snowy night, it almost feels like you've been transported back in time a hundred years.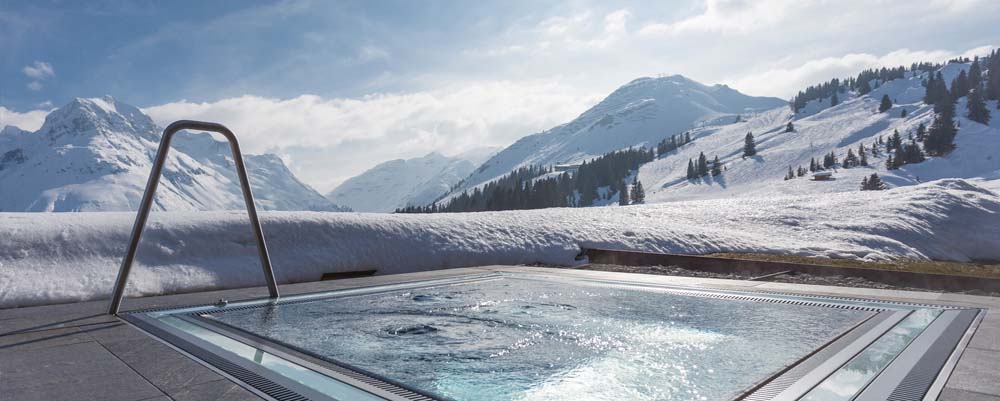 It doesn't have the pretension of some 'exclusive' Alpine resorts though, and the excellent skiing and challenging terrains mean that this is a resort for the discerning skier and not just posers.
Canada's luxury chalets are among some of the best in the world!
Mica Heli, British Columbia
The accommodation at Mica Heli probably more closely resembles a lodge than a chalet, but it deserves its place on this list due to the incredible skiing and fantastic location.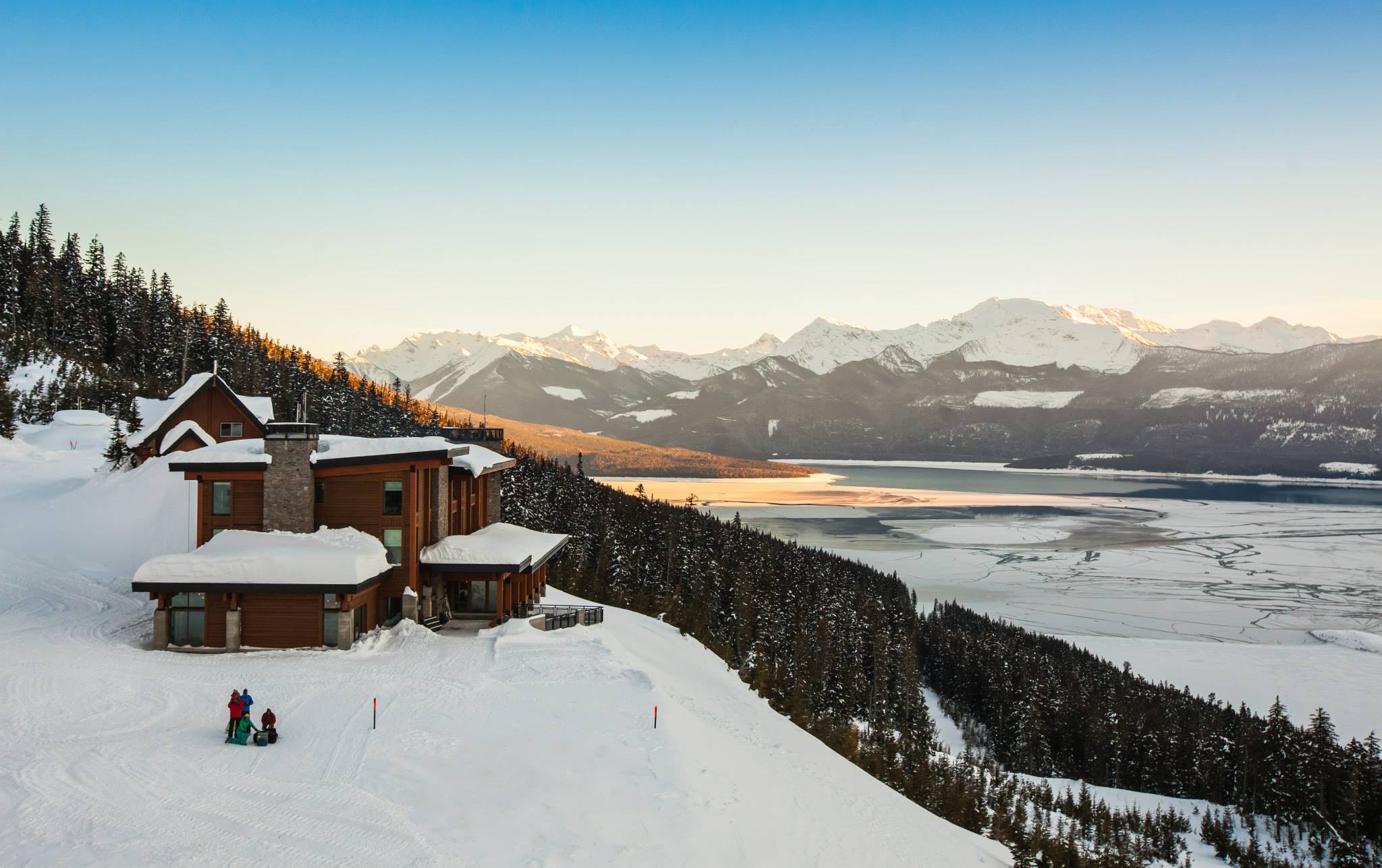 One of the first heliskiing operations in Interior BC, Canada, which in itself is the World's foremost heliskiing area – Mica is really special. The Lodge sits in an elevated position in the British Columbian wilderness north of Revelstoke.
The western upslope of the BC Rockies is a veritable snow maker which produces epic quantities of the white stuff. Throw in the low temperatures in this part of the world, and that equals enormous amounts of dry powder.
Mica Lodge provides a really high standard of accommodation. There are 12 en-suite rooms for a maximum of 16 guests all of whom can enjoy the hot tub, a massage and of course the awesome food after a day's heliskiing.
The skiing at Mica is world famous too. Huge mountains and massive quantities of snow combine to create amazing features to ski on. Alaskan style spines, couloirs and faces are all there when snow stability is good.
There's also great tree skiing to be had when weather shuts down the alpine. Mica Heli guarantees small groups with a 1:4 guest/guide ratio which means more time for guests to concentrate on their skiing and less waiting around on a powder day.
Live the Norwegian luxury chalet dream
Lyngen Lodge, Lyngen
Norway perhaps isn't the first place that springs to mind when it comes to upscale chalets. Accommodation at Norway's ski resorts tends to more a mixture of traditional cabins or hotels and apartments. However, there's a place up in the Arctic that really challenges that notion; Lyngen Lodge.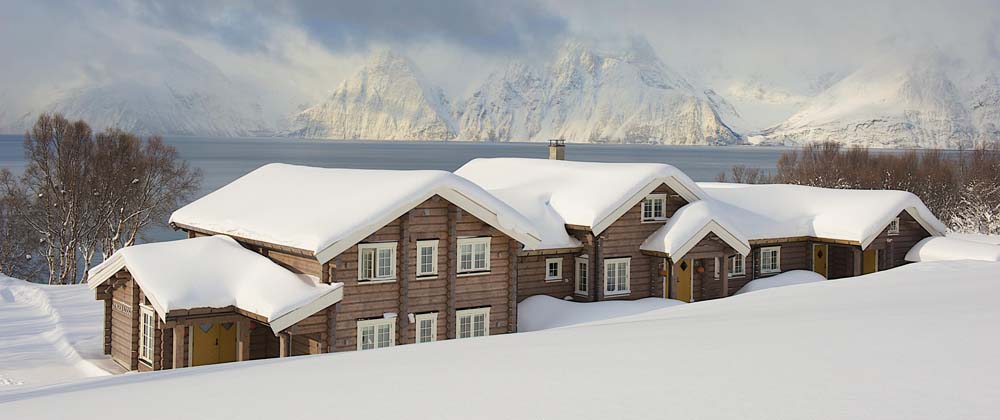 A few years ago, before Lyngen's explosion in popularity as a ski touring destination, Lyngen Lodge was one of the few places to stay in the area. It became something of a focal point for people wanting to go to Lyngen.
I've never stayed at the Lodge but having been lucky enough to visit Lyngen several times now, I can confirm that it is indeed in a spectacular place. Lyngen Lodge is perched right on the shoreline of Lyngen Fjord with a ridiculous view over the Lyngen Alps themselves. The local peaks are all accessible on foot from the lodge and have some of the best touring terrains in the region.
The lodge itself looks like a beautiful and relaxing place to spend time in. Sitting in the hot tub or on the deck after a big day's ski touring and watching the aurora shine overhead has got to be one of the better ways to spend a holiday.
<!]]>