Bella Coola Heli Sports
Bella Coola Heli Sports is your choice if you are looking for a special experience: small groups for skiing, all this within wild and breathtaking, heavily glaciated scenery!
Bella Coola Heli Sports offers a choice of four different lodge experiences: Tweedsmuir Park Lodge, the Pantheon Heli Ranch, Bella Coola's Big Mountain Lodge and the brand new Foster's Heli Ranch. Each location is unique and has its particular advantages. However, regardless of which location you choose, you can expect the utmost attention to privacy and service during your stay. All the properties are in spectacular settings and only host small groups.
Foster's Heli Ranch
The Ultimate In Heli-Skiing Exploration. Deep in the heart of the Coast Range exists zones with literally thousands of epic runs that have never been skied. Until now. Have you 'been there and done that?' Looking for a heli-skiing experience that very, very few people have done? Are you interested in looking for new runs and exploring deep into the furthest reaches of our impressive heliski area? Then this exclusive package is your dream trip come true!
Help our guides discover and name new runs amongst the largest mountains in British Columbia! Enjoy huge unexplored peaks, first descents as far as the eye can see, and genuine home-style ranch hospitality. With a capacity of 4 people per week (5 may be possible), it is the perfect location for a small group of buddies or a family looking for a special experience. You can book the entire facility and have a whole mountain range all to yourselves.
Foster's Heli Ranch is the closest location to the biggest peaks in British Columbia, and therefore some of the longest vertical descents in Canada! The alpine terrain is intense and the expansiveness has to be skied to be believed...and even then you are pinching yourself to see if it is real! Another unique aspect is that it is the most heavily glaciated terrain for that latitude. Our alpine terrain is the best in Canada, and the ski zones for Pantheon and Foster's have some great back-up tree skiing.
Amenities
1 private bedroom with en-suite, perfect for a couple or group leader
3 large bedrooms with shared washroom
Free wireless computer access throughout the property
Large living room with rock fireplace
Note: there is no cell phone coverage at the Lodge but there is satellite internet
Feather pillows (synthetic pillows by request)
Complimentary satellite wireless internet
Plush cotton bathrobes
In-room thermostats
Shampoo, skin and body care products by Eco (biodegradable)
Slippers
Plush cotton towels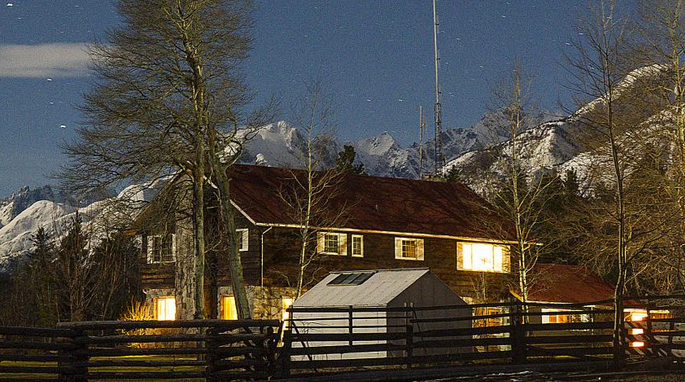 Tweedsmuir Lodge Heli Skiing
For package 1 or 2
The historic Tweedsmuir Park Lodge is set on 60 acres of private land within British Columbia's largest protected park. It is the ideal setting for your wilderness adventure. And in the winter this means heli skiing!
All accommodation at the Tweedsmuir Park Lodge is in one of nine private chalets with the main lodge providing lots of common space for dining, games, and socializing. It is the perfect set up for larger groups wanting to book the entire facility, yet intimate enough that the individual traveler and smaller groups will feel at home and can get to know each other.
The focus throughout is on great service and an authentic, welcoming Canadian hospitality. We serve West Coast inspired cuisine accompanied by a wine list that includes a selection of fine international bottles as well as the best of the up and coming local British Columbia wines.
The surrounding environment is stunning. Rising above the valley floor are the majestic Coast Mountains, to the west is the largest fjord system in the Americas, and to the east the high Chilcotin Plateau. It is a bio-diverse and spectacular wilderness, home to the totemic wildlife of the Great Bear Rainforest.
Our lodge borders the Atnarko River and in the fall the grizzly bears come down to feast on the spawning salmon. We are smack in the middle of what is one of the healthiest bear habitats in the world and often the bears can be seen wandering past the lodge. Sometimes we even catch them napping on the lawn.
At Tweedsmuir Park Lodge we are lucky to live in a stunning and pristine environment and have a wonderful community supporting us. We are committed to keeping it that way and ask all our guests to participate in our environmental stewardship initiatives to ensure that Bella Coola continues to be the most extraordinary place in the world to enjoy the great outdoors.
Tweedsmuir Park Lodge Amenities
Large living room / dining room with fireplace
Sports bar with fireplace, billiards table, games and satellite TV
Nine double occupancy private chalets to choose from
Spa facility with outdoor covered hot tub, washrooms with showers, stretching, yoga and massage areas
Guest media room with computer access, fax/telephone service
Wireless computer access throughout the lodge, chalets and cabins
Retail shop
---
White Saddle Ranch
For package 3
Classic Western Hospitality
At Pantheon Heli Skiing you'll be staying at White Saddle Ranch, a working guest and cattle ranch in the heart of the Coast Range wilderness.
White Saddle Ranch was founded by the King family more than fourty years ago as the aviation base for the Coast Mountains between Whistler and Bella Coola, British Columbia. Named for nearby White Saddle Peak (which dominates the horizon and inspires dreams of skiing the central couloir), the ranch sits just on the eastern edge of the Coast Range Mountains, and is the last outpost of human habitation before the galciers and high peaks of the Pantheons takes over.
All rooms are single occupancy. They are clean and warm and have new furnishings, cotton sheets and down comforters. There are three bedrooms on the top floor of the main lodge, a brand new cabin with three bedrooms, and the riverside cabin with two bedrooms. Bathrooms are shared.
Before and after heli skiing, guests relax in the main lodge, a hand-hewn log building with a giant rock fireplace and comfortable seating areas upstairs and a games room downstairs. Meals are served in the dining room with much of the food coming right from the ranch! Our chefs accommodate all different kinds of diets. Bread and pastries are baked daily. Lunches are packed to order in the morning and eaten in the field.
Over the years, due to its' natural beauty, proximity to famous mountains such as Mt. Waddington, and popularity with adventure seekers, White Saddle Ranch has evolved into the lodging and aviation provider of choice for the mountaineers, skiers and climbers that frequent the area. Past guests have included the stars and support people for films such as "K2", "Kundun" and "Seven Years in Tibet".
In March it's calving season at the ranch, and for those with the inclination, you are welome to help!
White Saddle Ranch Amenities
Living room / dining room with fireplace
Sports bar with fireplace, billiards table, games and satellite TV
Eight single occupancy private rooms to choose from
River-side sauna
Wireless computer access throughout the ranch property
---
Bella Coola Mountain Lodge
For package 2
Relax and enjoy a soothing latte or tea in the coast mountains of BC while watching cascading waterfalls meet the valley floor from the sheer mountain landscapes above....
Or join one of our guided excursions and tours into the wilderness of BC's central coast with experienced and personable guides to look for grizzly bear and black bears, wild Pacific salmon, eagles and unforgettable experiences.
Wilderness and adventure activities abound, including some of the most intimate and unique grizzly bear viewing tours in British Columbia Canada.
With accommodations in 14 mountain view rooms and luxury suites, wilderness and adventure tours, and beautiful gardens to enjoy, you will be sure to experience the best the Central Coast of BC has to offer. Unbelievable waterfalls, majestic old growth rain forests, eagles soaring overhead and the relaxing pace of Bella Coola Valley, all walking distance or minutes drive from your doorstep. Whether it is an adventure bear viewing holiday, a family soft-adventure tour or a romantic getaway that brings you to Bella Coola valley, hospitality and mountain scenery will leave a lasting impression.