https://dl16txa2az7pk.cloudfront.net/media/catalog/product/cache/1/image/9df78eab33525d08d6e5fb8d27136e95/s/u/sumatrasurfresort-4_2.jpg
Sumatra Surf Resort
Sumatran surf perfection: escape the crowds at this newly built resort, with direct access to the best left reef in the area. Indonesian style and western amenities.
LowPressure's Stormrider Surf Guide says:
Simeulue and Banyak still maintain a frontier status, avoiding the charter boat congestion of the Ments through a combination of lower consistency and spot density, treating smaller groups to some lively waves, including one of Indo's best rights. The offshore islands of Sumatra are no secret to surfers; the Mentawais attract ever-increasing crowds to it's feast of barrels and Nias has continued to draw surf adventurers to Lagundri for the last 35 years, but head further north and the path is far less travelled. The remote island of Simeulue is located 120km (75mi) from the Sumatran west coast, where the surprisingly busy town of Sinabang thrives on trading cloves. To the east, and closer to the mainland by 50kms, the Banyak Island group is in the South Aceh Regency, supporting small populations on seven of the bigger islands, while the majority of the others remain uninhabited. Not surprisingly, these "Many" islands have kept off the radar as Aceh's civil unrest made getting permits difficult until recently. Many spots remain nameless, or have multiple names from the different boat operators that ply these waters, but there's a wide choice of lefts and rights, ranging from shallow barrels to deeper, long, cruisey waves as well as some good off-season beachbreaks
Find more general info about when to go and statistics on the Low Pressure's Stormrider Guide website.
Condition descriptions provided by the Operator:
The surf on Sumatra's southern coast has something for everyone. From grommies to seasoned pros. From reef breaks to beachies Krui's surf region is wide & varied & our surf resort is within easy reach of them all.
Sumatra Surf Resort sits directly in front of Ujung Bocor, the area's longest, most consistent wave. It regularly turns on rides in excess of 200 meters. The top of the point provides barrel sections then rolls through to a long carveable wall for as long as you want to ride it.
Besides the left out front, you can choose between barreling lefts & rights, softer reef breaks as well as endless beach breaks.
Here's a rundown of some of the more popular spots in the area and what they offer. Don't know where they are? We'll point you in the right direction.
Mandiri
About 15 minutes north is a stretch of open beach called Mandiri, a length of South-West facing beach break.But get there early before the wind does. These banks can be awesome on their day, but being a beachie its always "right time, right place."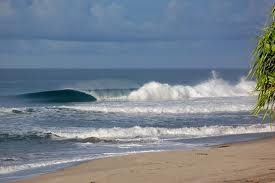 ---
The Peak, Krui Left, Krui Right
A further 15 minutes up the road and you are in the township of Krui, which has a variety of reef breaks, particularly good when the swell starts to creep up on the Point. The main ones are The Peak and Krui's Right and Left. All are beautiful fun waves when the swell is too big back at the resort.Not a good idea to surf the right when the creek is open as the locals use it as a toilet and tip.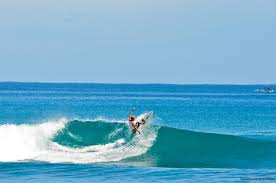 ---
Banana Island
Continuing north there are numerous beach breaks, but the main stop is Banana Island. This is accessible only by boat, with a quality right hander on one side and a screaming left on the other. Not many people surf out there and if there is a nice swell running and your adventure streak is high it could reward you with incredibly remarkable waves!

---
Jenny's Right
After here the next stop is Jenny's right, which is offshore over the rainy season or if the winds swing onshore at the Hotel. A fun right hand reef break running for 100 meters, with a couple of barrelly and long walling sections that can break on all tides. Early mornings sessions there can give some beautiful waves. It was named Jenny's Right after Jenny Sheehan, a well know Sydney surfer who beat everyone out the back and caught the first known wave to be ridden there.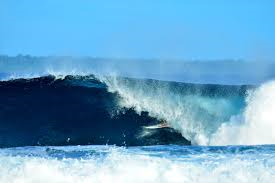 ---
Honey Smacks Jimmy's Right and Left
Round the comer is Honey Smacks, a barrelling left hander more suited to the bodyboarders and another 5 minutes on is Jimmy's Right and Left. These are pretty serious waves and if you venture out there you're guaranteed to come back happy!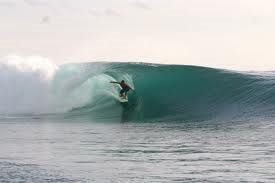 ---
Way Jambu
Heading south from the camp also offers a variety of waves, the first and most famous being Way Jambu. It is one of the heaviest left-hander barrels, hence it's nick name "Sumatran Pipeline". This ruler edged, spitting beast is truly a word class wave. Low tide can be a scary take off with the water sucking off the reef just in front of you. Don't look, just go and you'll either get smashed or get the barrel of your life.