<![CDATA[>
If there's anything close to a perfect time to score in the surf department, it's got to be during October and November. For approximately sixty days or so, Mother Nature seems to be particularly generous with us board enthusiasts, lighting up surf destinations in Africa, Asia and Europe.
Europe
While the days are definitely getting shorter and the water temp can occasionally drop below frosty, the Atlantic Ocean does not disappoint during this time of the year. Our friends in Northern Spain, the Basque Country, and South France will be able to tell you a tale or two about the wave quality in their backyards, but the real standout here is their neighbor to the south, Portugal. Ericeira is the Mecca of Portuguese surf with an abundance of world class waves all within a few kilometers of each other. There's something for every skill level, but most surfers who find their way around the cute fishing village about 50km north of Lisbon come to get a piece of Coxos, a world-class, hollow right-hander that serves up thick heavy kegs and even nastier beatings. The wave is no joke and neither is the crew that surfs the spot. Respect the locals, don't paddle straight to the peak, watch for a while on the shoulder and you'll have the time of your life at Portgual's best wave.
Waves in Peniche might be just a little more mellow than Ericeira, but the place offers some of the best reef, beach, and point breaks the old continent has on offer. The short and narrow spit of land is home to Supertubos, epic coffee and plenty of cool places to stay – both on the cheap and with a little more extravaganza.
Portugal isn't just heavy slabs, Cristiano Ronaldo or bacalhau and if the Island kid in you feels neglected then, the remote Azores Island might just do the trick.  The nine islands 972 miles (1564 km) west of Lisbon are a pretty epic destination with stunning landscapes and world-class, uncrowded waves.
Morroco
Our Best Bet Guide wouldn't be complete without mentioning the wave-spoilt, North African kingdom.  Morroco's Taghazout area is a paradise winter surf destination, and a "go-to" for all European surf fanatics who got the crave for warm-ish water, the mystic Berber culture and of course, the world-class waves. There is plenty of waves to choose from and depending on your level, Morocco has a little something for everyone. Get shacked and occasionally worked at world-famous Anchor Point or enjoy the sweet side of life at more mellow places like Devil's Rock or La Source. Best places to crash can be found around Agadir and Taghazout with plenty of surf camps, apartments or your very own private villa to pick from.
Sri Lanka
Let's get a little more exotic here. Sri Lanka is still one of my favorite surf destinations ever! I get nostalgic but I also get excited when I tell people about the surf on the country's west / south coast. Much has changed since I've visited the country as an 18-year-old, but what still remains the same are the super fun rippable waves you'll find between Hikkaduwa and Hiriketiya. For everyone who has been to Indonesia, don't expect the same sorta power in the ocean. The waves are more mellow but fairly consistent, catering to a wide range of surfers and their craft of choice. Kabalana and Hikkaduwa are probably the two best, most consistent and often biggest waves you'll find along the Galle / Matara Road.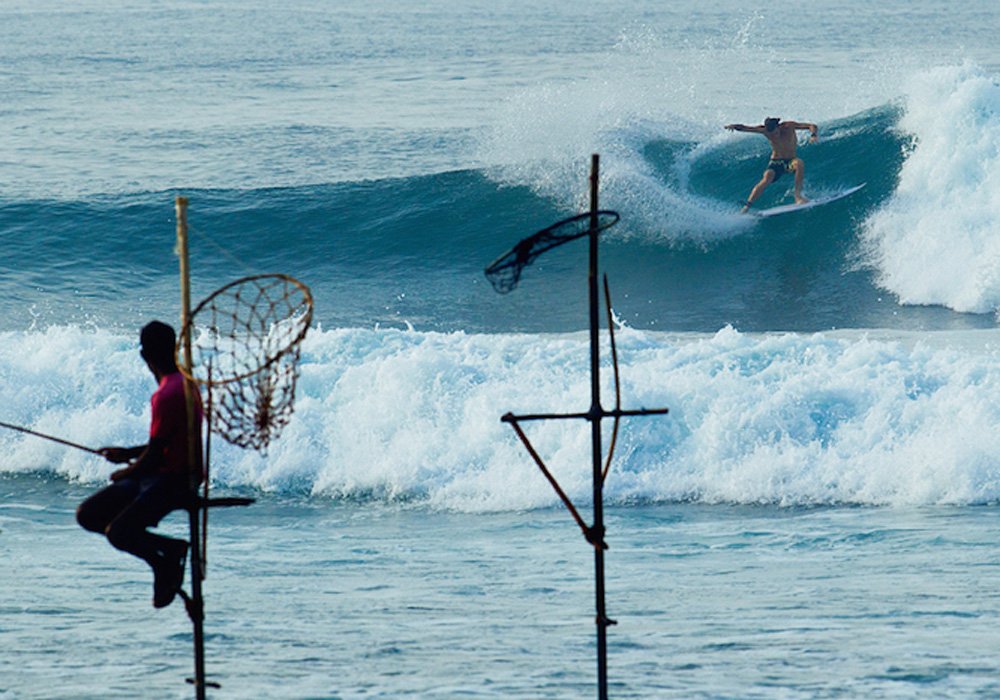 There is surf all year around in Sri Lanka with two main surf seasons – one for each side (Nov- April for the Southwest and May – September for Arugam Bay). Unlike 11 years ago, Sri Lanka can get pretty crowded these days, but I let you in on a little secret. If you can free up some time in November you'll have a pretty good chance to score some uncrowded and fun waves in the south of the island. It's my favorite time of the year! Season's changing, winds are shifting and the pre-dominantly European crowd you'll find from December to March hasn't arrived yet.
Siargao, Philippines
Another island paradise hosting a world famous wave that gets often overlooked. Siargao is a dream for every surfer and not only because it is home to the Philippines best wave. Cloud 9 is an unruly beast that comes truly alive during the months of July and December – peaking in September through to November. It ain't for the faint-hearted offering heavy, steep and fast waves when it's on. If you are after double-digit barrel time – Cloud 9 and it's lesser known neighbor Tuason's Point are a must. If you aren't barrel ready just yet, then don't worry. Siargao is home to more than 30 breaks where you can hone your craft sans the nasty reef cuts along the 27km of coastline that's pretty consistently exposed to swell.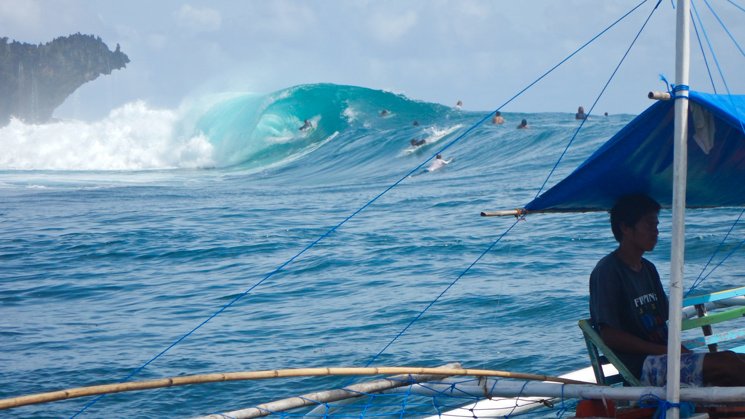 Mentawais, Sumatra
This list wouldn't be complete with arguably the world's most consistent surf destination. During the southern hemisphere winter ( April – early November) the Ments turn into a surfing playground WITH the occasional safety hazard AKA large swells, razor sharp reef and maxing crowds included. Usually, I'd say the Mentawai Islands are ADVANCED SURFER territory-only but during that small shoulder season window from late October to late November, the Ments are actually a pretty fun place for Intermediate surfers too. Winds and waves are still fairly consistent and most of the serious punters have already left the Ments which leaves hotels and boats left with empty (cheap-ish!!) rooms!
If the shoulder season in the Mentawais doesn't sound like a sweet dream to you, you could just venture down south to Simeulue Island off Sumatra. The place is epic – truly magical without the Mentawai crowds! Have you heard of "The Peak"? No? Well, you're missing out! A perfect barrel – left and right; this A-frame is truly phenomenal once it hits 4ft and above. The wave is ultra consistent, works at all tides and best of all, it's just a stone throw away from Mahi-Mahi Resort. Chances are you'll end up surfing The Peak every day but there are plenty of other fun waves around, in case you feel adventurous. Simuelue Island is a true paradise offering much more than surfing. It's also the gateway to the Banyak Islands and other uncharted Indo surf territories.
Central and Southern Atolls, Maldives
Drumroll, please. Drumroll, please for the ultimate surfing playground and probably the world's hottest surf destination at the moment. Ladies and Gentleman, the Central and Southern Atolls are truly alive during October and November and surf spots are lighting up left, right and center. The Central atolls are home to some of the best waves and most amazing resorts in the Maldives. Like with all good things – words spread fast, which has put the area well and truly on the surf map. Totally abandoned lineups are rare these days but ultra consistent waves, working at most tides kind of make up for it.
Related article: The Ultimate Guide To Surfing Charters In The Maldives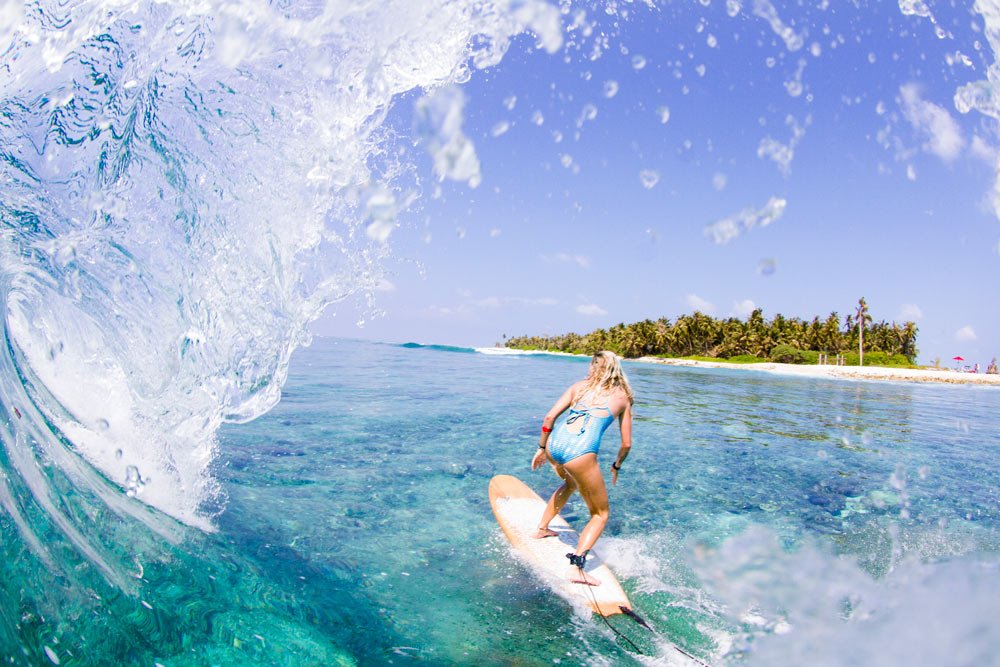 If you truly want to escape the crowds, head down to the Huvadhoo and Addu Atolls (often referred to as the Southern Atolls) and you won't be disappointed. Although the waves tend to be slightly smaller than in the North – they are no less perfect!  Huvadhoo atolls is a wave haven and home to Beacons and Tiger Stripes – two of the most powerful waves found in the Maldives. If heavy barrels over shallow reef isn't really your style you have probably another half a dozen or so waves, all in close proximity to one another, to chose from. Oh, and an important side note here; leave your wettie at home – boardshorts and bikini only, baby!
<!]]>