<![CDATA[>
Longboard surfing is a timeless art. It survived the invention of the shortboard and is the go-to for a tonne of surfers both young and grey. And why wouldn't it still be popular: gliding fluidly down chilled one-footers and effortlessly getting onto almost any wave on their sturdy planks is a romantic image all of us surfers love!
Sure, longboard riders have been p*ssing off shortboarders since the seventies, sitting miles back in the lineup and riding waves before they've even formed. But longboarders are the pioneers of the sport, the inventors of the "shaka" and the legends of hanging ten.
To tip our hat to the many out there still riding waves in surfing's purest form, here's a longboarder's guide to the best places to hang ten:
A small place in the French Basque Country is any Longboarders safe haven
Looking for longboard-friendly waves in Europe? Known as the 'Silver Coast,' the Côte d'Argent is the euro hotspot for anyone with ridiculously oversized board baggage. 150 miles of coast serves up countless options for longboarders – and none disappoint. Stick to the summer months for smaller swells.
If you choose a French sojourn, put Lafitenia on your list. It's a natural-footer's paradise with right-handers galore and a fun bowl throwing up the odd barrel. These waves are pretty rippable too and serve up long mellow rides. Laftenia is a popular spot though, so be ready to hustle a little.
Longboarding through the North of Spain
It might be a rugged stretch of coastline, but Galicia in Spain is a must visit for those riding the big sticks. With the gigantic North Atlantic Ocean serving up sandy Galicia beaches a range of waves, it's arguably the best spot in the region a longboarder will find perfect peelers. Small coves and sheltered beaches are in abundance.
August to November is the pick for the smaller swells. The rain and wind take leave in these few months. And the crowds… well, little else but nature and small villages surround you in Galicia… the masses are few.
Ripple riding in a tropical paradise called the Philippines
A decent trek from Europe, but well worth the extra plane mileage for a slice of paradise, is Siargao Island in the Philippines. Home to the legendary Cloud 9, Siargao Island is the quintessential tropical destination: crystal blue ocean, palm trees shading silky white sand and water temperature to rival a bubble bath.
Longboarders will love the choice here. Daku Island is a 10-minute boat ride from General Luna, which offers a long right-hander and consistently quality conditions. Cemetery will keep the goofies happy, with the long reef throwing up four-foot-plus lefts. And Tuason Point is a fun – sometimes-heavy – spot for longboarders. The mostly-left reef can be a tame ride but occasionally steps up a notch to 6-10 foot.
A list to hang ten wouldn't be complete without the Maldives
Hunting down waves on your longboard can be made easy by just heading straight to the Maldives. With three major atolls dividing this humongous surfer's playground (Northern, Central and Southern atolls), longboard surfers are almost guaranteed the most memorable sessions of their lives!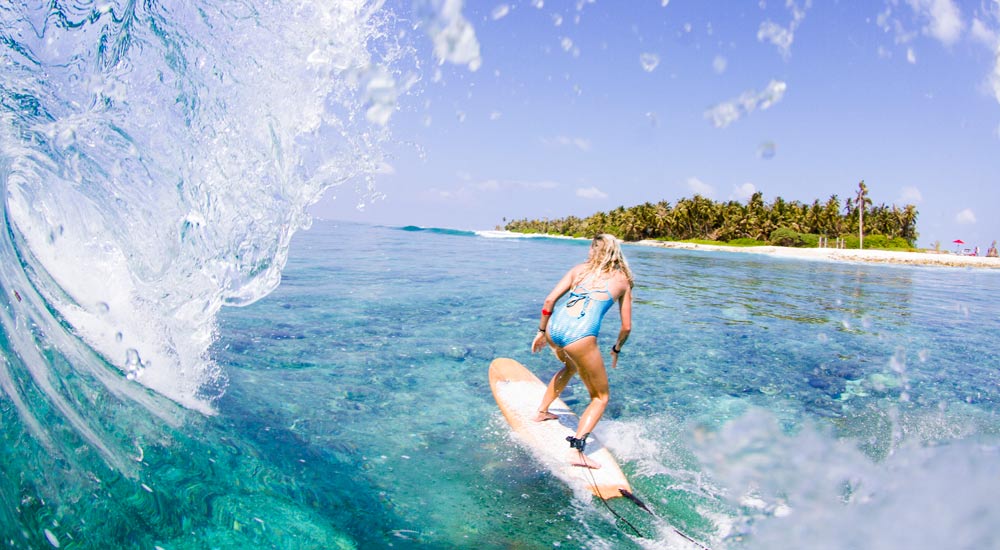 When you've caught your breath after reading out every surf spot in the Maldives (don't try it), put your microscope over the Northern Atolls to locate Ninja Point. When it calms down from a big swell, Ninja's pitches 2-4 foot waves on a small day, perfect for your longboard. A bit of a bowl hugs the reef and creates a fun middle section. Longboarders will struggle to get sick of this one!
Pasta Point is another Northern Atoll jewel. This lefthander is a wave machine and hardly ever shuts down. Best of all is the long, rippable wave seen in bigger swell holds the exact same shape on smaller 1-2 foot days. It's a pretty exclusive break so you won't have much competition in the water. Cinnamon Dhonveli is the resort that claims (exclusive) dibs one of the most perfect waves on the planet.
Accommodation in the Maldives can obviously be found on land, but it's bloody hard to beat a boat trip. Living on the water means you can react quickly to the forecast, pull up anchor and shoot to the most suitable longboard spot of the day. You can travel at night and make the most of the daylight, and in between longboard sessions, you'll have fishing, diving and a swinging hammock to keep you occupied.
For more info, check out our Complete Guide to Surfing Charters in the Maldives
The land of the lefts is perfect for longboarders too
There's something for everyone in Indo. Those wanting to party or chill, those looking for food or cauldron-sized cocktails, and those ripping on shortboards or gliding on longboards.
If you want to get your toes to the nose, Batu Bolong in Canggu is a great option. Also known as Oldman's, Batu Bolong works practically all-year-round – much like the rest of Bali's surf breaks. The reef is flat, so it's a consistent, cruisy ride. As the wave breaks and reforms several times, Oldman's can either spread out the crowds or let longboards onto a solid 100-meter-plus journey.
We couldn't leave out Uluwatu for an epic longboard session. The place gets big and hollow, but its smaller days are perfect for long and fluid rides. If you haven't been, you must!
<!]]>