<![CDATA[>
Aah, the lyrical genius of The Lonely Island! Deeper than the twisted, poetic musings of Lord Byron; sweeter than the croon of a mother's lullaby… Well, no, maybe not, but it's music that resonates in the ears of every surfer at least: NOTHING beats a surf boat trip. I guess it's possible that there are better things in life than cruising the dreamy waters of the tropics, surfing world-class waves all day than sipping cold one when the sun slips below the liquid horizon, palm trees silhouetted against the blood-red blaze… Maybe a night on a deserted island with Alana Bla..? Nah, that'd still be better on a boat.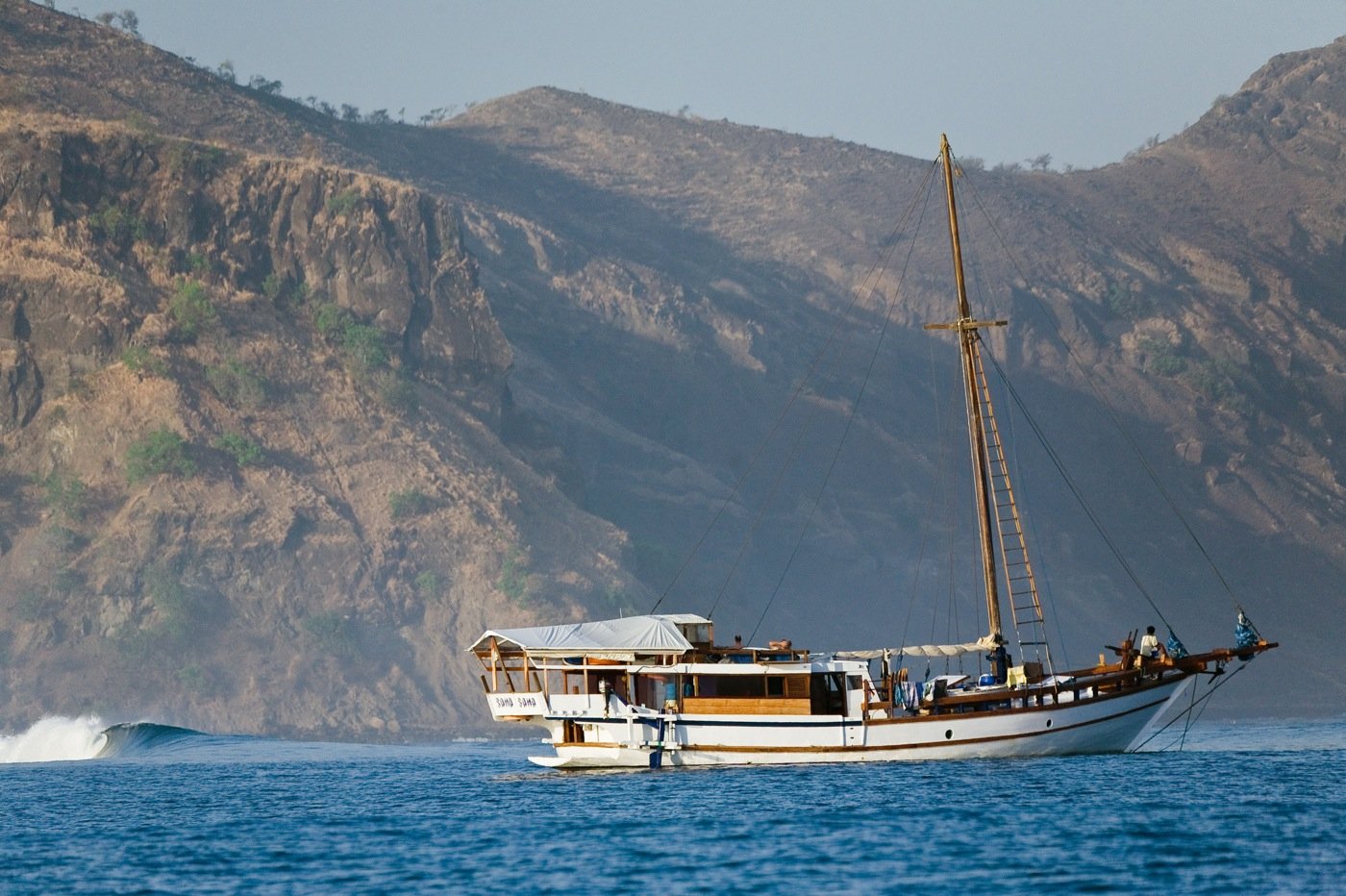 Yes, boat trips are the epitome of surf travel – it's a simple fact. Nothing else combines so many of the essential qualities of the surf dream so effectively: exploration, waves, the ocean, solitude, seafood, the simple life, the exotic, the tropics, islands, reefs… And yet, you've got to do it right! You don't want to run into problems when you're stuck out there on the high seas! If you plan your boat trip properly, it'll be one of the most amazing experiences of your life!
When you start to plan your surf boat trip, there are five factors you need to consider:
1. Your Crew
The crew you travel with and the other people on the boat can make or break the trip – it's hard to get some alone time out at sea if someone's playing the fool (it can be a good idea to take a book or hard drive stocked with movies, just in case). You want to get a homogenous group together too! Ideally, everyone should be on the same page when it comes to things like surfing ability, partying appetites, sense of humor, sleep patterns, personal hygiene, etc. You don't want to miss your glassy early morning session 'cos the other guys kept you up pounding tequila all night, and imagine the frustration if you have to motor past a firing reef break because everyone else just wants to chill at some mellow beachie.
Don't forget the working crew on the boat, too – it's worth making a little effort with them, as they always have good stories and local info.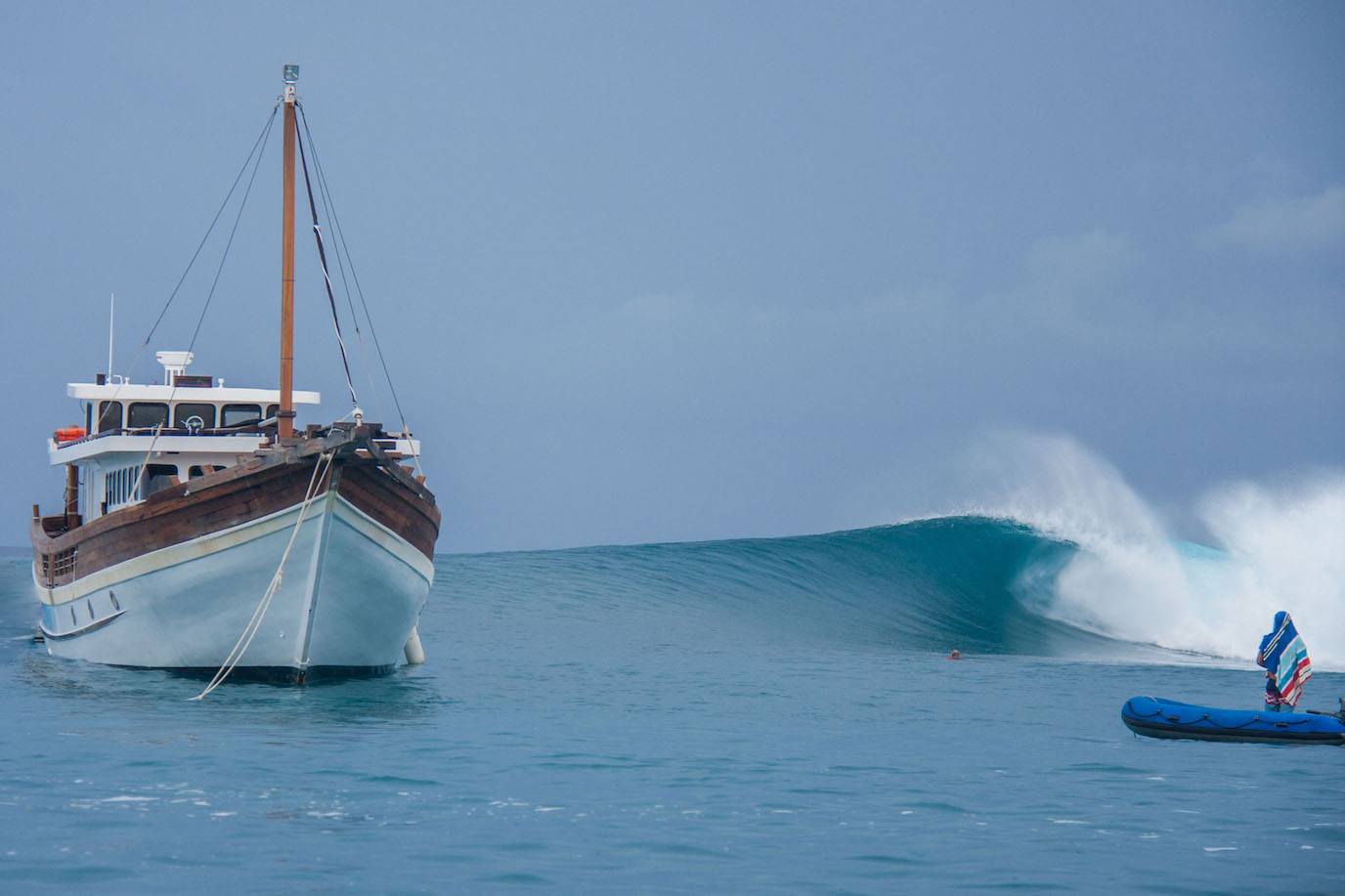 You also need to work out the numbers – ideally, you want to fill every bed in a boat to avoid paying for empty bunks. If eight of you charter a boat for ten, you'll either have to resign yourselves to pay for the wasted space or allow the operator to sell the berths to another group. This isn't always a bad thing, as it can be a great way to meet new like-minded friends, but you have very little control over who the newcomers are and what they're like. If you can afford it, sometimes it's worth just paying the extra to keep the boat yourselves and avoid the risk of someone with a totally different outlook joining.
"A good crew – your own as well as the boat's – is essential for every trip. More than anything a boat trip is about hanging with your friends, getting away from it all, and surf, surf, surf. It's like you and your mates in Never Never Land."
Martin Jenner, Head of Surf & Snow Travel
However, LUEX has a huge selection of different size boats – including boats with only four berths, or even just two (ideal for honeymooners) – so we're generally able to either find you a perfectly sized boat or match you with a similar group on a mixed charter.
2. Standard of Boat
There is a HUGE difference in the standards of boats available, ranging from ultimate playboy yachts to dank, leaking hulks. On the higher end of the market you can spend more than your average banker's Christmas bonus on a streamlined superyacht with more class than Helen Mirren, swathed in polished hardwoods, carbon fiber and brushed chrome. Or save your coins and go full dirtbag in the sort of rotten, leaking hull that would make even the Black Pearl look like a luxury cruise ship. Whatever your heart desires, and whatever your portemonnaie, credit card or spouse lets you spend – From the Maldives to the Ments, we have you covered.
Your whole crew should have similar expectations when it comes to luxury, standards, and quality of food. You may not need fine dining and a garage full of toys (jet skis, scuba diving equipment and even helicopters can be arranged!), but equally, not many people are happy to cut costs to the point that you end up on a poorly maintained boat with a surly and dodgy crew. We have many budget options, but only work with reliable and professional operators – safety is paramount out at seas.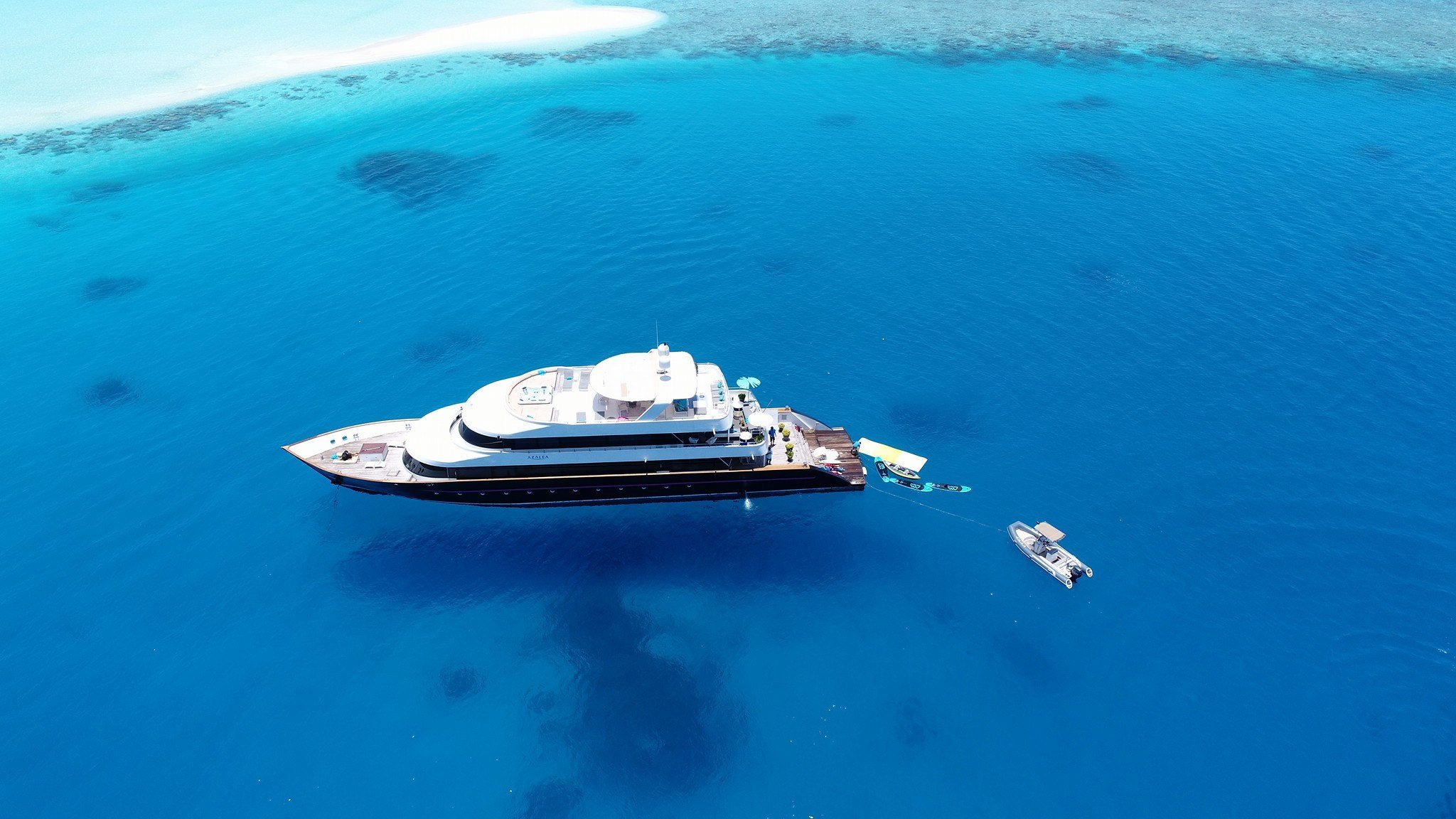 "Spend your money wisely on the boat which is perfect for YOU, not just on any luxurious boat. Some excel by having the right boat size, others by having the right toys on board, yet others as the price is right – we at LUEX have seen all our boats in person, and will always give you first-hand advice."
Tim Heising, LUEX CEO
The standard of food on some of the more budget options can be quite simple and repetitive, but if you like to fish you always have the opportunity to upgrade your meals with some of the abundant fresh seafood around – throw out the rods and hand lines and get to work! You don't need to splash out too much to ensure excellent meals, however, if any member of your group has unusual dietary requirements or are particularly difficult to please, look for a boat with an excellent chef.
Related article: The Ultimate Guide To Surfing Charters In The Maldives
If you do want to splash out, then it can be worth looking at some of the optional add-ons available, like photography and video services to document your trip, scuba-diving instructors, surf coaches, or even seaplane charters to access further afield breaks. At the top end, it's also possible to hire a pro surfer as a coach to help you perfect that backside re-entry or tube stall.
3. Destination
The most obvious factor – where do you want to go?! There are some boat trips in Central America and the South East Pacific and Indonesia but nothing beats a surf charter in the Maldives – for good reason! These island chains are absolutely perfect for boat trips and the stuff of surf fantasy. Clear, blue, bath-warm water, consistent swell, innumerable reef breaks, tubes, fast, high-performance walls, palm trees, tropical hideouts (#instaperfection). The sheer beauty is enough to send even the most jaded surfer into blissful, glassy-eyed raptures. The Maldives however, are a bit of a paradox, in that they really are the pick of the bunch if you're looking for high-end luxury and fun waves,  yet, also have fewer options if you're on a tighter budget.
If your pockets aren't quite as deep or you are on the hunt for picture perfect barrels,  salty chargers will find it hard to look past Indo's heavier breaks and fiercely hollow tubes – there's really nowhere better to step up your game.
There's more than enough choice to tickle the taste buds at either destination, though; whatever your preferred flavor, the list reads like a bible of surfing's holiest places: the Mentawais, Sumatra, the Central Atolls, Huvadhoo, Sumbawa – the list goes on. Whichever you go for, beginners all the way through to experts have plenty of waves to get stuck in to.
4. Crowds
An unfortunate side effect of increasingly more accessible and cheaper long haul travel is the ever more crowded lineups at the more popular waves; a fact that probably isn't helped by a barrage of dreamy surf and lifestyle photos touted by the surf media every day (Ed. err… sorry!). The sheer flexibility of a boat trip goes some way to resolving the matter, as if one break is too crowded you can just cruise over to another, but the competition is getting fiercer and fiercer, and truly empty lineups are becoming harder and harder to find. A good guide is worth their weight in gold, here.
If you really set your mind to it, it's still eminently possible to score waves to yourself, but you do have to be prepared to work for it. First you'll have to drop more of your hard-earned dollar, and second, make an effort to explore beyond the standard tourist trail. The further you head from that trail, and the further you forge your own path, the higher your likelihood of deserted waves. Unfortunately, there's an inverse ratio between crowds and costs, and as lineups thin out costs inevitably rocket. Fuel and boat relocation surcharges vary hugely between operators, and it can be tough to get a handle on prices without doing a detailed analysis.
"No crowds is every surfer's dream, and sometimes comes at a price. We still have some options ready for you that don't break the bank and have almost no crowd – guaranteed. We just don't want to reveal all of our secrets here… Give us a shout, and you could be on the next plane to…"
Ignacio Echandi, Surf Travel Expert
Indo's heavier waves generally foster more competitive and cut-throat crowds, especially around the established destinations like the Mentawais and Bali. Though the on-going wave privatization controversy in the Maldives also leads to crowding at the few open-access breaks left in North Male Atoll. For the quietest lineups head to the Southern and Central Atolls in the Maldives, or the more remote areas of Indo like southern Sumatra, the Banyaks, and West Timor/Savu.
5. Length and Flexibility of Stay
There are essentially three types of boat trips: fixed schedule, charter, and the 'open boat' concept.
Open boats are basically floating hotels. After landing at the airport, you take a little tender out to the main boat. Dates are usually flexible, so you can arrive and leave whenever you want – assuming there's space – which means they're perfect for small groups or solo travelers, who can't fill up a whole boat on their own. The trade-off is that open boats have to stay close to the airport, and so usually stay in just one area (though near several surf spots); less than ideal if you hope to cruise to new breaks every day.
If you want full flexibility and control over your itinerary, then there's only one option: charter a boat. While you usually have to fill every berth in the boat yourself, you'll also be able to choose your arrival dates, and have more input over your route and which waves you want to surf, and adapt to swell and weather conditions.
Fixed schedule trips lie somewhere between the two, and the boundaries are a little blurred. You can either charter a full boat to yourselves, or take just a few spots as with an open boat. Start and end dates are usually fixed, though occasionally there is a little flexibility if you charter the full vessel – though you must agree on this before the trip. You'll also then be able to decide where you want to go (again, this must be agreed beforehand if you're going to go beyond the boat's normal cruising area), whereas on an open trip the surf guides and captain will decide where to go based on swell conditions and average ability of the group.
And there you have it: the keys to your perfect trip. If you have any questions or need any more advice, please feel free to get in touch with one of our surf travel experts!
And now, Ship Ahoy!
<!]]>