<![CDATA[>
By Markus Fischer for GoPro
The Maldives had always been my dream travel destination. The thought of sharing a surf charter with an adventurous crew of friends had long been on my mind. So when the call came to join the guys from our office on their annual surf trip to my dream location, I wasn't letting the opportunity slip.
I'm not a surfer, but a passionate photographer and filmmaker. After a long winter, I felt it was exactly the right time to head south and relax my bones. Packing was interesting. Since I had never traveled with a surfboard bag, I courageously tried to cram in a Soft Deck, a bodyboard, and snorkeling equipment, in addition to a mountain of photography gear. Knowing I would spend ten days in board shorts and thongs made deciding on clothing easy.
Welcome To Surfing Paradise
We started our journey in the middle of May at Munich airport. Flying through Qatar was the easiest and cheapest option. So far, smooth sailing. We arrived in the Maldives capital of Male with a day trip to Jailbreak already booked. This is a world-class spot, about one hour from Male. Since our domestic flight to the Southern Atolls only departed later that day, this was the perfect option to duck out for some first impressions of the Maldives.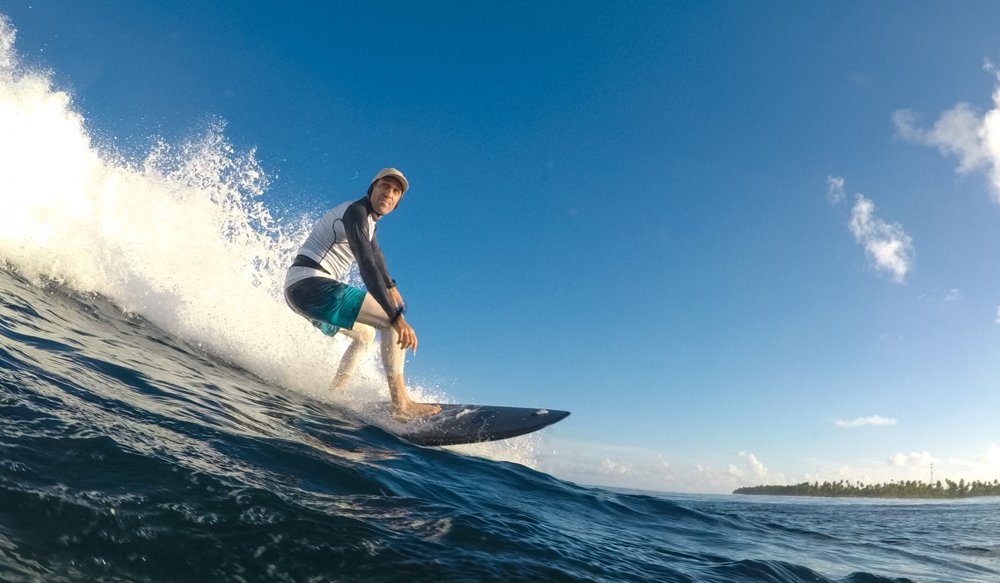 Part of the crew was, of course, amped to head straight out surfing. The rest (myself included) had sights set on taking it easy and getting used to the tropical weather. Our reward for completing the journey was to chill in the nearby village, throw down a fresh seafood lunch, and experience our first ever dive into the Indian Ocean's crystal blue waters. It's always fascinating how quick you get used to leisure life and how fast you start to relax. Vacation had begun!
Let The Surf Safari Begin
Our final flight for the day took us to Kaadedhdhoo in the Southern Atolls. I won't forget the moment when the Blue Horizon II crew welcomed us late at night and took us to the charter boat that I'd held in my dreams for years. With a huge sundeck, endless choice of comfortable seating areas, and several spacious cabins (each equipped with shower/bathroom), the boat was perfect for our 9-person crew from top to bottom. Our first day ended with a drink and hours sharing our impressions so far. Meanwhile, the captain was already navigating us toward Blue Bowls; the first spot on our surf safari.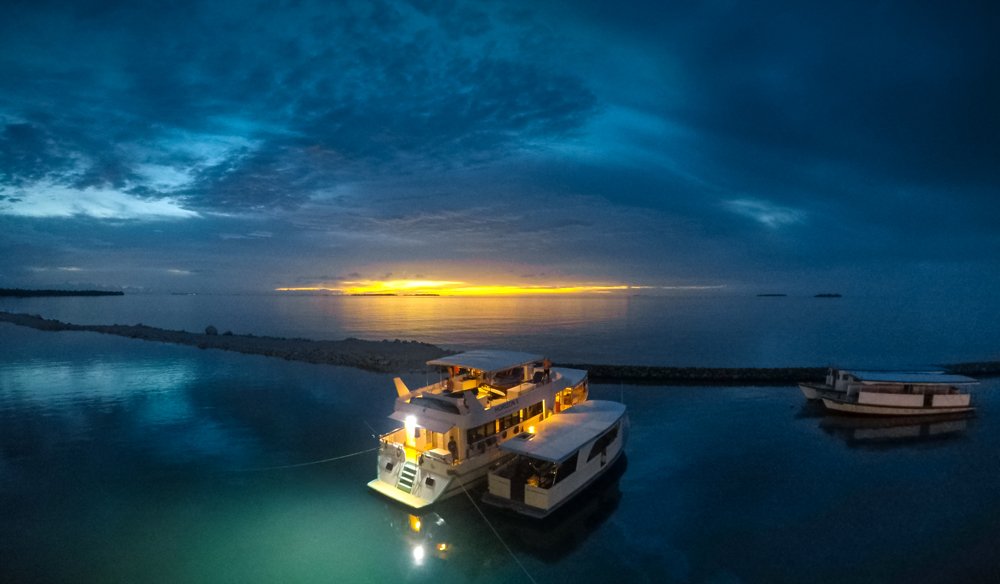 Waking up to the sound of the boat's engine being put to rest, we knew we had arrived. Our crew was wide-awake in seconds and bolting up the stairs to catch the first glimpse of paradise. Glassy conditions made breakfast a quick one, as we headed together in the dhoni for perfect waves. It was the ideal opportunity to take my photography gear for its first swim under pumping surf and to get used to the conditions with the crew.
Related article: The Ultimate Guide To Surfing Charters In The Maldives
Even without surfing roots, I had the best time in the water. I learned about incoming sets and where to sit and not to sit while being able to take incredible surf photography with the GoPro. Over the next couple of days, I became more used to the wave. I confidently tried some sessions paddling with a surfboard or a bodyboard under me.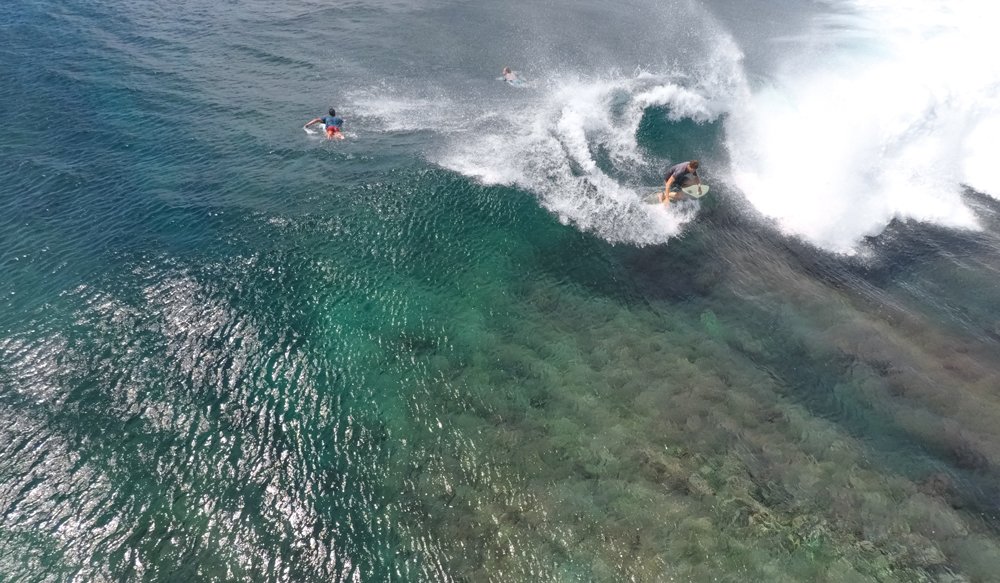 The daily routine had gripped us; it felt like we'd been here forever. And what a routine that was… Waking up to a beautiful breakfast, spending an entire day surfing and snorkeling, or just enjoying a stunning view from the sun deck. We would cruise from spot to spot, have late dinners, and share long chats to reflect on the day. Life is good on the Horizon II.
No Surf? No Problem!
Each day went by way too fast. It never got boring. Even on days where the waves were average, the boat crew always had a good sense how to keep us entertained. Have you ever paddle -boarded into the sunset right next to a lonely island? No problems on a surf charter. Fishing afterward? Hell yeah!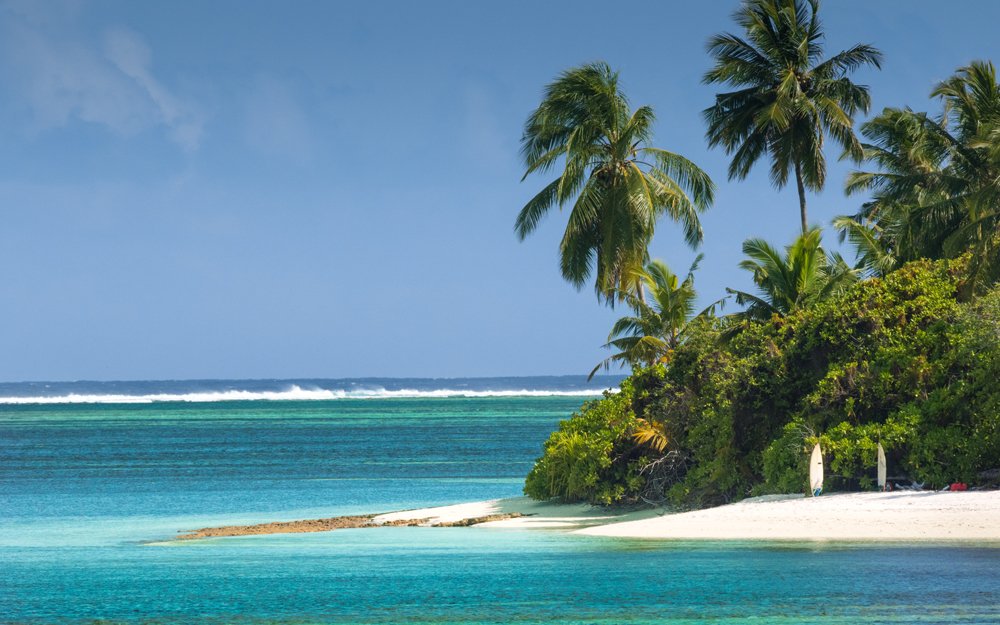 Before leaving the Maldives we were stoked to catch some giant Red Snapper. This made for yet another highlight; a final dinner on the beach. The crew had secretly prepared it the entire day and were clearly excited for us to come and see their hard work. Incredibly, they'd made a huge dinner table made out of sand. Torches lit up the entire beach as crabs ran around us nearby.
What can I say, for sure the best dinner you can imagine made the perfect ending for the perfect trip!
Thanks, LUEX & the Horizon II crew… what an adventure.