<![CDATA[>
Choice of waves, easy access and tropical water all help to make South West Sri Lanka one of the world's best surfing playgrounds, with something for everyone from beginner to expert. Here are 5 reasons why you should surf Sri Lanka this winter.
30km southeast of the lower tip of India lies the rugged and beautiful island of Sri Lanka, so lovely that ancient Persians and Arabs named it Sarandīb – the origin of the word serendipity. Sri Lanka is a fascinating and varied country, home to a wide array of religions, ethnic groups and languages; it also has the highest biodiversity density in Asia. While the culture, history and wildlife are a big draw, the main attractions for surfers are the variety of waves, warm water, and reliable Indian Ocean swells.
Sri Lanka is one of those awesome exotic places that assaults the senses: literally everything that you see, hear and taste reminds you (with a slap) that you are no longer at home. It is 'Third World,' but without the dirt and obvious poverty that you get in other places in the subcontinent.
Andrew Shield, Surfing Life Magazine
Sri Lanka is an island of two halves, split by the east-west monsoon patterns: the monsoon hits the south-west of the island from April-September, and the north-east from November-March. The dry season typically brings offshore winds to the Hikkaduwa and Midigama region (the hub of surf culture in Sri Lanka) on the South West coast during the Northern Hemisphere winter, which then groom long distance Indian Ocean groundswells (the same swells that fire up Indo) into seriously fun waves. It's the perfect scenario for surfers looking for a warm water retreat from the frigid winter months – so good, in fact, that we sent the guys from Surfing Life on a trip there last November.
5 Reasons why YOU Should Surf South West Sri Lanka
Surf culture in Sri Lanka is centred around the South West coast, where you'll find plenty of fun breaks, with lots more non-surf activities to do besides. Here are just a few of the reasons why you should surf there this winter:
1. Variety of Fun-Size Waves
Sri Lanka is powered by the same swells that hit Indo, but as one of the higher-latitude surf zones in the Indian Ocean, the waves tend to be a little smaller – typically clean, offshore 2-6 foot in the dry season (Nov-March). Even during the quietest swell period of Dec-Feb – the best time to score glassy conditions – Hikkaduwa rarely goes flat, and head high peaks are common.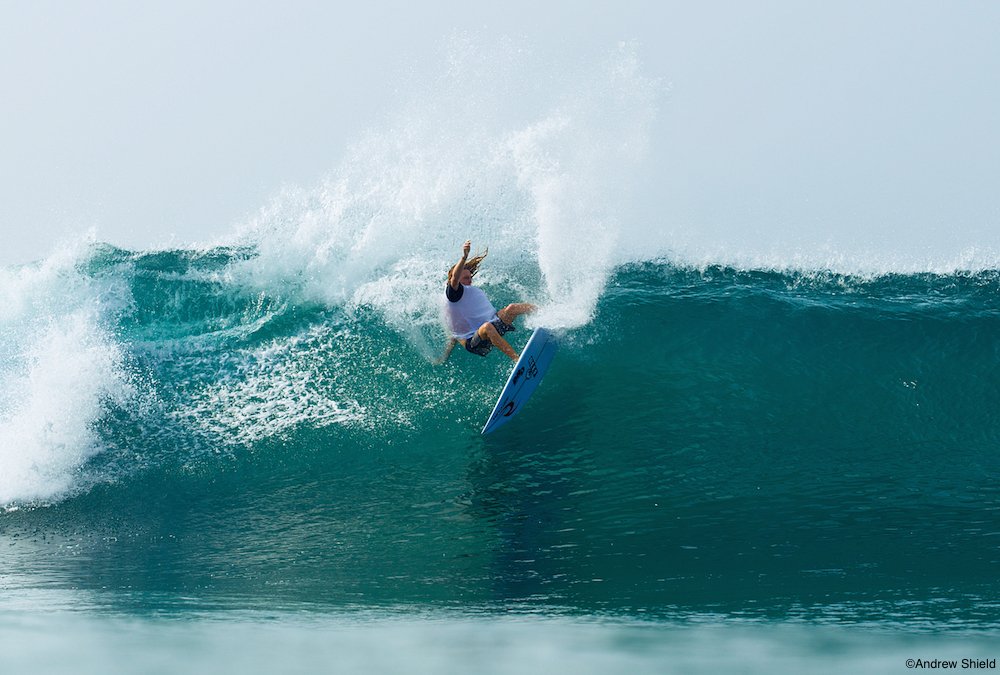 Sri Lanka is one of the best destinations for beginner and intermediate surfers, whether first-timers or those looking to get to grips with heavier Indian Ocean swells and reefs for the first time. The sand-bottomed beachies at Weligama and Hikkaduwa are as good as it gets for beginners learning to surf, the deep reef at Midigama's 'Lazy Left' is ideal for intermediates looking to step up to heavier breaks, while advanced surfers can find hollower waves and occasional barrels at the punchier reef breaks like Rams Right and Mirissa.
Weligama Bay is the number one spot for beginners. Easy, crumbling waves peel away into waist deep water; this is a surf coach's dream wave to teach on. If you're still looking for your first taste of surfing, this is the spot to get your stoke on.
Martin Jenner, LUEX Sri Lanka Expert
2. Tropical Weather and Warm Water
The Northern Hemisphere winter coincides with the dry season in South West Sri Lanka. While surfers in Europe and North America are shivering their way into sodden wetsuits while frigid winds knife across blustery beach-side car parks, everyone in Sri Lanka will be basking under the warm equatorial sun, enjoying air temperatures of around 25-30°C and water temperatures hovering at a steady 28°C.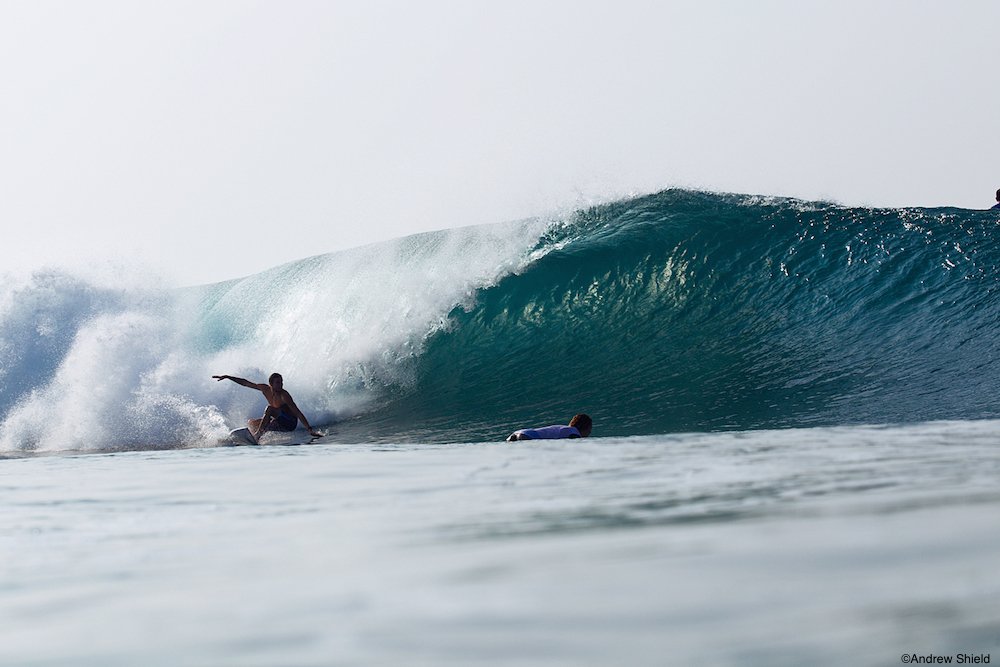 Do you prefer balmy bathtub warm water and board shorts, or 5/4 wetsuits and ice cream headaches? Yeah, I thought so.
Rams has some decent power behind him, as does the Rock at Kabalana. Both are A-Frame reef breaks that work almost every day in season and with a bit of size, some decent barrels are up for grabs. 
Martin Jenner, LUEX Sri Lanka Expert
3. The Food!
I'll just come right out and say it: Sri Lankan food is awesome! And cheap! Breakfasts often include fruit salads – fresh and juicy papaya, pineapple, mango and banana sliced into a bowl of pure nutrition and health. If you need something a little more substantial (hangover cure?), chow down on a 'hopper' – a Lankan speciality that's a bit like a crispy pancake bowl filled with egg, dhal, and zingy tomato. As one of the world's leading exporters of high quality tea and coffee, you won't be short of a morning brew either.
Lunch and dinner generally falls into one of two types: the freshest of fresh fish and seafood, or sumptuous curries – of chicken, beef, mutton, goat, fish, prawns, vegetables or lentils. Other traditional dishes include kottu (stir-fried vegetables and shredded roti flatbread, with egg or meat), hoppers with a variety of fillings, lamprais (rice, curry, meatballs and sambol wrapped in a banana leaf and baked) and kool (seafood broth with beans, spinach and spices). Meals are normally accompanied by pickled fruit or vegetables, chutneys, and coconut sambol – a paste of ground coconut, chili peppers, 'Maldive fish' (intensely flavoured strips of sun-dried tuna), and lime juice.
Even better than the flavours is the price – your $/£/€ go a long way in Sri Lanka, where a beer in a restaurant is usually less than $2USD.
4. Culture, History and Nature
Sri Lanka has a lot more to offer than just the standard surfing, snorkelling and sunbathing! Sri Lankan pre-history dates back over 125,000 years, spanning the Palaeolithic, Mesolithic and early Iron Ages; you can visit ancient settlements and caves like Belilina, famed for the discovery of the pre-historic 'Balangoda Man.'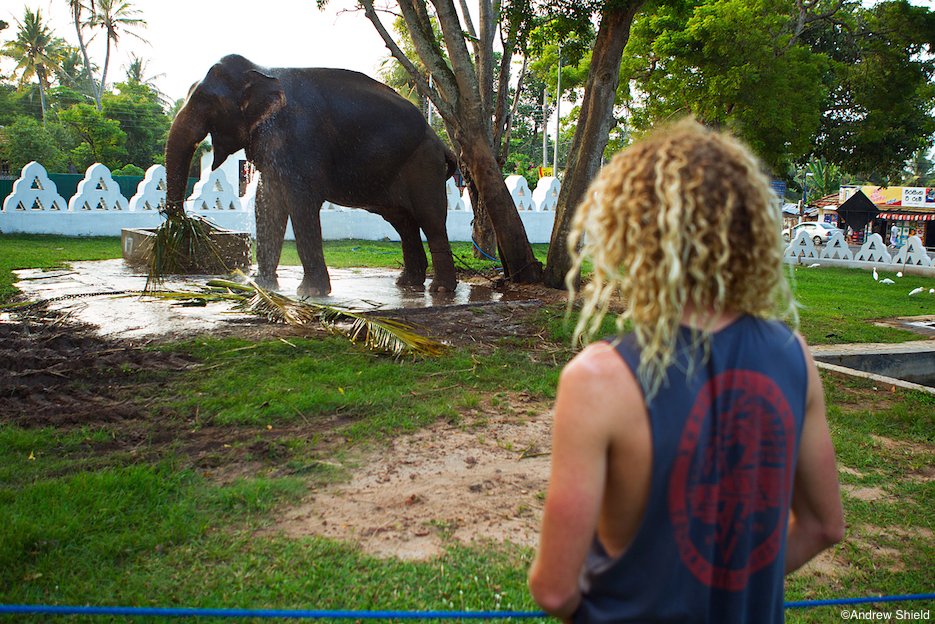 Buddhism was introduced to Sri Lanka in the Third Century BC by the Indian monk Mahinda Bhikkhu, and remains the religion of around 70% of the population. There are thousands of Buddhist temples and monasteries dotted around the island, including some of the oldest, biggest and best-preserved 'stupas' (hemispherical structures used as tombs or places of meditation) in the world.
The natural history is equally fascinating: rainforest tumbles down from the mountains to the sea, filled with amazing wildlife. It's not unusual to spot wild elephants and monkeys crossing the road, but for a more close up encounter with monkeys, leopards, elephants, and water buffalo check out the UNESCO World Heritage Site Sinharaja Forest Reserve (around 2 hours from Hikaduwa).
The national parks, ancient temples and incredible wildlife will help to make your trip unforgettable. Ever wanted to check out the largest mammal to inhabit our planet? Sri Lanka is one of the best places in the world to catch a glimpse of the magnificent blue whale.
Martin Jenner, LUEX Sri Lanka Expert
It's well worth spending a few days up in the hill country too. It's like another world away from the rest of Sri Lanka: green-cloaked mountains rise up out of the tangled rainforest into the misty skies, dotted with huge waterfalls, vast tea plantations and ancient temples. If you're up to it, hike up the iconic Adam's Peak (2243m) to search for Buddha's footprint (also claimed as Shiva's footprint by Hindus, Adam's footprint by Muslims and Thomas the Apostle's footprint by Portuguese Christian colonials) – it's quite the climb, but the views from the top are sensational.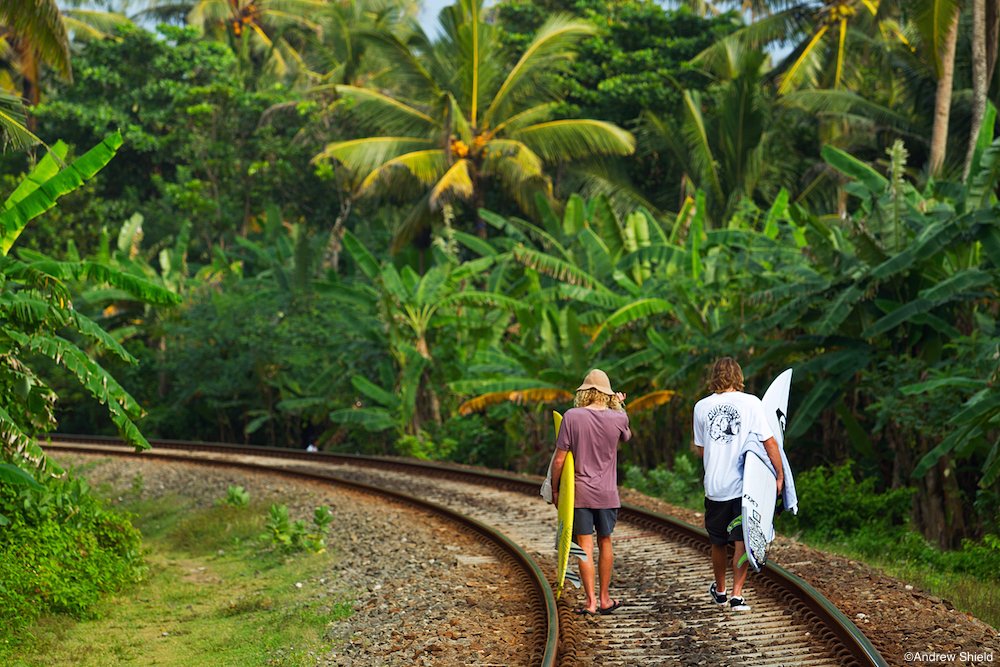 5. Trips to Suit Everyone
The sheer variety in Sri Lanka means there really is something to suit any taste and budget. You can feral out in cheap local home stays or splash out on luxury resorts and boutique beach houses. Hikkaduwa offers vibrant nightlife buzzing with eclectic traveller vibes, while Midigama is more chilled out with mellow yoga and meditation retreats. Couples, honeymooners and families can choose from myriad private villas, while solo travellers can socialise and meet new friends in the various surf camps. Beginners will find lots of surf schools to teach them the basics, while advanced surfers can take advantage of the widely-available guiding to explore secret breaks and reefs off the beaten track.
Between November and March, this coastline is very consistent. We had a couple of days at a nearby reef that easily handled the solid swell, and then as the swell dropped the boys started surfing a good little peak that was about forty minutes further south. Each morning the wind would be either non-existent, or light offshore.
Andrew Shield, Surfing Life Magazine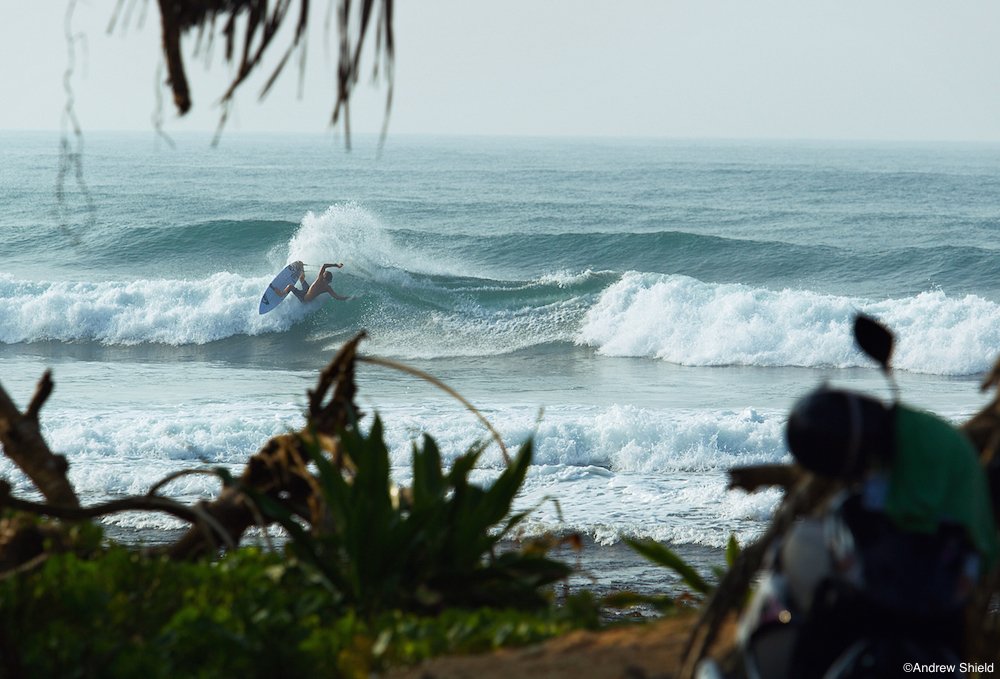 No matter your surf skills, appetite for adventure and budget, there are enough options in Sri Lanka to craft your dream trip. Get in touch with our surf travel experts and start planning yours today!
<!]]>