<![CDATA[>
Join OSK and Karsten Boysen on an all-time surf trip in the Algarve, as they discover one of Europe's top surfing destinations. Pumping Atlantic swells, empty lineups, delicious seafood and a burgeoning surf culture… Who needs Hawaii anyway?!
If you ask most people where to go for the ultimate surf trip, you'll likely get a list of all the usual suspects: Hawaii, Australia, California, Indonesia, etc… But what about Europe, the 'Old Continent?' When we think of Europe and sports, football and skiing are more likely to come to mind than surfing, though in reality southwest Europe – particularly France, Spain and Portugal – harbours more world class waves than you might at first think. From Hossegor, the scene of annual ASP events, to Spain's Mundaka and the legendary Supertubos in Portugal, there are more top quality waves breaking along the Atlantic coast than you can shake a shortboard at.
Perhaps top of the trip list for travelling surfers in Europe is Portugal; between Ericeira, Peniche and Algarve lie a dizzying array of waves to suit all levels of surfer, from tentative beginners to seasoned pros. OSK's Oliver Nermerich and Karsten Boysen recently took a trip to meet Marlon Lipke and João Bracourt, and to see what the Algarve holds beyond mouthwateringly good seafood and late night shenanigans in Lagos. They turned up trumps, discovering a surf paradise with uncrowded waves, epic scenery and consistent swells.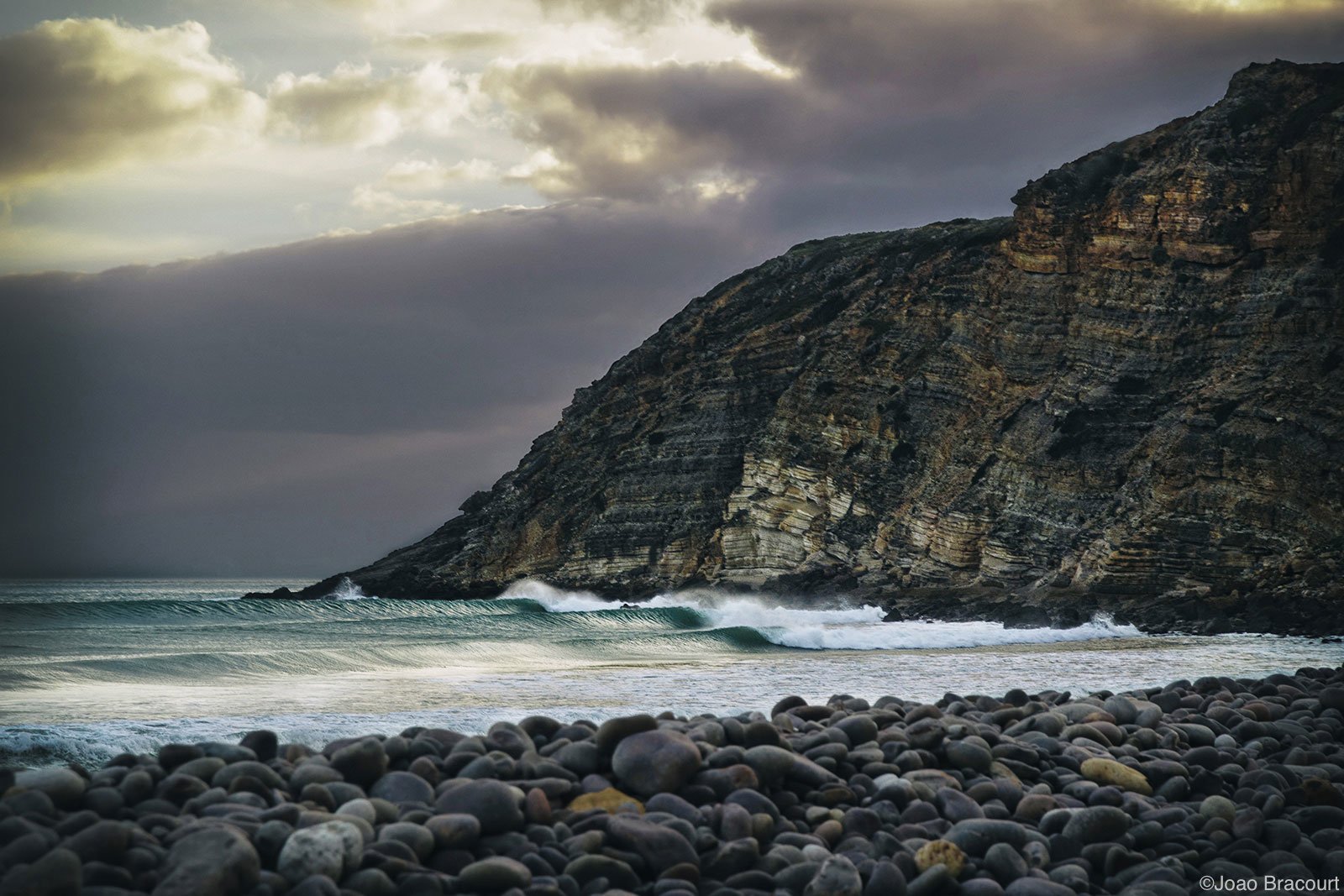 5 Reasons to go Surfing in the Algarve:
1: Variety of Waves – The Algarve is home to a huge selection of waves of all shapes and sizes, including sand-bottomed beach breaks for beginners' first tentative rides and gnarly reefs like The Cave where expert surfers can test their mettle. If tubes are your thing, head to Supertubos – arguably the best beach break on the planet. The sheer number of breaks means that with a little effort you can often score empty waves, and as the coastline bends around to the east at Sagres you can usually find a spot that deals with whatever the swell is throwing at you: if it's too big in North Algarve, head to the south and watch the waves peel around the point at half the size.
2: Warm Weather – due to the proximity of the Mediterranean the Algarve enjoys warm weather all year round: even the winters are typically mild, with temperatures rarely dropping below 15°C and normally considerably higher (average temperatures in summer push towards 30°C). While you can surf all year round, you will want a wetsuit if you're chasing the bigger autumn and winter swells!
3: Incredible Food and Drink– Portugal is famed for its succulent seafood dishes; can you think of anything better post-surf than a classic cataplana of clams, bacon and sausage meat, or sardines grilled fresh-from-the boat in a beach-side restaurant? Wash it down with a delicious and locally produced Monte da Casteleja white for all-time gastro-satisfaction. Magnificente!
4: Epic Scenery – Wild, wave-battered cliffs; secluded and sheltered coves; rugged mountains looming over wide, agricultural fields; cute fishing villages and historic towns with pretty cobbled streets… The Algarve is certainly not short on scenery! Absorb the raw power of the Atlantic and immerse yourself in nature.
5: Options to Suit all Tastes and Budgets – Whether you want to burn the candle at both ends with a blow-out party-filled trip in Lagos, or prefer mellow evenings with focused surf sessions during the day, you can definitely find an ideal location in the Algarve! Take your pick of hundreds of guesthouses, surf camps and resorts, then add transfers, lessons or guiding to create your perfect trip.
For the full story of the trip, check out OSK's blog (in German)
<!]]>