Dhaainkanbaa
DhaainKanbaa is just the right choice if you are looking for the ultimate super yacht holiday with comfort and luxury while enjoying high service and perfect waves.
Slumber in Comfort
Dhaainkan'baa offers seven cosy and inviting staterooms with extra spacious bathrooms (six doubles and one twin), expertly designed and exquisitely furnished for a relaxing time after a day of adventurous activity or slumbering in sweet dreams. In room comforts include Sattelite TV, Surround Sound System, Private Bar, Nespresso Coffee & Tea, IDD Telephone, Private Safe, Programmed Mood Lighting and other modern accessories. The bathrooms feature a Spa Bath Tub, WC & Bidet, spate Shower Cubicle, Hot & Cold Water and a whole range of amenities.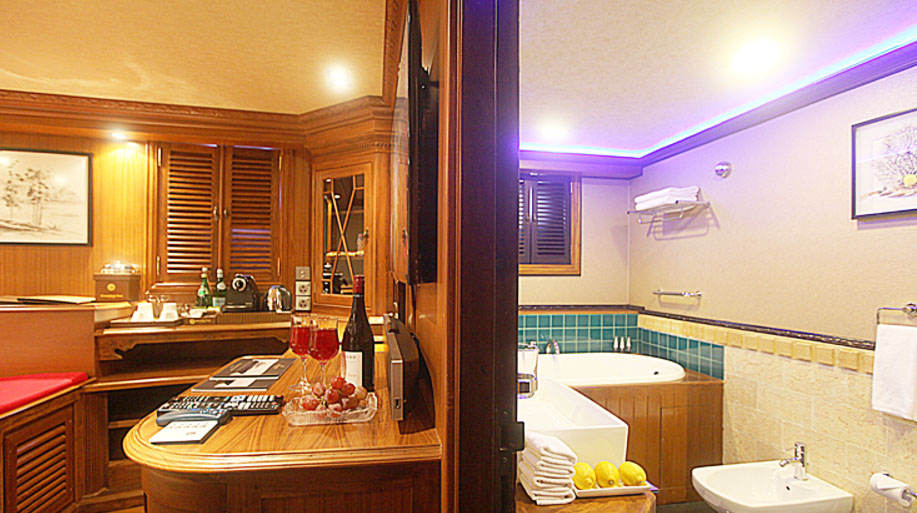 Relaxation & Entertainment
Dhaainkan'baa has given due consideration for the comfort of the guests, providing spacious lounging areas all throughout for a relaxing time, at the same time making available a variety of entertainment options for the guests to choose should it be desired. Enjoy a comfortable couch time to share chit-chat, let a masseuse pamper you with a skilled pair of hands to relieve the stress of a day, or engage in the several other activities of entertainment onboard.
Thirige Lounge
Thirige Lounge or the Saloon on the main deck is equipped with high comfort Italian made sofa seating for couch time or chit-chat about the adventures of the day. A high definition 3D Television with a Blu-Ray Player, adds blockbuster entertainment for those who wish to indulge into the world of 3D movies, games and documentaries. A selection of 3D movies comprising of movies and games suitable for different ages is available at the lounge.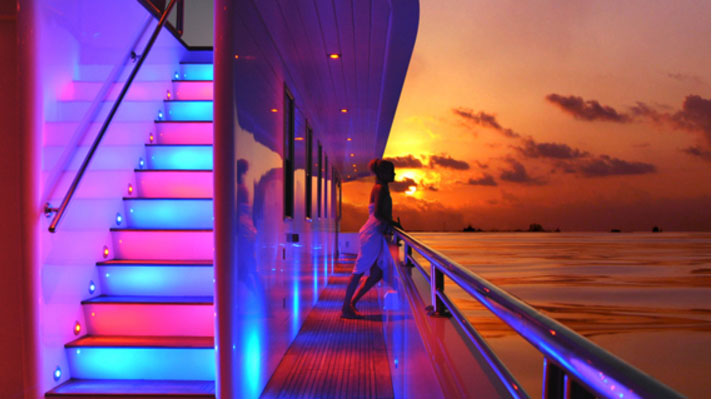 Mathige Lounge
The place for nature lovers who like to graze in the Maldivian sun, with a 360 deg view of the surrounding majestic scenery during the day. In the evenings, the sun deck becomes the star gazers spot of choice to view the countless stars of the clear Maldivian skies, where you can also gaze through the high powered telescope provided for the astronomy enthusiasts who prefer to go for a closer view of the celestial bodies in space.
Vevu Hydrotherapy Corner
With sun lounging and an 8 persons Spa Whirlpool Jacuzzi, Vevu is the perfect place to share chit-chat with family and friends alternating between sun baths and a dip in the hot tub with massaging jets. Drinks and Snacks are served at Vevu.