Dhaainkanbaa
DhaainKanbaa is just the right choice if you are looking for the ultimate super yacht holiday with comfort and luxury while enjoying high service and perfect waves.
Food
Delicious Temptations
Relish on delicate combinations and the stunning array of treats in imaginative flavors from around the world, prepared by the culinary team of Dhaainkan'baa consisting of the Master Chef, Pastry Chef, Sous Chef and the Commis. The settings for dinner vary immensely, from the main restaurant to the open sky sun deck with the expansive view of the surrounding nature or on a secluded beach of a tiny desert island, creating different atmospheres for exotic dining experiences.
Thirige Restaurant
The main restaurant serves Breakfast, Lunch and Dinner either in a sumptuous buffet or four course meals from a tabled'ote menu with choices for each of the courses. Compliment your meals with a glass of premium wine from the Wine Cellar's collection of individually selected fine wines & champagnes from around the world.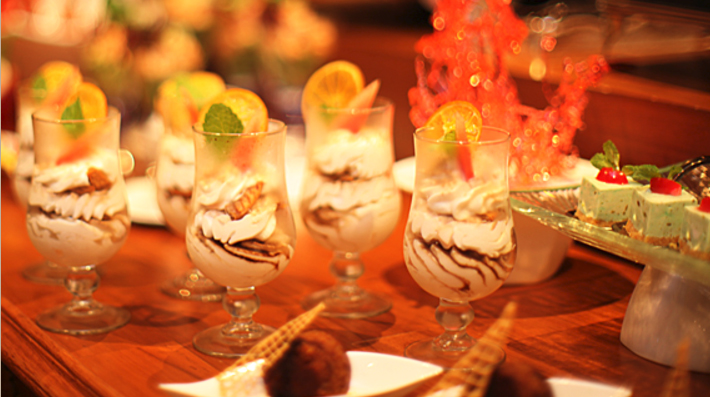 Medhuge Bar & Lounge
Let it be a pre-meal aperitif, an after meal drink the atmosphere at Medhuge will lift your spirits high. Indulge in the delightful tropical cocktails that go well with every mood, be it romantic or to soothe the need to simply unwind. With a top-notch sound system, song selection, and a 55 inch 3D Television, Medhuge's Karaoke feature allows guests to enjoy singing their favorite songs with family and friends. The disco lighting system and dance floor adds that extra bit of spice to entertainment. Dance with your partner and friends to the crew performing DJ at the bar.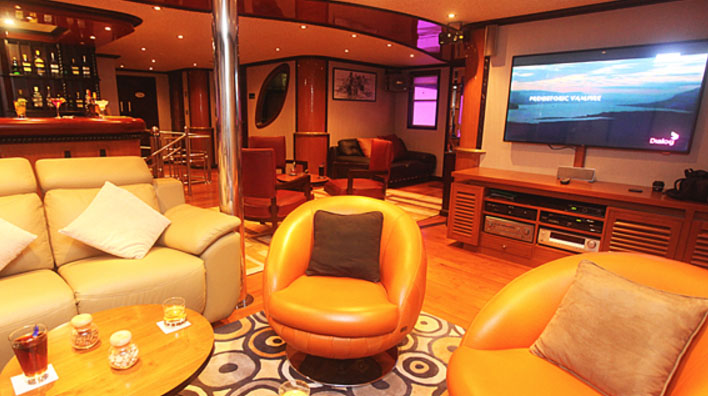 Mathige Lounge
Located on the spacious top sun deck, Mathige serves drinks, fresh juices, cocktails and snacks. On selected evenings, dinner is served with barbecue and grilled specialties. The setting of Mathige is much favored all throughout the day and is an excellent place to be at sunset to experience the colours of nature blending in shades unimaginable as the evening begins.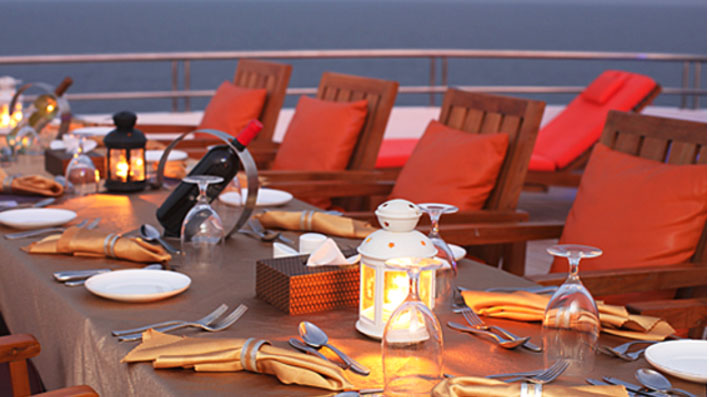 Beach Barbecue
A speciality of the Dhaainkan'baa experience is the Beach Barbecue Dinner setup on the beach of an uninhabited island. Experience a romantic Maldivian evening with the colors of the sunset, and the Dhaainkan'baa barbecue.