Hudhuranfushi Surf Resort
Maldives: North & South Male
Surfer numbers capped to 45 surfers. No more crowds at Lohis!
The Location
The lovely island of Hudhuranfushi in the exotic Maldive Islands truly lives up to its name, which translates to 'Island of White Gold' in the local language. A delightful tropical haven with picturesque palm trees, spotless powder soft white beaches and limpid sapphire waters under the clearest of blue skies, Hudhuranfushi never fails to enchant the visitor. Although the Maldives has acquired the reputation of a recognized tourist destination, the islands remain romantically idyllic, with a refreshing charm and a leisurely homely ambience.
The exceptional Adaaran Select Hudhuranfushi resort is located in beautiful environs that truly resemble a pristine tropical paradise. The resort borders an immense scenic lagoon with inviting turquoise waters.
Offering an irresistible combination of an array of modern conveniences and facilities amidst a wondrous natural panorama, Adaaran Select Hudhuranfushi promises to pamper its clients in style. Its Beach Villas project a contemporary modern design while the attractive Water Bungalows with their wood and thatch exterior transport guests to a tranquil timeless aura. The magical resort promises guests the holiday of a lifetime irrespective of their age or inclination.
Hudhuranfushi is particularly noted for its opportunities in the field of water sports, with a multitude of exciting options available for the enthusiast. The shimmering waters of the lagoon make an ideal environment for catamarans, water skiing, windsurfing, canoeing, kite surfing and banana riding among many others. Hudhuranfushi is particularly renowned as a superb venue for surfing, with many avid surfers frequenting the area.
Hudhuranfushi is conveniently situated in North Male Atoll, just 19 km from the international airport; a speedboat covers this distance in a mere 30 minutes. Visitors who choose to stay at Hudhuranfushi will enjoy easy access to local landmarks such as the National Museum, Grand Friday Mosque and the Presidential Palace which may be visited after returning to Male prior to departure.
The accommodation
Enjoy pristine views of the waves caressing the golden shores from a privileged perch atop a turquoise universe, Adaaran Hudhuranfushi offers two distinct styles of elegant accommodation. Both variants are equipped with the latest facilities merged with furnishing and design that exudes a colourful yet elegant ambience for perfect blend of fun and relaxation.
Guests residing at our Beach Villas will be able to enjoy splendid views of the captivating horizon along with comfortable bedding and elegant furniture. Ocean Villas at Adaaran Select Hudhuranfushi places you atop the azure waters presenting the opportunity to examine the activity happening beneath the waves.
---
Beach Villas
As its name suggests, Beach Villas are located along the outline of the atoll with prime beach frontage. They offer convenient access to the beckoning sea and are within easy reach of the hotel facilities. Equipped with a variety of modern amenities, Beach Villas offers spacious accommodation for the guest at Adaaran Select Hudhuranfushi.
All Beach Villas are equipped with contemporary amenities and elegant furnishings and décor complimented by tropical themes. Splendid interior designs complement the amber hues of the breathtaking sunsets that greet you at dusk will no doubt be the highlight of an ideal day in paradise.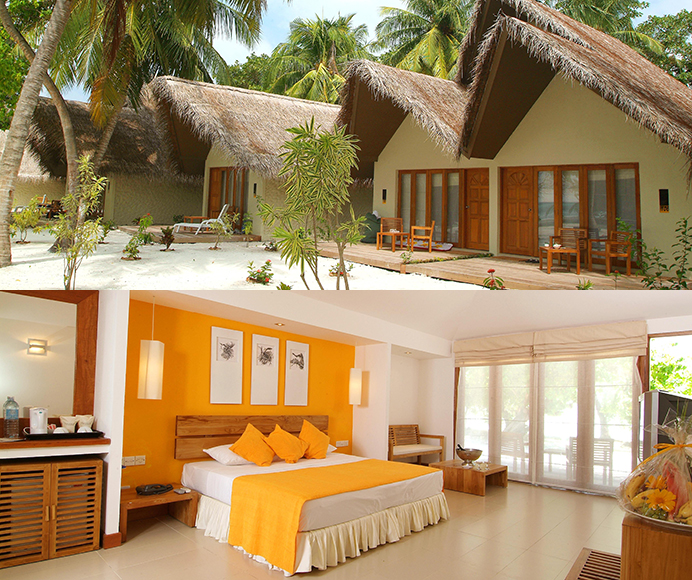 Room Specifications

Total No. of Rooms: 37
Room Décor: Wooden & Cane Furniture with Tile Flooring
No. Rooms with Terrace: 37
Room Facilities
King Size: √
Triple Rooms ( Extra Bed ): √ On Request
Twin Bedded Rooms: √
Baby Cots: √ On Request
Interconnecting Rooms: √ On Request
Mini Bar: √
Telephone - operator assisted IDD√
Tea / Coffee Making Facility: √
Plug Points (In Room): √
Multi Plugs: available at cost in shop
Universal Shaving Sockets: √One Attached To The Hair Dryer
Voltage In Room: 220 /240 V
Television (Satellite Tv): √ 137 Rooms
Idd In Rooms: √
Safety Deposit Box In Room: √
Air Conditioning: √
Chairs In The Terrace: √ 2 With A Table
Island Configuration (Total): 83 Acres
Floor Area In The Room Sq. Meters
Front Deck: 16.50 M2
Bathroom: 12.50 M2
Bedroom: 30.40 M2
Total Area: 59.40 M2
Facility For Disabled Not Available
Bathroom Facilities
Attach Bath / Shower W/C: √
Washbasin: √
Hand Shower: √
Hot / Cold Water: √
Bath Tub: √
Hair Dryer: √
Shaving Socket: √
No. Of Rooms With Open Shower: 137
Fresh Water Supply: √
Toiletries:
Soap: √
Shampoo: √
Towels: √
---
Prestige Ocean Villas
Walk along a dark wooden causeway into the enticing waters upon which lay our distinct thatched roof Ocean Villas.Featuring wooden exteriors with modernist interiors, each retreat is complimented by bright colours and contemporary design.
All villas feature modern amenities with all encompassing views of the open sea along with direct access stairways you will feel the urge to bask in the clear waters for hours. Step out of your plush king sized bed and sink your feet into the warm water for an invigorating morning swim then find the perfect spot on the white sandy beach to soak up the sun.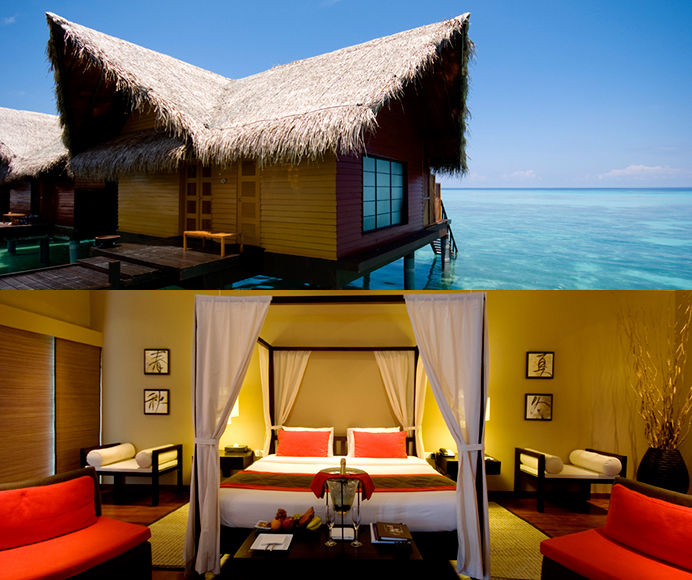 Room Specifications
Total No. of Rooms: 40
Ac: 40
Shower: 40
Bath Tub: 40
No. of Beds available - King Size: 40
No.of Triple Rooms Available: on Request
No. of Twin Bedded Rooms: None
No. of Cots Available: on request
No. of interconnecting rooms: None
Room Décor:
Luxury contemporary Deco with teak wooden Floor, four Poster Bed and all modern Facilities
No. Rooms with Sun Deck: 40
Sun Beds with Beach Umbrella , Table with two Chairs for private Dining
Room Facilities
Mini Bar: √
Telephone with Idd Facility: √
Tea / Coffee making Facility: √ including an Espresso Machine
No. Plug Points (In A Room): Total 12 all square Pin
Guest Use: 2 Multi Plugs Provided
Universal Shaving Sockets: 2 one attached to the Hair Dryer
Second A Separate Socket: near saving Mirror
Voltage in Room: 220 /240 V
Television (Satellite Tv): √
DVD Player: √
Wardrobe: √ Access from Bed Room and Bath Room
Private Dining Area on the Sun Deck: √
Pillow Menu: √
Safety Deposit Box in Room: √
No. of Lights in the Room:
Bedroom: 13
Wardrobe: 1
Toilet: 7
Entrance: 4
Deck: 2
Air Conditioning: √
No. of Doors In The Room: 2 Entrance and one Sliding Door To Sun Deck
Floor Area in the Room Sq. Meters:
Sun Deck: 13.5 M2
Bathroom: 10.50 M2
Living Room: 40.0 M2
Total Area: 64.0 M2
Facility For Disabled Not Available
Bathroom Facilities
Attach Bath / Shower/ W/C: √
Washbasin (Twin): √
Rain Dance Shower: √
Hand Shower: √
Hot / Cold Water: √
Hair Dryer: √
Shaving Socket: √
No. Of Rooms With Shower Cubicles: 40
Fresh Water Supply: √
Toiletries:
Soap: √
Shampoo: √
Fragrance: √
Shower Gel: √
Body Lotion: √
Bath Robes: √
Bath Slippers: √
Towels: √
---
Lohis Rooms
Lohis Rooms are located closes to the surfbreak with convenient access to the hotel facilities. Even though these rooms lack beach front view they are equipped with a variety of modern amenities. Lohis Rooms are the newest rooms at the resort, offer spacious accommodation and are the top choice for most of our surfers. Surf, Eat & Sleep within 100m!