Kudanil Explorer
Venture to the ends of the Indonesian archipelago in the delightful ambience of the Kudanil Explorer, the country's most unique luxury cruiser, and surf the empty lineups of this remote region.
Amenities & Activities
Special Requirements
Please, do not hesitate to ask us about any specific requirements. Kudanil has proven to be as flexible & meticulous as demanded and is able to cater for very specific needs & wishes.
Sports Equipment
2 Paddle Boards
6 Transparent Kayaks
Wakeboard
Waterski
Diving
Diving Equipment for 16 people
2 fixed compressors with Nitrox
Tenders
The Kudanil comes equipped with 3 units of custom yacht tenders for exploration.
1 unit 8 meter RIB with 350 hp Cummins diesel engine driving a jet propulsion unit with complete electronic package for long range exploration.
1 unit 6 meter aluminium LCT wtih twin 115 Yamaha 4 strokes outboard engines equipped with echo sounder and VHF.
1 Avon offshore RIB with one 60 hp Yamaha 4 strokes engine equipped with echo sounder and VHF.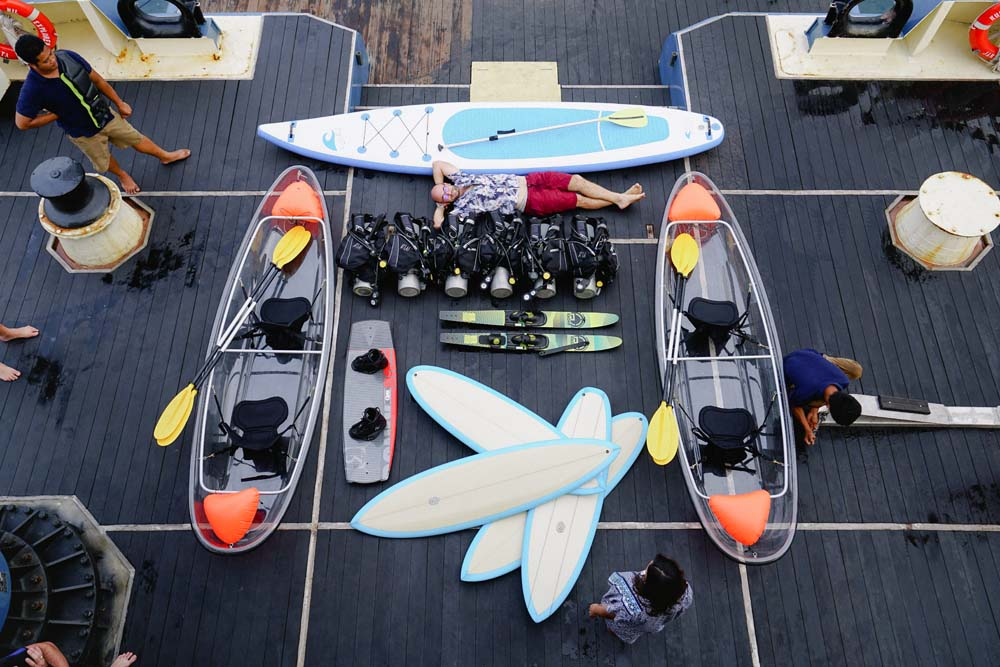 Expeditions
We have curated the ultimate experiences of the richness and diversity of Indonesia, from surfing, diving and watersports to cultural explorations through the traditions and daily existence of some of the world's least known communities. Tailor your own adventure and join us to create the journey of a lifetime shaped around your own interests and passions.
Culture
Cultural discoveries include tracking down authentic ikat textiles, experiencing traditional cultural practices and performances that have remained unchanged for centuries, and discovering the fascinating colonial heritage of the Spice Islands, retracing the routes of legendary explorers.
Surf Safari
For surfers looking for unforgettable breaks off the beaten track, Nusa Tenggara Timur offers perfect dry season conditions and accessible waves, away from the main crowded surf hubs of Indonesia. We stop by the hidden surf breaks of Rote, Savu and other islands en route; no line-ups, enjoy private breaks selected especially for Kudanil explorers.
Diving
Indonesia is home to some of the world's best dive and snorkelling sites and some of the finest of these are also the least accessible through normal modes of transport. On the Kudanil we have access to some of the most remote and most beautiful waters on the planet, underwater worlds teeming with life. More coral fish species than any other waters in the world and a home to pelagic life from manta rays to whale sharks. Emerge to find yourself within Indonesia's most breathtaking beach and volcano landscapes.