Nihiwatu
Exclusive Sumba surf resort overlooking an uncrowded world class left. Immerse yourself in the ancient and fascinating local culture!
Welcome to Nihiwatu. Arguably the most luxurious boutique resort in the world with an epic left-hander right out front. The resort comprises 33 villas ranging from 1, 2, 3, 4 or 5 bed-room layout, all with private pool.
Located in front of 2,5km of unspoilt beach within 567 acres of unspoilt natural reserve, Nihiwatu is also the Winner of the Design of the Year Award of Condé Nast Traveler The World's Best Hotels Gold List 2016.
Exclusive buy-out of the entire resort is possible with minimum booking of 7 nights of all villas. Total number of persons which can be accommodated is 80. Please ask LUEX for details. Small, private open-aired meetings & incentives, are also feasible by secluding parts of the resort for private groups.
Mendaka Villas
This estate comprises of five individual villas, each with its own private pool and takes over the most expansive plot of land, right in the heart of the property. The villa was designed with large families and groups of friends in mind and is fully equipped with spacious entertaining areas. The landscaped gardens around the villas also provide privacy so each villa can be rented exclusively.
The large expansive living and dining area takes centre stage on the front of Raja Mendaka and offers vast views of the Indian Ocean and NIHIWATU®'s picturesque 2.5 km beach coastline. A large open deck includes a 19m pool with an ice cold plunge pool, plus dining and covered lounge area with a fully equipped kitchen to the side. To the back of the entertaining space is a library/studio with a bathroom, which is also connected to the master bedroom. A great little nook for privacy, for reading or to watch a movie.
Raja Mendaka's master villa's bedroom sits to the right of the main area in a prime position, cantilevered over the white sand coastline and Nihi's renowned sunsets. The 56m2 area includes a day bed, spacious bathroom with shower and outdoor bathtub. The front veranda features a private pool and a sheltered area with day beds for lounging. The master villa's guest room sits to the left of the main area and offers a day bed, bathroom with shower, outdoor bathtub and private pool.
The three remaining, two-storey one-bedroom villas are dotted behind on the gentle slope and were designed to reflect the traditional Sumbanese House. The entry level offers a partially covered deck, living room, bathroom, private bathroom and private infinity pool at the front with lounge area. The study to the back provides a great area for children to sleep or an air-conditioned area to watch movie or work. Upstairs, the 46m2 bedroom opens to a platform among the trees with a bathroom complete with an outdoor jungle shower. An outdoor bathtub is perfectly positioned on the balcony to afford the signature NIHIWATU® coastline view. Raja Mendaka 2's unique attribute is a waterfall, cascading off natural rocks into a private pool and a hidden massage cave between the boulders at the base.
Traditional Sumbanese artefacts feature throughout including carvings, antiques, local wood, soft and Ikat prints and furnishings. This is the only villa to feature Sulawesi marble inlayed with special teak.
---
Tree House Villas
The tree-house configuration was designed for the fun-hearted, adventure lover and is perfect for families, groups of friends or honeymoon romance. Mamole Tree House has the best view of the beach and brings the outdoors, in. Two of the two-storey, circular villas offer a lounge area on the entry level, with the bedroom, bathroom and balcony on the upper level. A bamboo bridge connects the two tree-houses and a shared infinity pool with lounging deck features on the front. The main Mamole Tree House includes a private infinity pool and large living area with bathroom on the entry level, and upstairs, a bedroom with a bathroom, balcony and connecting bridge to the main outdoor bathroom. Traditional Sumbanese carvings, antiques, local wood and Ikat prints, feature throughout.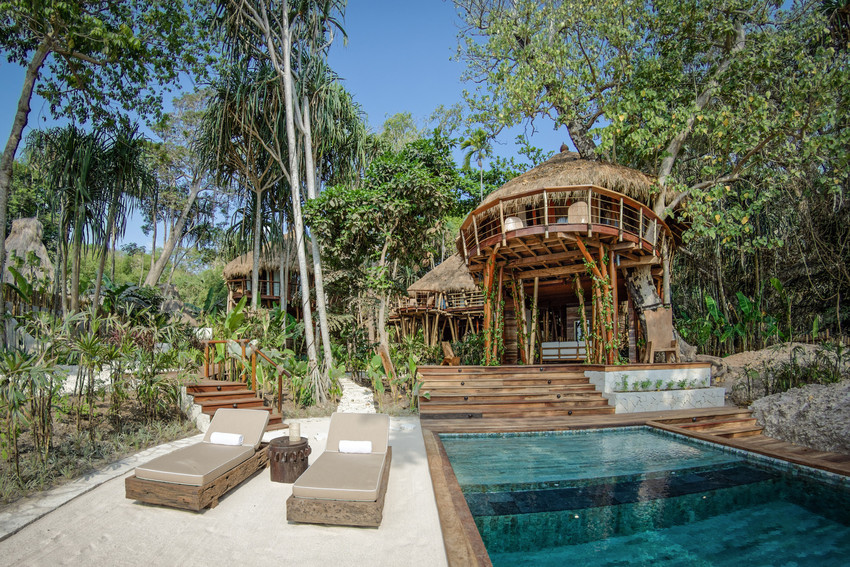 ---
Puncak
Puncak comprises of two main buildings with the first offering two bedrooms. A large outdoor area with a private pool (28m2) and sunken dining area are located on the entry level at the front. Inside the villa, a spacious bedroom (42m2) with bathroom and a study at the rear take over the ground floor. The second bedroom is accessed by a staircase and features an outdoor jungle shower and a spacious balcony with bathtub, complete with an open-air view of the Indian Ocean.
The main entertaining and dining area, kitchenette and large pool are situated between the two villas and afford high commanding views of the beach and wave, including the lush organic garden below. The second villa features the large living room on the ground floor with the study to the back and upstairs to the second bedroom, which offers the same configuration as the first villa.
---
Lantoro Villas
This spacious enclave features a large relaxed open-air entertaining space, complete with private dining, bar and kitchen and a dedicated Mori Uma (Butler) service. Lantoro 2 bedroom villa and the two Lantoro Suites benefit from private entrances; the estate is crested on a hill with spectacular views of the sunset.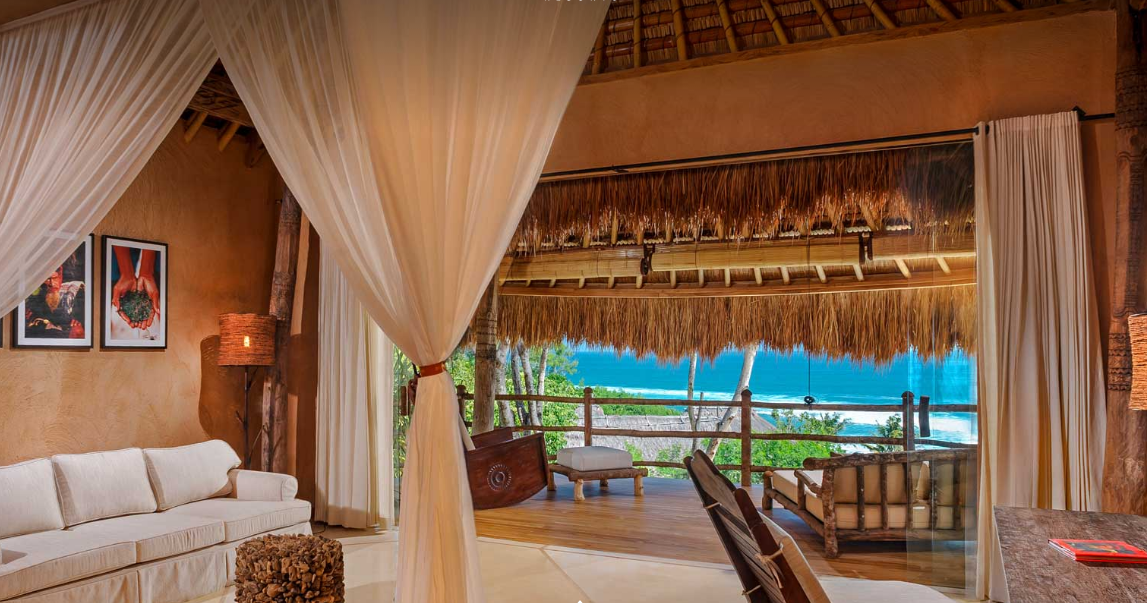 The arrival to the main two bedroom villa has a magical feel as you pass through a beautiful sunken garden leading to the two bedrooms (79,7 m2) perched high above a large open-air poolside bar and dining area overlooking the infinity pool (82,6 m2).
Two luxurious Lantoro suites (80,4 m2) occupy a secluded location surrounded by gardens of Jasmine, Frangipani, and Palm trees, sharing a private plunge pool (3,4 x 7,4 m) with a private path leading directly down to the beach.
---
Wamoro Villas
The entrance to Wamoro has a stepped private pathway framed between fragrant Hibiscus and billowing palm trees. The two main beach villas (80,16 m2) are connected by large sandy-floored gardens of Jasmine and Frangipani leading to an outdoor, beautifully crafted Sumbanese Bale with a spacious private dining area, bar, kitchen for entertaining and a separate bathroom. The large infinity pool (73,7 m2) is the centre point for daytime relaxing or pool-side sunset cocktails.
---
Kasambi Villas
Kasambi 2 bedroom villa and the two Kasambi Suites both benefit from private garden entrances occupying a Creek side location at the resort. The Kasambi experience is anchored by the exquisitely crafted 'Great Room'; a spacious open plan lounge featuring private dining area, bar, kitchen and surround sound, opening out onto a decked terrace and large infinity pool (62,8 m2). A fun, open area to share Nihi experiences with friends and family.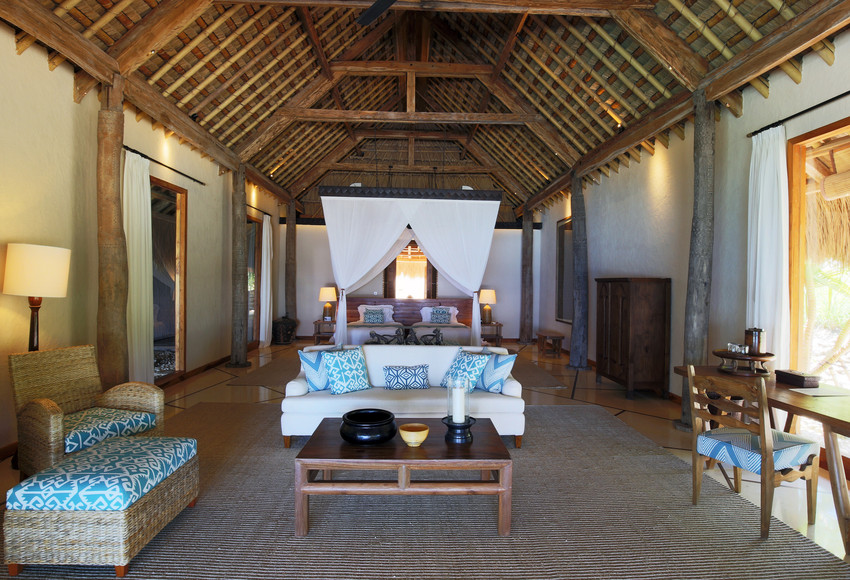 The main two-bedroom villa (80 m2 and 104 m2) features wrap around decking with day beds and lounge seating that offers undisturbed views of the famous left-hand break waves and the two and half kilometer beach. Two luxurious Kasambi suites (80,4 m2) occupy a secluded location surrounded by gardens of Jasmine, Frangipani, and Palm trees, sharing a private plunge pool (3,4 x 7,4 m) with a private path leading directly down to Nio Beachfront.
---
Marangga Villas
Each one of the four Marangga comprises one bedroom (48,68 m2) with a private garden, outdoor shower, bathtub, outdoor dining and lounge area, terrace and decking complete with a private plunge pool (30,8 m2). The spectacular Cliffside Bale elevated above the sea provides a little nook for daytime sun gazing or night-time star gazing. Equipped with a mosquito net, guests can even sleep under the stars on the daybed. Marranga villas offer secluded privacy perfect for honeymoons or romantic escapes.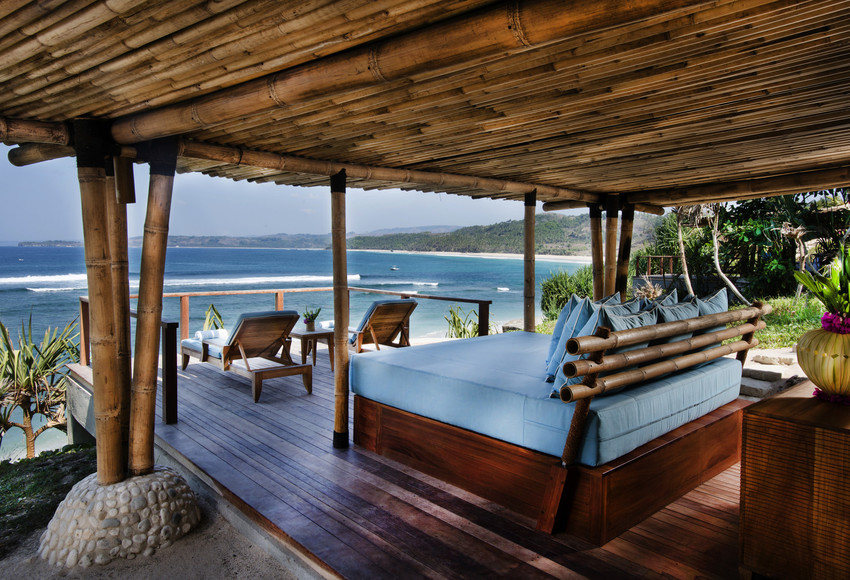 ---
Lamba Villas
Both villas are complete with individual bedrooms (45,7 m2), a day bed with teak cabana, large round bathtub, shower, terrace and deck, outdoor dining and lounge area, their own plunge pool (41,6 m2) and private gardens leading to the beach. Local crafts, Sumbanese artwork and comfortable colourful furnishings feature throughout providing a home away from home.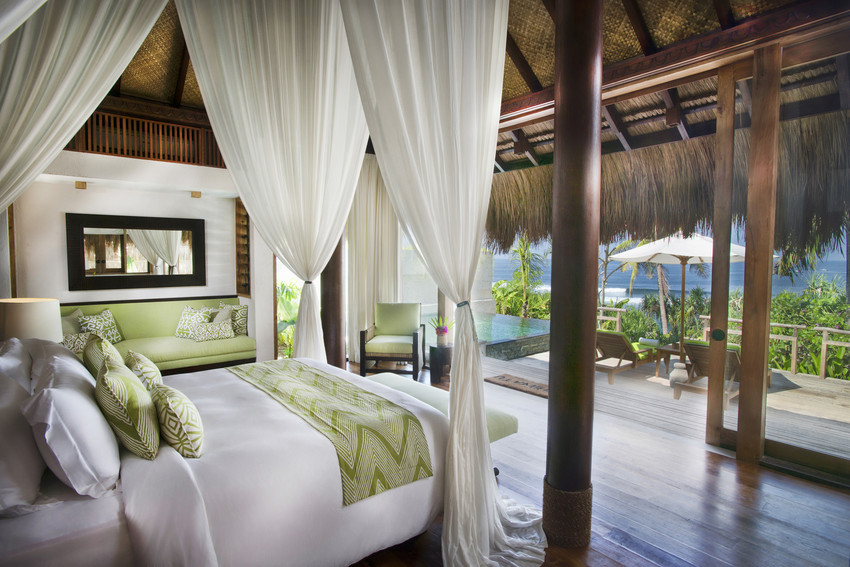 ---
Lulu Villas
Lulu Amahu 1 features one master bedroom (30,67 m2) connecting to a children's bedroom (21,28 m2) with two day beds, one en-suite sharing bathroom, spacious living room with guest bathroom, terrace and decking with an outdoor perched Bale leading to a private plunge pool (22,9 m2).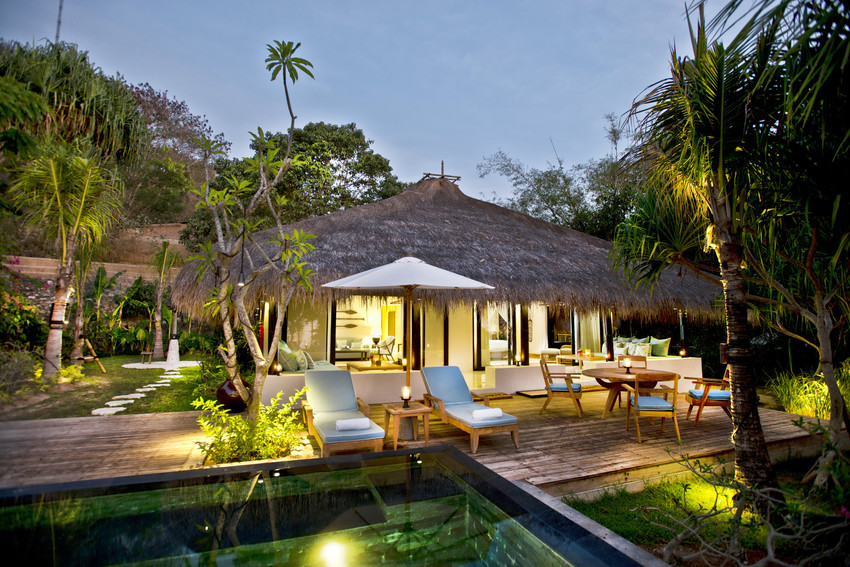 Lulu Amahu 2 comprises one master bedroom (34 m2) connecting to one living room or children's bedroom (34 m2), one en-suite master bathroom with shower and outdoor bathtub, children's en-suite bathroom with shower and outdoor shower, terrace and decking, outdoor perched Bale and private plunge pool (40 m2).
---
Kanatar Villas
Our extra spacious duplex hideaways are perfect for a couple's break with private gardens and pools. Each one-bedroom villa is designed to reflect a two-storey Sumbanese house. Upon entering, guests are welcomed by a sprawling deck and private infinity pool (27,9 m2), open-air living room and bathroom to the rear. On the upper level, the bedroom opens to another open-air platform amongst the trees (41,46 m2) with a bathroom and outdoor jungle shower.