Nihiwatu
Exclusive Sumba surf resort overlooking an uncrowded world class left. Immerse yourself in the ancient and fascinating local culture!
Food
A refined yet relaxed dining experience awaits you at NIHIWATU®. Award winning Executive Chef Ben McRae leads the resort culinary team. Ben McRae is an extremely passionate chef with a love for crafting innovative cooking that perfectly marries the rustic taste and culinary traditions. He strongly believes in the healthy use of the best the local region has to offer. Chef Ben gets inspired by the freshest home grown ingredients from our organic gardens, animal farm and daily caught fish to deliver a world class gastronomic experience.
Ombak
The hub of social activity is the main sandy-floored Ombak (meaning wave front) restaurant and bar lounge. Ombak, an exquisitely crafted open-air restaurant, serves a la carte breakfast and dinner daily with a relaxed convivial atmosphere. During the week we create special dining experiences including spectacular BBQs. The large outside deck, cantilevered over the ocean, offers relaxed lounge seating and a spectacular private dining experience, The Nest, perched on the crest of the ocean, perfect for a romantic dinner or an intimate group meal.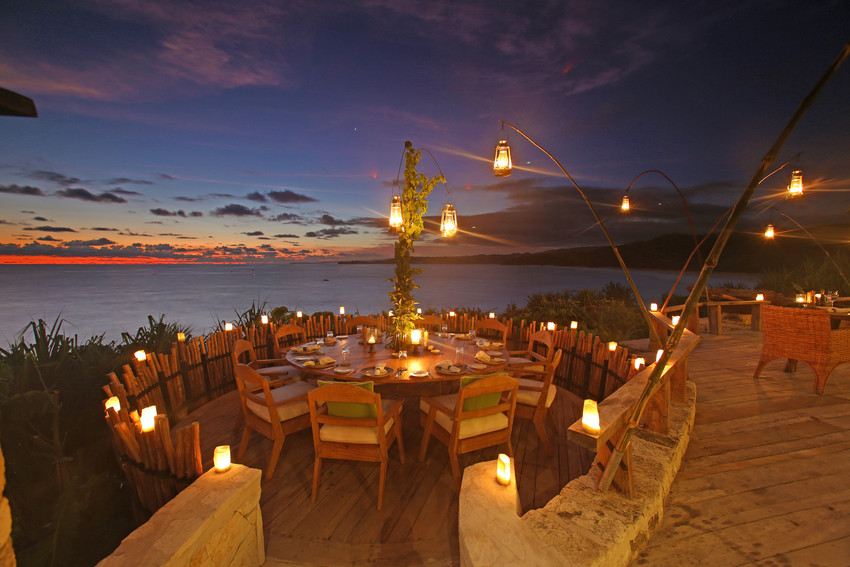 ---
Nio Beach Club & Pool
Just bare footsteps from the sea, the Nio Beach Club offers open-aired pavilions and the Kapten's Goa (Captains Cave) serving the highest quality of fresh ingredients for lunch: whether it is a fish just caught from sea, delicious vegetables and legumes from our three thriving organic gardens, items from the grill, daily rotisserie or freshly made pizzas from our wood fired clay oven, the Chef and his brigade will satiate your appetite with sumptuously healthy dishes.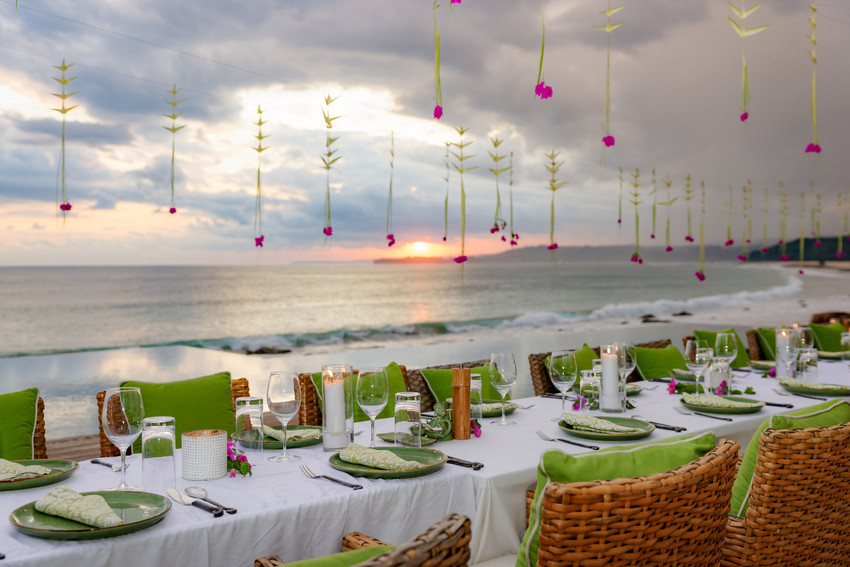 On selected nights the pavilions, the bar and the Goa are dramatically transformed into an extraordinary setting for our weekly themed parties and legendary Indonesian BBQ feasts. Upon request, we create magical 'Movie Nights under the Stars' to relax after dinner in Ombak restaurant. The newest addition is a state-of-the-art resort lap pool, perched on the Edge of Wildness with soothing, cooling, and epic views of the ocean, sunsets, Occy's Left and local village life during low tides. Lunch or snacks are served by the pool, and for special occasions, we create magical settings for romantic dinners.
---
Menara
Located at the highest point of the resort, our spacious open-air Menara (meaning Tower) is inspired by local Sumbanese architecture and boasts the tallest Sumbanese roof on the island, exquisitely crafted and hand carved from teak wood. Inside, the décor has a cosseting yet relaxed feel with books, games, a pool and table tennis; perfect for families. Bocci balls (Patenque or Boules) are available for a game by the sandy side.
A few steps down from the Menara, is our "Trophy Room & Library" showing daily films for children or sporting events for our guests. The shelves are stocked with a litany of reading materials to keep you riveted for those pampering moments of hammock & pool time. The awards garnered in the recent past are displayed with pomp and pride, further recognition of the great support through our esteemed benefactors of the Sumba Foundation are displayed. You might even recognise an autograph of a national and international star who have enjoyed the magic of NIHIWATU®.
---
Destination Dining
A vacation is about gaining new experiences. As you discover a whole new world in Sumba in terms of culture and a way of life, you will also expand your culinary horizons at NIHIWATU®. We have created a selection of very unique and inspiring dining adventures. Dine in our romantic tree-house platform hanging dramatically over the breaking waves of the Indian Ocean, at the nearby Nihi Oka valley. Take a picnic in your own private paradise at Konda Maloba Bay, nestled on the edge of a National Park. Or, allow us to craft your own, private dining experience poolside at your villa.