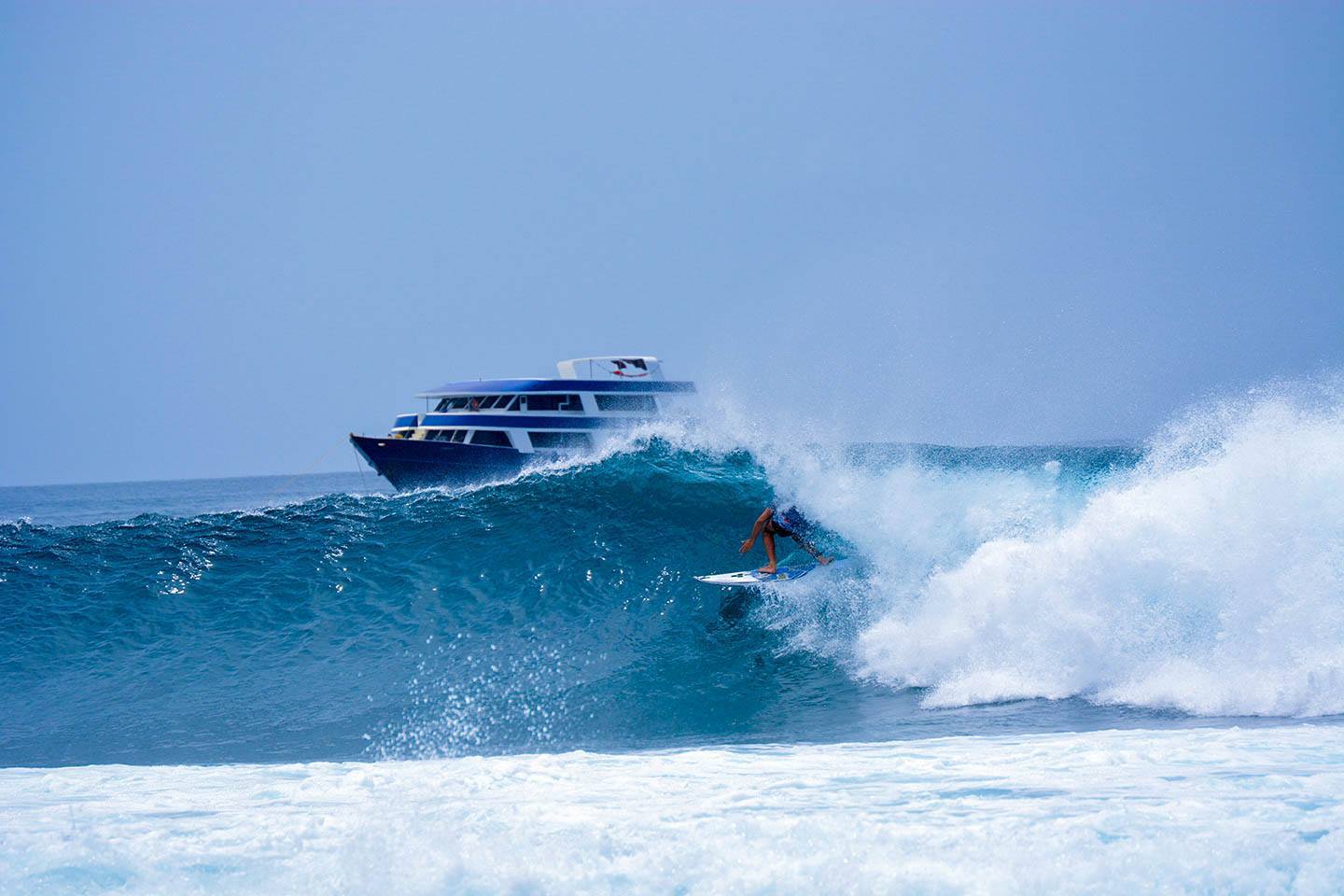 24.05.2021
Step by Step Guide on getting in and out of the Maldives (safely)
What you need. When you need it. And everything else for stress-free traveling to the island paradise.
Even though the Maldives are experiencing somewhat of a Covid_19 revival, this shouldn't deter you from packing your bags, dial-in your quiver and go.
Trust me as I'm writing this, well, from a charter boat anchored next to a fun righthander somewhere in North Male.
I traveled from Spain's Basque Country via Madrid, via Abu Dhabi to Male. But it doesn't matter.
Why?
Because the Maldivian Government has a pretty strict but solid Covid-19 safety protocol in place, and it applies to everyone - regardless of where you're traveling from.
Full disclosure, traveling isn't as straightforward as it used to be, but it isn't that bad either.
A few logistical hoops to jump through, followed by a nasal swap and additional paperwork, is all you need to travel (safely) these days.
But first things first. In this order, here's what you have to do
Flights
This is pretty obvious, but you want a ticket that you can easily change/cancel without a lot of hassle. Luckily, most airlines are pretty accomodating and let you change flights for free, or more likely, a small fee. But it's worth checking prior, so you don't run into any surprises.
I flew with Etihad Airways as they provided a pretty good covid cover for a bumper but honestly, any of the bigger airlines is safe. Again, just make sure you book a flexible ticket which isn't always possible on cheaper websites like Kayak or Skyscanner. It might cost you a fraction more to book through the airline of your choice's official website, but it can save you a lot of hassle in the long run in case things turn sour.
PCR Test (PCR test)
This one is a no-brainer. You are required to take a PCR test at least 96h before you arrive in the Maldives, and there's no way around it. The Maldivian Government is not messing around with what information they want to see on your test. I can't stress this enough. Make sure your PCR test shows:
your name (same as in your passport)
your passport number
date of the test
test result
address of the testing lab
Booking confirmation
Ensure that you have an official, written confirmation of the place(s) you are about to stay. The booking confirmation needs to show the number of days you're staying and the address(s)of your accommodation(s). It is possible to do split stays in some places, but you need to check with the hotels, hostels, camps or surf charters if it's possible before your trip.
You won't be able to visit or move to any resort, island or boat unless your accommodation applies for a split stay permit for you. Don't worry though, your accommodation will take of it - all you need to do is ask.
Online Health Self-Declaration (Arrival)
This should be your last thing on your to-do list because you'll have to upload your travel confirmation as well as your negative Covid-19 test result as a part of the application.
It's pretty straightforward and shouldn't take too long, but there's one crucial point you need to be aware of.
Complete the travel authorization within 24 hours of your arrival in the Maldives (especially if your travel time is more than that) as your application expires after 24 hours. You might have to do it again on-location before you can clear immigration. And this takes time. There's only one computer available for travelers to complete the form and download a QR code which you'll need to present to clear immigration.
PCR Test (departure)
By now, pretty much every country under the sun requires a PCR test to enter, and I don't think I'm going out on a limb here to say that your country of origin probably does it too.
Speak with your point of contact at your accommodation as they will organize the test for you.
The process is super smooth, and you should get your results within 24h, but it's still worth thinking about these things a few days before you're bound to leave.
Online Health Self-Declaration (Departure)
You know the drill. Fill it out, upload your test result, generate a QR code and present it to an immigration officer when you leave.
PS. We didn't mention masks, but that goes without saying for the entire trip.
That's it!